What's the (Bonus) Point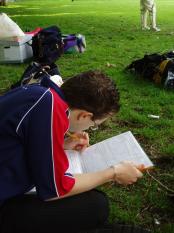 Point or no points
By London Leprechaun
January 2 2018
London Leprechaun gives us some food for thought about the point or not of bonus points. Hope any comments get to the point.
Many recent seasons have turned on bonus points. I am sure you all remember the agony of the last time we flirted with relegation, when Lancashire made a vital point to make us fight out for a draw to relegate them, not us? Or that vital third Yorkshire batting point which pulled the Championship decider in 2016 to that dramatic last day. Or of course our lack of a vital bonus point or two at Taunton this year. All that drama made me think about how much bonus points influence the County Championship. How vital every point is . . . or is it?
Here is a link to the last three years in Division One. With the table as is with bonus points, and as it would have been with no bonus points. But still with overate deductions. And ignoring the Durham deduction last year. You will see that over three years the final tables would have been in exactly the same order with or without bonus points. Except that this year Arrowgate would have been between Surrey, and ironically, ourselves. Which shows how Surrey decided where their strengths lay and approached the season.
Now of course you can argue that, without bonus points, teams would have approached some matches differently. But this year the final equation would have been the same for Somerset and ourselves. They would have needed to win; a draw would have seen us safe regardless of Arrowgate. Which leads me to the question: what is the point of bonus points? Apart from adding drama to end of season matches? Would doing away with them encourage more attacking cricket with win points becoming more important?
Discuss!