England Down Under and All Out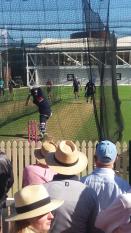 Mala Practising in nets
By Fozzie
January 10 2018
Fozzie sent on an all expenses MTWD tour of Sydney reports on day 1 and 2 from the SCG. We hear about how he obtains his tickets and his vantage points , while reading about the inevitable England demise. Days 3 and 4 to follow later.
AUSTRALIA v ENGLAND, 5th TEST, 4-8 JANUARY 2018. DAYS 1 and 2
Mrs Fozzie and I are in Australia for most of January, based with my sister's family in Sydney. My brother-in-law Matt is a member of SCG which entitles him to Test match tickets for himself and at least one guest. His main interest is Aussie Rules football which is also staged at the SCG (go Swans!), though on the day we first met him, back in 1990, we took him to Lord's to see Middlesex play Notts, on a day when Keith Brown completed a double century and Tuffers bowled Chris Broad in the last over of the day to riotous celebration. So our shared cricketing history goes back some way.
On days 1-3 Matt only had 2 tickets, so we had to arrange how to divvy these out. Being a gentleman, I offered to sit out day 1 and Matt went with Mrs Fozzie. At first this seemed a good decision, as drizzle meant no play in the morning session – so at least England shared the morning's honours. Channel 9's grizzled old pros wittered on, supplemented by the plummy tones of Mark Nicholas and copious replays of Steve Waugh's final century at the SCG in 2003. New boy Cameron Bancroft was spotted on the balcony reading a book, which caused some consternation among the old pros: why wasn't Bancroft taking part in one of the card games organised by David Warner, and would this have a detrimental effect on team spirit? Obviously "mateship" remains a sacred concept for some.
Finally the toss was held and won by England, to some relief having picked two spinners and banked on batting first. Stoneman batted delightfully for 24 at a run a ball before falling, as (predictably) did Vince, unleashing a couple of exquisite cover drives before (equally predictably) swishing at a wide one and being caught behind. So exasperating! Do these two have no concept at all of what Test cricket is about?
At least this brought together Cook and Root, but when the former became the third batsman to make a good start only to fall for a moderate score it was 95-3, and with the pundits reckoning that England needed to make 400 the alarm bells were starting to ring. Enter the one indisputable success of the tour, D J Malan. A couple of years ago I would have assumed that Mala's approach to Test cricket would have been similar to Vince's, but here he demonstrated the watchfulness and care that have characterized his Test career to date. In truth his touch didn't look as good as when he scored his century at Perth, but in the eyes of the TV pundits that only made his innings more admirable, as proof of a batsman prepared to dig in and sell his wicket dearly.
Together they put on 133 and seemed to have given the initiative to England until the new ball accounted for Root and Bairstow at the end of the day. But with Mala not overnight on 55 there was plenty to relish and look forward to on day 2 – could another century possibly be on the cards?
Day 2
As Matt hadn't been successful in the ballot for reserved seating for Day 2 we had to get to the ground early. A superbly organised fleet of buses transported supporters from Central Station to the ground, and despite the large crowds that quickly built up we didn't have to queue for more than a couple of minutes on any day.
We found good seats in the upper tier of the Ladies Stand, square to the wicket. This and the Members Stand are the two remaining older stands in the ground, and it was a very pleasant and well-shaded place from which to watch the game. Before the start we had a look around the Members Stand (SCG's equivalent of the Lord's Pavilion), where we came upon the away team's dressing room. At that moment the door opened and no other than Mala emerged, on his way to the nets. I excitedly took a picture, only to find on examination that I had managed to get a close-up of a particularly burly security guard. Sigh.
Nice view
Thirty minutes later Mala was walking out to the middle, accompanied by Moeen Ali. From the outset Australia alternated their pace bowlers from one end, leaving Nathan Lyons to shore up the other end. Mala got underway with a lovely cover drive for 4 off Lyons, only to be beaten by the next delivery. It looked to be a good contest, but it proved to be short-lived as Mala sparred at Starc and was brilliantly caught one-handed by Smith, diving to his left at second slip. In one respect Mala could consider himself unfortunate: the Australian media and ground announcers never miss an opportunity to draw attention to Steve Smith's latest achievement (and, to be fair, his figures suggest that he is well up there with the select group of batsmen just below Bradman), but it has not gone unnoticed that he had dropped a number of catches so far in the series, including two during Cook's double century in the previous Test that probably cost Australia the chance of a whitewash. So Mala could be forgiven if he felt rather rueful to be the victim of such a superb catch.
Not that it inspired Australia, who over the following 90 minutes produced fielding of an extraordinarily sloppy standard, including two dropped catches that reached new heights of comedic ineptitude. Curran was one beneficiary, and aggressive and gutsy batting by him and Broad took England to a total of 346 – better than it might have been, though in recent years we have of course become used to seeing seemingly reasonable scores by England be revealed as totally inadequate.
The papers that morning had revealed that the book being read by Cameron Bancroft during the previous day's rain delay had been a Japanese self-help book currently popular in Australia, and they opined that if Bancroft followed up with a century we would buy it in our droves. It was generally considered that Bancroft needed a decent score after his good start to the series had tailed off, but sadly for him Broad's second ball tore through a gap and flattened his stumps. Doubtless the grizzled ex-pros viewed this as just retribution for spurning Warner's card school. Whatever, Australia were 1-1, and Bancroft was free to return to his reading.
It was England's high point of the match, but of course it couldn't continue. How could it be otherwise? For once Anderson and Broad had completed their opening spells we were on to the second string: a very out-of-touch Moheen Ali, Tom Curran in only his second Test, and Mason Crane on debut. It was a sobering thought that there were probably six or seven bowlers ahead of Curran for the third seamer slot, all of them currently injured. How good it would have been to see Toby charging in.
Warner reached a half-century without being at his best before Anderson dismissed him, bringing the ominous sight of Steve Smith joining Khawaja at the crease. They comfortably batted out the day to finish on 193-2, and with temperatures in Sydney set to soar it promised to be a long, hot third day for England.
And a G'day from Richie