Diamonds memories Are Forever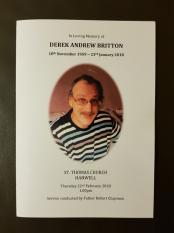 RIP mate
By Beefy Roberts
February 24 2018
Beefy shares with us saying farewell to his mate Diamond
On 22nd February 2018, we gathered to pay our respects to Diamond a loving husband, father and a great mate to many. Inside a warm church Vermin Corner became Sombre Corner as we joined many others to praise and celebrate his life.
The vicar was humorous in his tribute. He wanted to find a biblical cricket link and the only reference was somewhere about the plagues that included crickets and locusts and the vicar said he could not read about them on such an occasion. I could sense Kev in front of me wanting to shout out " do it for Vermin Corner". The vicar did read from Job where a Pavilion was mentioned to satisfy the cricket fans.
His widow Pauline along with daughter Eleanor were composed and brilliant in standing up and giving their eulogies to us, The opening was classic, "I won't talk too much as I am sure most of you want to make it to the bar as quickly as possible". I felt the thumbs up from way up above. They shared the humour Diamond provided and got the impression his mischievous ways were not just confined to the cricket ground. They also mentioned in a low-key way the charities he supported and his acts of kindness to his neighbours.
Eleanor concluded her eulogy saying she wanted to finish with Diamond's favourite joke. Sombre Corner who knew Diamond well held their breath in trepidation . " I went to a zoo with one animal. It was a Shitzu" The vicar with a smile on his face, while perhaps embarrassed now asked us to now recite the Lord's Prayer. The concluding hymn was Jerusalem, which bought a tear to my eye and to Kimmy as I turned her way.
As we departed the church our mate had started his final journey
We all travelled to one of Diamond's favourite haunts. Uxbridge Cricket Club to talk about our stories and jokes about Diamond himself. Pauline and Eleanor came round chatting to all and finding out who was who from the website and making new friends along the way. We had a relaxed time reminiscing sharing many amusing memories. I really enjoyed talking to these lovely strong ladies.
Cheers Diamond
I have felt sick inside for the last month as knowing watching MIDDLESEX will never be the same again
Let's win Div 2 this year and bounce back for Diamond