A Double Diamond Celebration Works Wonders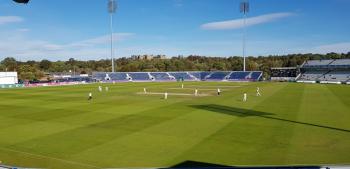 VIP view
By Beefy Roberts
October 22 2018
Beefy shares his thoughts on a moving afteroon at Durham where our friend Diamond was appropriately remembered.
On Tuesday afternoon 25th September day 2 at Durham ,Vic invited us to a box along with Ellie (Diamond's daughter) and Pauline (Diamond's wife) to celebrate the life of our late mate. We were actually in the Durham boardroom! There was no dress code.
Along with some great friends,Andy ( Dingy) ,John, Les, Lynne and some of Vic's friends,we spent the afternoon watching cricket,sipping wine,talking about Diamond and looking after Ellie and Pauline.
Vic gave a small,and moving speech about Diamond and I could see that Ellie and Pauline were both very moved about Vic's words...as we all were.
After,one of Vic's friends took the floor to mention Vic had been awarded groundsman of the year,the first time ever a cricket groundsman has won such award.
Ellie and Pauline left us when Middlesex reached 100 in second inns to take the long drive back South...It was wonderful to see them both again,and we will all keep on chatting,as we promised when we said goodbye to our mate all those months ago.
We are sure Diamond would of been looking down on us today,probably saying something like 'silly buggers drinking wine,not beer!'
Thanks Vic,for what you arranged for us.