Notts - A complete washout?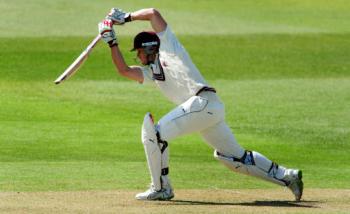 Day 3 before this!
By Grockle
August 19 2011
Rain for two days with 20 runs made and two home wickets lost is not what Somerset need at the moment. The weather relents on day 3 but this game is a 'washout' as part of the run in to the CC1 title unless the two captains become very inventive indeed
v Nottinghamshire CC1 @ Taunton Wednesday 17 August 2011
After rain for two days, one foray to the crease, 20 runs to Somerset and two LBW wickets to Fletcher (Trecothick and Suppiah), we finally get this game underway at the beginning of Day 3 in absolutely wonderful conditions!
The Somerset side is;
Trescothick, Suppiah, Compton, Hildreth, Kieswetter, Buttler, Trego, Kirby, Thomas, Willoughby and Dockrell (making his CC1 debut)
Notts won the toss and put us in and then struck twice before the rain came and the game went into stasis until 11 on Friday. The chances of a result coming from this that is Pro Somerset are very slim but we'll see how it develops over the first two sessions and I suppose, take it from there.
Presently Compton and Hildreth are facing Shreck and Fletcher and they have almost doubled the score without further loss. However, it doesn't stay so wonderful as we pass 50 and Compo plays a lovely forward defensive shot down to the wrong line and sees his stumps skittled by Andre Adams. There is the basic picture of the morning session. Some good shots, batsmen looking comfortable bowlers maitaining decent lines and occasionally a batsman mistaking the trajectory of the ball and losing their castles! Kieswetter did just this at 72 and was really surprised by it. Hildreth was less surprised but no less out at 88. Batting points do not look that likely by the lunch interval by which Buttler and Trego have moved the score on to 130 for 5.
After lunch the bonus point situation looks even less likely when Thomas replaces Pete when he flips one off the glove (though PT might disagree with that assessment of where it hit him) from Fletcher to Read. 137 for 6 and this day is not looking like a good one for the home side in terms of getting something from this game.
And the Andre Adams show continues as he gets his inswinger working once again and we continue to misread the line of the ball. Jos sees his off stump uprooted before we make 150 (147) and Alf then drives at one and hears the clatter at 154. However we have the team of Kirby and Dockrell to come and they seem less impressed by the Notts bowlers both hitting boundaries and in Steve's case hooking Charlie Shreck for four.
It doesn't last though and Adams gets George LBW off the toe at 177 after a partnership of 23. In comes Charl to a long conversation with his partner about batting strategy. Adams bowls, Charl steps to off and misses the ball as it flies just past his stump. He misses the next so Adams bowls a straight full slower one and out goes the stump and we are gone for 177. Adams takes 6 for 33.
Now that's an interesting situation except we get no bonus batting points. Hmmm