How Long Oh Lord? How Long?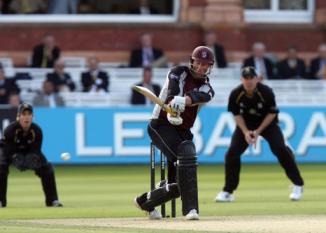 Will he? Won't he?
By Grockle
September 17 2011
The second time to Lord's in two seasons for a 40 over final. The fifth short format Final in 3 years and we have yet to come away with silverware. Will this be the day? Craig Kieswetter and Jos Buttler have made the trip across from Wales after the England game and the skipper will have travelled with the side...BUT will he take the field? His ankle injury is not healed but a decision will have been made as to whether it will support him for 80 overs of the last game for him of the season. If it does he will lead the batting, if it doesn't we lose a major weapon in an arsenal that has been battered by absenteeism and injury since the beginning of the month. It put paid to our CC1 hopes...what about the only trophy still available?
v Surrey CB40 Final @ Lord's Saturday 17 September 2011
Marcus Trescothick does lead his team out in the last fixture for him of 2011. His side consists of;
Trescothick, Kieswetter, Trego, Compton, Hildreth, Buttler, Suppiah, Meschede, Kartik, Thomas and Kirby
The surprise in that line up must be Craig Meschede who was not expected ahead of George Dockrell or Lewis Gregory. One has to assume that the pitch is not for spinners and that Lewis is not fit enough to turn out. The skipper won the toss and decided to post a score. Against Aarafat and Spreigel the two openers started to get down to work but things did not go entirely to plan as with a mere 24 on the board near the end of the 5th over the Boss's gamble seems to have come to an end as he was stumped by Davies off the bowling of Spreigel. Once more Somerset would have to do it without the man with the big bat.
It got a little hairier for the batting line-up when Kieswetter was caught behind with his score only in the teens during the 8th over and the newly returned Nick Compton strode out to join his partner Peter Trego. at 36 for 2. These two were then tasked with setting the store out for later run accumulation but 15 or 16 sems to be a popular score today because no sooner had Trigger passed 50 than he became Dernbach's first victim at 56 for 16. Somerset reach 50 in the first 10 but have their front end blown away in the process....it's going to be a long afternoon as Compo and Hildreth look to limit the early damage before they try and get the innings back on a track to a defendable and hopefully victorious total.
But from the off it seems that Surrey had th3e right tactics and Somerset are playing catch up. Hamilton Browne has gone in with 5 spinners (we have two). Instead of playing the attacking game we hoped for, the openers allowed the spinners to take hold and then the momentum is with the bowling side. And so it continues as first Hildreth is bowled by Schofield at 66 with only 3 to his name and then the nightmare continues as Suppiah is found LBW to Batty in front at 79. No-one has got into the twenties yet, Jos, our last real hope is at the crease and we aren't even halfway through the game yet!! 150 looks out of reach at the moment.
Nick and Jos nurse the score past 100 in the 20th with both men looking to push the score along but with an eye on the long way ahead and the little strength remaining in the hutch. That is why the reverse sweep idiocy played by Compton in the 24th beggars belief!! Ansari bowls him around his legs as he plays a gambling shot to a ball on middle and is skittled for 26 off 41 to leave his partner high and dry with the tail at 124 for 6. If you are going to work to get 26 off 41, you've basically said "I'll anchor the innings, you do the big scoring" and then you play a shot like that. It is why Nick is still not the certainty we all want him to be.
SO...in comes Craig Meschede and the Surrey lot see Jos as their big obstacle to a massacre. The skipper brings Dernbach on to remove the Somerset man and his first ball suggests a snick that just doesn't fall into Davies' gloves. Not sure myself but it doesn't carry so no problem. Craig knows his job is to get his partner on strike and he helps him move the score along until he gets a leading edge and puts the ball straight back to the bowler (Batty) with only 10 to his name and he is on his way before we reach 150. 147 for 7.
Alf is no slouch but walking out in this position can be no fun. 13 overs to go and nothing on the board to defend! He helps take the total past 150 and then to 165 where the wonderful Buttler passes a 48 ball 50 with a sumptuous boundary one side of fine leg followed immediately by another one the other side of fine leg. Something for the patient West country faithful to cheer for a change! With 5 to go there is a flicker of hope at 177 for 7 but Dernbach snuffs some of that out when after only going for one off the first four balls of the over he has Thomas caught behind off the 5th.
Kartik enters and gets a single off his first so we have 180 with 4 to go and Somerset take the batting powerplay (because they have no option)! Arafat takes the 36th, JB misses the first but puts the second to the boundary, misses the third but the fourth is a leg bye boundary. The young man takes a single to allow his spinning partner to take a boundary off the last ball and the Somerset crowd start to loosen their vocal chords.
Buttler faces Dernbach and sixes ball 1 bringing the 200 up with the first six of the game but with 13 balls to go MK is bowled by the England man's 88 mph 'swinger' and we watch the Mighty Blocker that is Steve Kirby stomp out to bat. He first gets a bouncer which he swings out of the way of and then stares balefully at the younger bowler (that one is in the book). Then he nearly plays the next one on before providing a perfect forward defensive to put his big hitter on strike for the 38th.
Arafat delivers ball one. Jos smites it to the boundary for four. Arafat delivers ball two. Jos does even better and puts this one over the boundary for six! Ball 3 he leaves and takes a single off ball 4 to bring up 400 runs for himself in one day cricket (batting at number 6!!) and 211 for 9 for his county. Kirby faces ball 5. It's a wide and it brings another huge cheer. He then blocks out ball 6 as if he has all day.
The last over. Jos on 84 vital runs has kept us in this game for a while at least. Can he top it off by making Surrey wonder by adding double figures in these 6 balls? Dernbach fires in the first and Buttler nearly gets it past Ansari for four but it is cut off and he only gets 2. He'll not run odd number possibilities. Ball number 2 and it is all over as he steps away and is bowled for 86 leaving his side on 214. It isn't enough but it is a total down to only one man really and if nothing comes from this game we have one awesome player who did not let us down!!
Pitiful total. Once more Somerset come to a Final and vastly underperform.
The Reply
Hamilton Browne and Davies arrive to start the Surrey reply and they face Alf taking the first and Steve taking the second. Nothing much happens until the fourth when Davies says bye bye and trudges back courtesy of Kirby and the hands of Kartik in the slips. 19 for 1. An early wicket down but Surrey are up with the rate and the wickets have to keep tumbling if Somerset are to maintain their fingertips on the handle of the trophy. One big partnership and this is over for another year.
26 for 1 at 5 is enough for victory. The rain starts to come down and this seems to break Roy's concentration and Kirby strikes again as the Surrey batsman has a swipe and is caught behind for 11 out of 35. One ball left of the 6th and we are off for rain. 35 for 2.... 20 overs is a game!
A long layoff and a reduced target does not exactly help us much. When they do finally get back on fully it is a 30 over game with a 186 run target. Maynard and Hamiton Browne are the partnership and they get moving ominously but are checked by Suppiah getting Maynard caught behind at 77 but the target is small and the Surrey captain is controlling the game from the crease. They pass 100 just after he reaches a good 50 and Marcus starts to run out of bowlers. Why didn't he play Dockrell is the question I think is on many lips because we need tight control and we have to look to Pete Trego and Craig Meschede to do it. Schofield has been brought in because he is a batsman who looks to push the spinners around but at the end of the 17th over Surrey are 102 for 3 needing 84 to win off 78 balls. Arul is bowling well but Schofield is looking for runs off him. They are moving the total along too quickly and we need a wicket. The skipper may have to bring his attack bowlers back to try and break the Surrey middle or this game is gone.
He tries but it is too late and although Thomas gives us hope when he gets Schofield caught by the skipper at 135 and that man Jos Buttler gets the Surrey boss out of his crease with a superb pick up and throw (one of many run out chances Surrey gave but the only one that was completed by a Somerset fielder) at 147, it isn't going to be and Spreigle and Zander get the Brownhats home with 5 wickets in hand and 15 balls to go.
Another Final another runners up medal. Another big game another small batting performance (so much worse had Buttler not made it respectable) some more pressure another capitulation. There will be post mortems and there will be suggestions about changes and new policies to combat it but we've been here before and the AGM will be full of explanations abut why and how it will be different in 2012....will it? I guess we'll have to hope so and wait and see. The official Facebook page has the title 'Gutted'. Weren't they 'Gutted' last year? Do they have any guts left to be removed? I think it's more a case of 'Unsurprising' nowadays.... not happy but what's new?