The Best Of Days, The Worst Of Days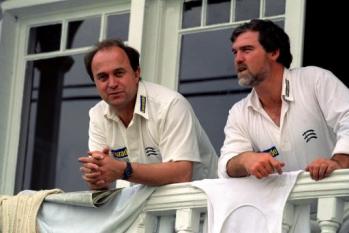 Philippe Henri's Match
By MiddleMark
January 28 2009
Many thanks to MiddleMark for this superb reminscence piece, with a difference. July 1977 is the main story, but MiddleMark compares and contrasts his first Middlesex Lord's experience with his recent first England Lord's experience. This charming and witty peice is well worth the read.
I still rate my first visit to Lord's, back in the warm summer of 1977, as two of the best days of cricket I've ever enjoyed, while my first visit to HQ for a test match, in the grim 'summer' of 2008 undoubtedly rates as my worst cricketing experience – so much expectation, so little delivered.


Anyway, on to happier times. Middlesex v Gloucestershire days two and three were my introduction to First Class cricket. I was 13 years old and allowed to travel alone on the Jubilee Line from Wembley Park to St. John's Wood for the first time by my slightly (over) anxious parents. I probably left home about nine; most certainly had enough lunch for a small army of sherpas and was well set for my first taste of country cricket.


At the ground, I met up with a bunch of fellow St. Benedict's School soon to be Upper 4ths. Pete Huzan was definitely there; Steve Martin, probably his brother Paddy, Dominic Stewart and a few others. From memory, we sat in the upper Compton, though I suspect we moved around during the two days to get different perspectives. What I do remember was that the seats were all the old park bench style – so my memory may well have been playing tricks!


So to the cricket. This was Philippe Henri's match – his bowling even outshining a valiant 145 from Mike Brearley and some superb first innings bowling by his spin twin, John Emburey.


I'm pretty sure Gloucestershire were batting when we arrived. Middlesex had racked up 340-odd on day one of this three day fixture and, I suspect had put the visitors in before the close (I can't get Crickinfo's daily Close of Play thingy to work, so this is mostly supposition).
[Editor's note: Cricket Archive is often better for this sort of detail - here is the link to the cricket archive scorecard for that match and as you can see Middlesex in fact continued batting on Day 2]
http://www.cricketarchive.com/Archive/Scorecards/37/37339.html
I do know that the wickets started tumbling in fairly short order. After Sadiq and Andy Stovold put on 48 for the first wicket, the west countrymen collapsed to 80 all out. Edmonds took 6-18 in 16 overs, with Emburey not far behind taking 4-12. Gloucestershire followed on, needing 264 just to make Middlesex – the reigning County Champions - bat again.


But this time they were obdurate; this time they were set to grind out the runs. Progress was painfully slow. But to a 13 year old experiencing a first taste of Lord's and finally getting to see that great Middlesex X1 in the flesh, this was heaven indeed. At close of play, we agreed to meet up again the following day to witness what must surely be another Middlesex triumph.


Back at Lord's for day three, again laden with sandwiches, drinks, binoculars and even suntan oil and a hat (nicely burnt Irish skin from the previous day), we settled in. By now the Gloucestershire rearguard action was in full swing. They batted for a shade under 180 overs in the second innings. Sadiq and Stovold both made 80-odd, and while the others didn't hit the heights, the side finally succumbed well after tea for 337, setting Middlesex 75 to win in about 12 or 13 overs. Edmonds had bowled valiantly taking 8-132 (match figures of 14-150), with Emburey picking up the remaining two wickets. I remember a svelte young all-rounder called Mike Gatting bowling five overs, and even Mike Smith looped a couple of overs down the track.


75 from 12 didn't seem too bad. We had Alastair Hignall fielding just in front of us for much of the next hour's slog. We knew him from his Cambridge and England rugby exploits and I just have a very warm memory of the running commentary he kept up for us as wickets tumbled and the 'sex snatched a draw from the jaws of victory.


While Radley and Barlow fell early, Smith and Gatting seemed to be well set to knock off the runs. But Smith fell with the score on 53. Still, the wind was in Middlesex's favour, but 53-3 soon became 59-7. Eventually the sides called it a day with Middlesex making 63-7. It was a breathtaking final hour with Mike Proctor at his snarling best and Brian Brain (what a name!) fast and accurate drawing bad shots for easy wickets.


Had Middlesex managed the win, the side would have been County Champions in their own right instead of sharing the spoils with Kent at the end of the season. But the sun shone, I was entirely absorbed in the action.....and was hooked.


So, jump forward 31 summers as I took my son Rory, then 12 , to our first ever day of live test cricket. God only knows why it has taken me so long to attend a test in person – I've attended numerous county games, a few domestic finals and a sprinkling of international one dayers, but had never so much as seen a test match ticket. But summer 2008 (my first as a Middlesex member) was going to be different, and we planned to kick –off with a day of England v New Zealand.


That Saturday morning dawned wet out in the Chilterns where we live and the prospects didn't look great. We ummed and aahed about whether to head into London but eventually decided to take a chance. How different from 1977; Lord's was packed and we were laden with coats and brollies. Having bought the £50 'cheap seats' we arrived in our allotted place in the Compton lower – normally my least favourite part of the ground, but blissfully out of the rain on that sad May day.


Having left it late to leave, we arrived at Lord's at 11.30 – but luckily the start was delayed so we sat down in time to see Chris Martin deliver the day's first over. There weren't too many more after that. Some 25 minutes later, with the light decidedly dodgy and rain in the air, Messrs. Strauss, Cook, the Kiwis and the umpires retired to the Pavilion and we dug in for a break in the clouds.
You never know, it might brighten up!
It never came. It was cold, so we perambulated, and then walked some more and then joined the scrums in both the Middlesex and MCC shops. We lunched and walked some more again and even watched some of the Cup Final on the silent flickering screens. At 4pm we gave up and made our way back to Marylebone and a train home before the rampaging hoards of Cup Final fans brought the usual ritual paralysis to the train system. I was actually relived to switch on the TV and find the Test formally rained off for the day.


We may be back for the Windies and it's fingers crossed for the Aussies. But nothing will ever supplant my best of cricketing days – July 21-22, 1977.