David and Jonathan star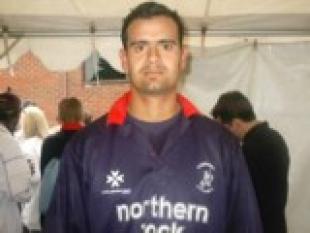 good effort but not enoug
By comebackgatt
June 19 2009
comebackgatt reports from Bristol on day two of their match. Despite David Burton taking his first "Fiver" and a good solid knock from Ace another poor day for Middlesex. The threat of a three day defeat looms large. We find out about comebackgatt's travel arrangements, and a interesting meeting with a milkman called Ernie.
I find it always helps to have someone living in the area when I go to watch Middx play away. My brother lives in Thornbury, just outside Bristol so I could stay the night there for the third year running. He retired last year so will be coming with me, as he did last time. As I am going from East to West I decided to let the train take the strain. Booking in advance meant I could save quite a bit of money, and due to the oddness of online booking it worked out cheaper to book four singles than one return round trip. Set off from Broadstairs station at 15.27pm, using my trusty lap top to keep up to dates with the score. A quick dash from Victoria to Paddington and I was Westward bound, arriving in Bristol at 19.45pm. Having been watered and fed and given some stable room we set off in good time in the morning arriving in the ground at 10.30am.
To have any chance of keeping in this game we needed to take early wickets. That didn't turn out to the case with Spearman and Taylor serenely adding to their partnership. Just as we feeling uncomfortable at conceding a big lead David Burton finally pitched one outside Spearman's off stump and he nicked it to the keeper, and shortly after Taylor missed a straight one and was leg before to Burton and the home team where 200-5. Franklin and Snell were now in and to be honest not much after that so one more wicket before Lunch would do nicely. That came shortly before the interval when Shaggy snared Snell (blimey try saying that on a wine gum) and at lunch Glos were 238-6 and we were hanging in there.
We retired to a local hostelry of brother David's acquaintance and we spent a please hour recalling old Middx games from the past. It was he who kindled my interest in Middx taking to Lord's in the sixties when I was but a slip of a boy. On our return David spotted an old work colleague of his (they were both Milkmen) Now this is the honest truth Guv, his name was Ernie (altogether now) and he regaled us with some tales (Confessions of a Milkman) and yes some were racy, the last not, but he used to deliver milk to the Glos captain and it seems that Mrs Lewis and children's favourite yogurt was Peach Melba..Umm back to the cricket methinks.
Glos seem to be getting away, bowling attack certainly lacking cutting edge with Burton out of the attack (what does that say about the rest!) Lewis, buoyed by his yoghurt went through to his fifty and the fielders had that, not going to be our day look. The stand for the seventh wicket passed a hundred when Burton returned to the attack and he trapped Franklin in front, then quickly had Lewis caught by Dexter and the end quickly followed leaving Glos all out for 342 and David Burton taking 5-68. I eat humble pie here (yes a vegan one) I was very critical of his bowling in the morning but once he returned for his third spell things happened. Overall lead of 189, time for our senior batters to step up to the plate.
Oh great Strauss yorked third ball by Lewis 0-1. After that the batting was a bit like the Curators Egg. Compo and Morgan, to be brutally honest, did not look comfortable, but all the time Ace and Dexter were at the crease hopes were raised that we could give them a fight only for those hopes to be dashed with the fall of Ace (57) and then night-watchman Steve Finn lasting only 8 balls. We made it through to stumps at 129-5 with Neil Dexter our last remaining batsman 33 n.o.
All in all a very disappointing day, our attack frankly looks toothless without Dial M, all the seamers (except David B of course) seemed to struggle with their line and length and the fielding at times was sloppy. As I mentioned the batting looked frail, and with us still 60 runs in arrears I cannot see any other result than a home win tomorrow. It has to be said Glos looked like a side that believed in themselves, and there is a real feeling around the place they could go close to promotion this season.
View a Printer Friendly version of this Story.
David and Jonathan star
Middlesex till we die (IP Logged)
19/06/2009 22:16
What do you think? You can have your say by posting below.
If you do not already have an account
Click here to Register
.
Edited 1 time(s). Last edit at 2009:06:23:05:49:14 by Ged.
Sorry, only registered users may post in this forum.