Middlesex Ged Ladds v Bastar Jolly Rogers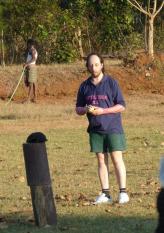 Get on with it Ged
By Ged Ladd (of Daisy fame)
April 3 2011
In a desparate attempt to get a decent match report Ged Ladd was sent to the deep deep jungle for some garden cricket. We learn of few variations from the normal rules, "moon" bowling but most importantly a series win for Middlesex.
MATCH REPORT - Middlesex Ged Ladds v Bastar Jolly Rogers - FEBRUARY 2011.

February 2011. Ged and Daisy found themselves in Chhattisgarh on the Central Plains of India. Daisy swore that she put "Chatsworth" into the sat nav and Ged swore that he kept pointing out that they were going in the wrong direction. Still, no matter. Chhattisgarh seemed very nice and they were to be the very first ever English guests at the spanking new Bastar Jungle Resort. Their host and guide, Jolly, is the Maharajkumar of neighbouring Kanker; his family are co-owners of the new resort. Our reporter, Neville Chhattisgardus, reports from deep in the Indian jungle. Deep deep deep in the Indian jungle:


Ged and Jolly discovered that they share a passion for cricket. So Jolly suggested that some early evening garden cricket with the staff would do everyone some good. The tournament would be Five5 cricket. Five players per side, five overs per innings. None of this long-winded T20 stuff with that dull lull between overs 3 and 18 which is so predictable and soporific. Jeff Coleman will surely approve of these improvements to the game. The stumps would have to be... ...tree stumps. Seemed reasonable. Meanwhile Daisy dragged Ged off to smother him in mosquito repellent and strap his limbs with Kinesio tape – Middlesex pink for luck. Ged was to captain one team, Jolly the other. The Middlesex Ged Ladds v The Bastar Jolly Rogers Five5 tournament.


Ged Prepares To Bowl

First match - Ged Ladd won the toss and elected to field. Ged couldn't imagine what a decent score might be in a Five5 match played on a green top in a sizeable garden. Perhaps the pitch would settle down a little as the match went on. Jolly magnanimously let his team-mates bat ahead of him but it was really hard to get the tennis ball away off that surface. Variable bounce and variable pace to the wicket. Jolly finally came in to bat, the field spread and Jolly managed a few heaves behind square. Garden rules allowed two runs maximum behind the wicket, even if the ball went for "six" to that short boundary.

Ged Bowls. Fly Him To The Moon or will the batsman fall for the tactically off side trap set?

Ged decided to try his moon balls and Jolly decided to go down town and try for a real maximum – caught and bowled once it came down with snow on it. Bastar Jolly Rogers all out for 15. The Middlesex Ged Ladds achieved 16-3 pretty quickly – a win by two wickets - this was no heart-stopping Daisy finish.

Second match - Ged Ladd won the toss and elected to field. If it ain't broke don't try to fix it. On the other hand, perhaps the Bastar Jolly Rogers should have tried different tactics this time. They didn't and were rolled for 14. This time it proved a bit harder for the Middlesex Ged Ladds, with some superb wicket-keeping from Jolly, Shyamlal screaming like a sub-continental spinner (but then, he was a sub-continental spinner) and the informal umpiring perhaps starting to side with the underdog. It's just as well Barmy Kev wasn't there to describe the local umpiring as only Kev can; "you're a Bastar umpire," or words to that effect. Still, the last man could carry on batting and Ged steered his side home with an especially hoikey two to long leg – why no-one was waiting there for Ged's only release shot is a mystery – 15-4 a win by one wicket. Tight finish.

Ged Hoicks Behind Square And Not One Fielder Is Waiting

Third match - Ged Ladd won the toss and elected to bat. Ged tried to even things up a bit by letting some of the "weaker" members of the team go first. Actually it turned out that Abhichek, the driver, was a good player who simply didn't tend to put his hand up. More runs this time playing with a red (bouncier) ball.
Waiting For The Third Umpire Or What

Ged managed an extra cover drive for four which he tells us he is still dreaming about. 36-4 off 5 overs. Abhichek also took a couple of early wickets, but Jolly was able to get his eye in this time and Ged's moon balls were becoming meat and drink to him. In a really tight, down to the wire finish, Gowardhan managed to grab the last couple of wickets to leave The Bastar Jolly Rogers agonisingly close, all out for 35. The Middlesex Ged Ladds had won the series three-nil.

Day Two – One Off Match – There was only time for one Five5 match the next day – Ged and Daisy had been busy dancing with a Bison-Horn tribe and visiting an especially boisterous local Sunday market. Also, Ged had been achieving 15 minutes of fame commentating on a local Interstate match and getting interviewed for several papers and Cable TV – but all of that is another story. Ged made three big mistakes Day Two. Mistake No 1 – Ged won the toss and elected to field. Big mistake with the light fading fast and Jolly being really pumped that day. 54-4 with Jolly scoring 30+ of them. Mistake No 2 – Ged was so concerned to cover up with mosquito repellent he forgot to get Daisy to strap up his enfeebled arms. Mistake No 3 – Ged took it upon himself to try to hit out and went through with a ludicrous inside out shot that was all bottom hand, air and torn lower bicep. Word is, Ged's right arm is still not right. 14 all out. But still, three-one to the Middlesex Ged Ladd's over the two evenings.

And what fun. Apparently a small party of Italians were expected at the resort next, but unless they are named Vettori or perhaps are Sven Koenig's kin, Jolly's team were probably not letting off steam with the guests cricket-wise after Ged and Daisy checked out.