CC Day 2 v Somerset. TAUNTED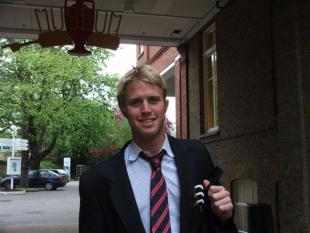 Wrong Blazer lad!!
By Dingy Bags
April 8 2012
Dingy Bags reports on the second day at Taunton on a rather confusing day.
The second day dawned bright and clear in Taunton and, on arriving at the ground, the strip looked visibly less green than when it was uncovered on Thursday afternoon. It would have been a good toss to win. It was also unlucky that, when the players went off for bad light on the first evening, Philander had just finished his second spell because he could start again this morning. And, less green wicket or not, he was still a handful. In fact he looked a class act, every inch a test match bowler and probably far better than the vast majority of bowlers we met last year.
Simmo played and missed a good deal at his end but, briefly, Joe Denly took up the fluency he had shown on the first, gloomy afternoon and was having absolutely no trouble with Kirby at all until he played forward, the ball took bat and pad and looped up just enough for that bowler to follow through and dive to catch it one-handed – a slightly unlucky dismissal. Not many runs on and Philander finally won an lbw decision against Berg, who had been the target of a number of bouncers from both ends, not that this bothered him. At 150, the seventh wicket went down, as Simmo scooped a ball, rather oddly, to mid-wicket, giving the Saffer a five-wicket haul on debut. It was just as well for Somerset because Trego, replacing Kirby, was not very threatening and Meschede was not used at all.
At this point Timothy O'Murtagh walked out at no 9 and proceeded to play an utterly sensible, attacking and well-judged innings. This particular Taunton 4 – me, Ken, Beefy and Lower Pav had now been supplemented by a cluster of Diamonds and soon news came through of BattyKev's travel itinerary for tomorrow. Beefy organised a sweep trying to predict Kev's arrival time on the ground. Times ranged from about ten minutes after his train is due in, to two days. Beefy could not understand why he had eight times down but only seven quid in his hand, until Lower Pav pointed out that Beefy hadn't put in himself. How we laughed.
But Ollie wasn't laughing when Bodenham gave him lbw to the interesting-looking slow left armed Irishman Dockrell. Ollie had got a big stride in – and that IS a big stride in his case. Still Toby R_J, after a few edges off the Irish wizard, started to play with the kind of assurance that suggests he is better than a number 10 until another piece of misfortune. Our new Irishman, backing up, was sent back by Toby only to slip and fall. Compton hit the stumps directly from cover.
A curious moment: it was announced that, with nine wickets down, luch could be delayed by up to 30 minutes. This is a new one on me - I knew tea could be delayed but I had never heard of this before. Anyway, Colly held out until we were tantalisingly close to a second batting point before he was also lbw to Docker, this one seeming a bit more conclusive. 246 had seemed a good score when we were put in but it was obvious that, Philander apart, there had been far less in it than the day before. It was a pain that, in effect, he had been able to bowl two long spells back-to-back.
When they batted, we saw another class act, because Trescothick began to put the ball into the gaps at once. So too, initially, did Suppiah, so that the 50 came up in less than 11 overs and it seemed that the gulf between the two divisions was wide indeed. But Bergie then had Suppiah caught behind and Compton came in and struggled. He was in single figures for a long time and it seemed he would get out at any stage. But this game is not always logical and, in Ollie's first over, he got the edge of the dominant Tresco's bat and Dex held him at slip, a classic dismissal for an off-spinner. It was nice that Ollie recognised our applause at the end of his over, as Joe D had done when he reached his fifty the day before.
Straight afterwards, Bergie bowled Hildreth and we were right back in the game. In the same over, Kieswetter edged Bergie to Ollie at second slip. Opinion was divided as to whether it just carried but Ollie certainly looked disappointed. At 111, we had a great run out chance as both batsmen found themselves at the bowlers end. Joe probably had time to lob the ball to the advancing Simmo but he chose to shy at the stumps and missed. In the light of the rest of the play, it is hard not to feel that this was our window in the game.
It must be stressed that Ollie and Bergie bowled really well and tightly either side of tea, so that the scoring rate that had been up above 4 an over, dropped to less than 3. But Compton and Kieswetter survived, to take scoring opportunities that arose in the lat hour.
It was good to see that, against a top side and against two top players in Philander and Trescothick, we were able to compete. We kept pulling things back in this day and a half and will need to get among the wickets quickly tomorrow. We will not always have to bat in the conditions we were made to face in the first innings here and Somerset are a strong outfit. It WAS a disappointment that we did not break through in the final session but luck has not gone with us as yet and we gave this observer the impression that we were stepping up to a tougher challenge than we met for most – if not all – of last year.