Middx Maneouvre A Tricky 3 Point Turn.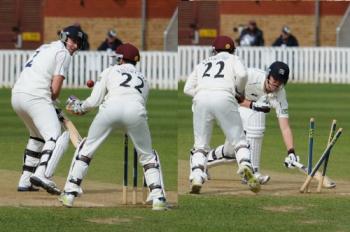 There gooes Ollie
By Barmy Kev
April 8 2012
Day 4 at Taunton. Kev reports on various permutations on points. It ended up in defeat, but there were many positive pointers-if you get my point.
SO WHAT WAS THE POINT OF TODAY?
The equation at the start of play. Middlesex are 66 behind with 1 wicket down on a pitch now not seeming to be doing much, but we can't be sure. There is the small matter that we are facing one of the world's best bowlers. We will almost certainly safe if we bat to tea. The other issue s, I want to fit in watching Man U v QPR 1:15 kick off. It's tough at the bottom!
GOOD OPENING POINT
We start off batting out a couple of maidens with lots of pressure on us and loads of noise from the fielders surrounding the bat. The next 2 overs we scramble a couple of singles. Runs are hard to come by. Robbo almost plays on-gets away with it-rushes a cheeky single-there's a shy at stumps that misses, four overthrows. 5 more to the Middlesex. This is followed by a glorious cover drive for 4 by Rogers. Then a spell where Rogers couldn't get bat to ball to Philander. Just as well they were not straight. Then he eventually he did connect with a slash over 3rd slip. Now it seems this really could be our day.
As the pressure on our batsmen increases, Lower Pav complains about the noise of the intimidating appealing, but he thanks Suppiah fielding at deep fine leg near us for being quiet. Vermin Corner now becomes lively and Lower Pav suggested we offer to buy Compo an Ice Cream you know the one with the two flakes.
We survive the first hour. Kirby and Philander are taken off and replaced by Dokrell and Trego. Score now is a promising 77-1, having weathered the early storm.
The next issue was we are -3 on over rate and at some stage we need to bowl to make this up or lose all our bonus points. We were thinking at the time if matters continue to go well, we may need to look at a declaration and put them in with our spin bowling to get -3 back. As I working this one out Rogers pulls a six close to Vermin Corner, possibly a chance for Kev. Next ball an edged 4 gives us lead. We are 1 for1. As I was thinking about our over rate, the net score becomes 1-2 as Dokerell has Robbo out adjudged LBW.
The next round of applause is for sun coming out for one second as Beefy takes his jacket off and back on again in no time. Bucko reaches 50 then is caught behind, now 118-3 ( 14-3 net). Realisation suddenly dawns, we could lose match and have all our bonus points taken away.
We survived to lunch with few alarms. 30 ahead with 3 wickets down on a pitch that looks like it's turning. I'm still conscious of our points deduction, but I'm off to the off to pavilion to watch Man U v QPR. to help me calm down
This Maybe A Pointless Exercise.
In the Pavilion they have the build up for Man U v QPR on. Just before the kick off there is a sudden change in channel for the IPL "cricket". When I commented to the barman that there was a demand for the football, he said most of members here want to watch cricket. Not that 20/20 is cricket and not that anyone seemed to be watching what was on anyway. He said once players out they may change channels. The players were out but there was no change of channel. I hung around for a while and watched our game from the Pavilion realising I won't be watching QPR suffering too. Maybe not such a bad thing after all.

Points are slipping Away
Just after lunch Dext is caught behind and as he walks to pavilion, someone who was listening to the Man U QPR game on radio in front of the TV showing IPL "cricket" announced Man U had a controversial penalty that resulted in a QPR player being cheated and sent off.
I have had enough of this, so work my way back to Vermin Corner and on way I see Simmo caught at slip. This is not the best 15-minute sporting spell of my life. The 34-5 lead with lots of play left looks dodgy. Even worse when AC out for 23 caught behind and 148-6 even worse. Now talk is a small target with slow bowling to make up the -3 points. Once Berg out for 1, it seemed even more like a damage limitation exercise. We never really looked like building any partnerships lower down the order. If only we can manage to keep our 3 points.
We are all out. George Dockerell finishes with 6-27. Somerset need 72 runs from 40 overs. We have enough time to get those 3 points back and I suggested us underarm bowling throughout to make sure.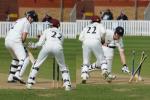 AC caught behind And Ollie stumped
A Three Point Turn
I'm surprised to see Bergie opening the bowling as expecting a spin attack to get our bonus points back. Then 3rd ball a wicket Tresco edge to Rayner 2nd slip.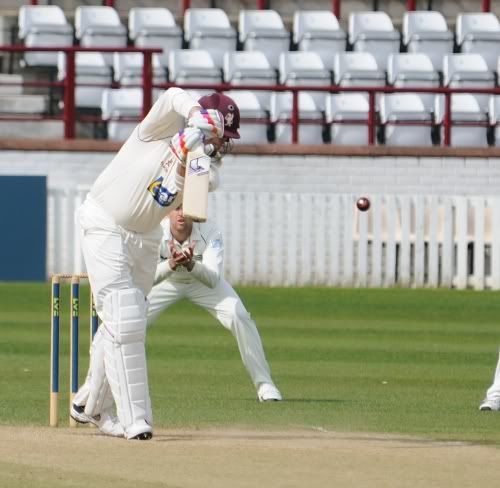 Tresco on his way out.

My concern still was get on with it for over-rate sake and lo and behold after 3 overs our -3 went down to -2, greeted by a big cheer from the Middlesex faithful. Then with score on 13, Suppiah is caught behind, maybe miracles can happen? During tea -2 went to -1, assumed down to Don Shelley negotiating. After tea dark clouds closing in. Vermin Corner were doing a rain dance. Malan nearly caught Hildreth of what would have been the best catch I have ever seen, just popped out as he was on ground having spectacularly dived. Another big hit in same direction AC tipped round the post for 4. AC's 3rd chance he caught Compo. We actually, thought Compo out was bad news as there was real threat of rain and was getting darker with Somerset needing to finish this off quickly. As parity was reached on over rate and Berg bowled Kieswetter at 44 we were dreaming of a 6-point draw. Or maybe a 19 pt victory?
That was as good as it got. The dark clouds and rain avoided Taunton. Hildreth and Butler saw Somerset home with ease at end.
And My Point Is?
On paper and Ceefax this may not look good. I wasn't there then, but feel qualified to say it was a bad toss to lose. We competed well even when matters were running away from us. We had a mad post lunch session today that really turned it against us. But we certainly made it harder then expected for Somerset at the end. The Somerset fans who spoke to us after game were impressed with our fighting qualities. From what I've seen, I really think we have enough in us to stay up and be competitive throughout the season.