Championes Caption Competition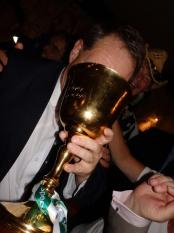 Cheers
By MTWD Admin
October 30 2016
In case you were not aware we won the championship this year. 3 of my favourite pictures I feel are worthy of our first caption competition of the winter season. First one Dingy drinking in the moment.
2nd one is a kind of huddle.
And thought I'd add this one for good measure. For those who don't know me I'm the one about to self combust.
If my memory serves me right Haringey Racer won the pre season caption competition and agreed to nominate the winner of the next one. You have 2 weeks to think of your best or worse apt pun to warrant a miniscule prize or honour of judging next one. Good luck.