New Zealand 2013 - Blog Part 1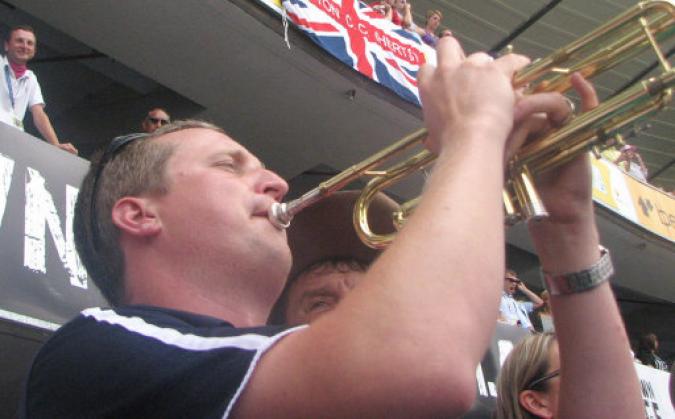 By Craig Norwood
August 10 2013
In the first of my New Zealand blogs, I look at the opening test match in Dunedin which I joined on Day 2, with England in trouble in their first innings....
SO, the time had come to embark on the next cricket tour somewhere in the world.
This time it was the small matter of the other side of the world in New Zealand. After seeing pictures from some of the guys already out here I knew this was the one place that I really wanted to visit, picturesque views and stunning backdrop scenery and that was just from the warm up game in Queenstown.
I knew this place would be something special so I was ready for the short 24-hour flight just to get to the country.
The journey time from leaving home to get to my final destination was going to be somewhere in the region of 48 hours, I hadn't really prepared overnight and stayed up late so it was going to be a long journey. I'm no BA Barracus so I don't mind flying but even so an 11 and 12-hour stint back to back wasn't going to be easy for the frequent flyers among us.
Pleasant drive down to Heathrow, parked up and I arrived so early for the flight that the check-in wasn't open so first port of call was the bar. In fact, I think I arrived that early that the pilot was still at the bar ready for his nightcap before his flight the next day.
Nonetheless, I was there case in tow ready to go. Due to work schedule I was to miss the first day's play in Dunedin arriving early on day two in Auckland. Flight times meant that I was leaving just before the start of play and via a cheap deal with Korean Air I was to arrive 11 hours later in Seoul, hoping to log on to social media to see England in complete control of the test. I arrived in Seoul, a quick shimmy of the Gangnam-style dance through security and promptly logged on.
I couldn't help a wry smile when it said play had been rained off the day, as my arrival time was early on day two - around 8am in Auckland, I had witnessed the start of day two in the pub and it was becoming a familiar first test syndrome, 70-5 we were when I left the bar, so upon arrival at Dunedin I was hoping to find the tail had wagged. Well the tail had wagged but only to get us out a more perilous position, we were bowled out for 167 and NZ were making inroads at around 70 for no wicket.
I jumped in one of the shuttle buses heading for the centre and was kindly dropped off at the flat I had rented for the week with the better half, who had been present two weeks in the country already and also looking forward to meet my mate Kirk who was also out here.
A quick change and it was off to the Barmy Army pub called the Terrace Bar. Each destination on tour there is an official Barmy Army HQ, a small fee to the BA and that establishment is sure to see takings off the scale from a normal week. It's where we all congregate each day after play, pre and post-test parties and have a few social drinks. NZ had finished the day on 131-0, England had completely been outplayed.
It's not often we pray for rain on tour, we go to escape that and the cold of England but I couldn't help thinking rain may be the best saviour to save the test. Greetings were made to all friends made over the years and a few drinks were to be had before eventually crashing late in the evening as the jet lag began to take its toll. Day three had arrived and I was up early to head to the ground and get my flag up.
The flag has become a familiar sight on each tour and bears the names of the four original flag bearers who went on the Oz tour of 2010, for which we got it made for.
There's myself, my brother Mike and mates Kirk and Geoff. Kirk was already here and my brother was joining us for the Wellington test. Geoff was sitting out this tour, he had attended five years previously and elected to stay and support the Stags back home.
I duly aimed for prime position behind the bowler's arm and upon arriving I noticed all the other guys with flags had left theirs up but there was a prime spot in line with the wicket and I promptly put the flag up there.
I headed to take a spot on the grass bank which is where the Barmy Army had taken up residence for the test. We all love a good grass bank and I think some of the best grounds in the world, Adelaide and Cape Town included have a great grass bank; it's easier for the army to congregate and makes for a great atmosphere. The umpires and players took to the field and the first ball of the day was bowled.
Bill Cooper, or more commonly known as Billy the Trumpet, led the Army into Jerusalem - this has become a regular tradition on each day's play by the army complete with actions and one I know is appreciated by the players as they applaud the contingent at the end of the song.
England were struggling to make inroads into the opening pair of Rutherford and Fulton. Rutherford was looking dominant and taking the attack to the bowlers. The first wicket stand was finally broken on 158 as the ever reliable Jimmy Anderson took the wicket of Fulton. Rutherford, on his test debut, made a very impressive 171. England continued to struggle at periods but picked up a few wickets and had NZ on 385-7 at tea.
A great atmosphere was building up on the banks throughout the day, NZ have their own version of the Barmy Army known as the Beige Brigade and behind us were a few guys and their Seedy Oracle" 'who would make regular and surprisingly accurate predictions on the future state of play. They were providing great entertainment and were vocal towards and with the army.
The army always likes the opposition fans who have good banter and they had some fantastic songs to boot for their own players, even surpassing some of the chants the Barmy Army could muster. Vic Flowers was in attendance, Vic is The Artist Formerly Known As Jimmy Savile, who due to recent circumstances felt it right to proudly wear his name badge so people who weren't in the know, knew his real name.
Vic has been a familiar face on the circuit for many years now and famously led the celebrations with the England players, when they regained the Ashes back in 2005, on Trafalgar Square. Vic led the chorus of his famous and one only song he has 'Everywhere We Go'.
It was back out after tea and spots of rain were being felt, it was inevitable that this wasn't going to last long, and 20 minutes later the players were off but for bad light. With rain in the air as well, we knew this was going to be it for the end of the day so no better place to head off to than the pub where upon arrival it was confirmed play was off for the day.
There it was, my first day watching cricket in New Zealand had ended. It wasn't going particular to plan but in a strange way we were hoping rain could save the day for us in this test. Not that we want rain, we escape England to get away from the poor weather but we knew this was going to be a struggle, or so we thought. Day four arrived and the weather had cleared but my, was it cold.
This was to be one of, if not the coldest days I have had watching cricket abroad. Fleece was on and all wrapped up, and NZ went out all guns blazing eventually declaring on 460-9 with a lead of 263.
How wrong our concerns were to be that this was going to be a struggle as Captain Cook and Nick Compton led the England recovery. Compton was under some pressure from the media after India and without a score in the warm up game and a duck in the first innings.
I thought it was a tad harsh as making your international debut in India is no mean feat and, without making a big hundred, he still did a decent job.
The day was more subdued on the grass bank as I think we were all feeling the cold, as the day went on my fleece ended covering most of my head, it was like an April's day watching cricket at Trent Bridge, in quite contrast to the last tour to Sri Lanka when we were desperate to find some shade. Cooky and Compton quietly went about their business as England reached 139-0 at tea. Slowly we were starting to believe we could escape this test with a draw.
They kept the scoreboard ticking after tea with Cooky reaching his 24th test ton and sixth in seven matches as captain. That is a phenomenal achievement which goes to show the man is simply a machine. Compton was in the 90s for some time and nerves were ensuing.
To be fair I get nervous trying to reach double figures playing cricket, I can't imagine what being in the nervous 90s must feel like. He was close to being run out on two occasions but finally reached his maiden test hundred just after Cook was out as he edged one through to the keeper. With only a few overs to go for the day it was a shame to lose Cooky so late on but his job had been done.
The grass back and the army erupted as Compton clipped a single and the chorus of a new Barmy Army Song to the tune of Downtown for Compton rang out. England ended the day on 234-1 with night-watchman Steven Finn joining Compton at the crease.
This was more like it from England and showed that the first innings was just a blip. I think England have invented a new syndrome known as the First Test Syndrome as we always seem to struggle no matter where we play at the first test.
A record of only ever winning one first test away for 13 years shows that, and that was Bangladesh. It was time to head back to the Terrace Bar to sample a few more local brews. I must apologise if this sounds like I am in the pub a lot, well technically we are.
A lot of media outlets and folk have a myth that's all that the Barmy Army is about. Well yes we like to have few drinks, who wouldn't when away on tour in some of the most beautiful surroundings but it's all in a friendly atmosphere with locals as well as the touring party.
The Barmy Army are not drunken football louts, this is different crowd, they are a genuinely nice set of blokes and girls, who couldn't be more welcoming to new folk on tour.
Each tour the Barmy Army organises one or two nights for a local charity. The night before a curry night was arranged at a local bar in aid of the Christchurch Earthquake appeal. Christchurch was devastated by the earthquakes two years back and is still struggling to recover today.
Now, despite venturing all over the world, I am not a curry or Indian food person. In fact a tomato soup with herbs in it can be too hot for me, so visiting India which is still to be done could be a struggle.
Over 90 were in attendance, I tried a mild Butter Chicken dish, and to start with I thought this wasn't too bad. A few more bits later and the mouth was beginning to burn.
I know this is a poor effort from me as others attempted the hottest dish around called the Titanic. Those who finished it were commemorated with a plate on the bar walls. I think had I attempted it there may have been a RIP plate for me.
Billy The Trumpet was the after-dinner speaker and told stories from how he became a part of the Barmy Army today, just simply taking his trumpet to one game in the Caribbean led to hid becoming the main focal point leading the songs each day and night.
A back catalogue of some old favourite songs was led by Bill and an auction followed. The next day we found out that over $3,000 dollars had been raised on the evening, which was fantastic achievement. Not a bad set of folk?
And so the final day had arrived, could we save this test and escape Dunedin with a draw. You bet we could. Nightwatchman Finn continued to frustrate the Kiwi bowlers. Compton was first man out making 117, a superb effort from him and one to silence the critics.
There always appears to be one batsman the media round on, and I for one was delighted for him.
More frustration for the bowlers as Trott joined Finny at the crease with both taking England to lunch unscathed. Trotty reached his 50 and now it was Finny's turn to hit his maiden test half century.
He remained stuck on 43 for about 50 minutes, but reached his 50 and cheers rung out from all sides of the ground. Every Barmy Army Song for Finny was sung loud, a superb effort from Finny and the test was slowly heading for draw as tea was reached at 382-4 with Finny still there.
I've seen many things at cricket throughout my time watching at home and abroad but I've never seen a guy with a guitar complete with amplifier. The Kiwi supporters mentioned earlier in the piece had their own guitarist who provided much amusement throughout the day's play with a few catchy numbers.
England lost a couple of quick wickets after tea but with time running out, the end of the match was called by Brendon McCullum with England 421-6.
A sterling effort from England after a poor first innings batting display, the real England that we knew had turned up and showed their class, and even a bowler by trade, Steven Finn's batting powers provided the icing on the cake.
The day was left to the guitarist and Billy to show their catalogue of songs and lead the crowds out of the ground. That was it for me in Dunedin as I was heading off early the next day. Dunedin is the oldest city in New Zealand and has plenty of history.
It's a big university city nowadays and, while not the picturesque places we have become used to, it was still a great place to visit. The cricket ground is fantastic with great views to the hills behind, a bit more sun may have helped but it was time to head off to the next place of this stunning country.