New Zealand 2013 - Blog Part 2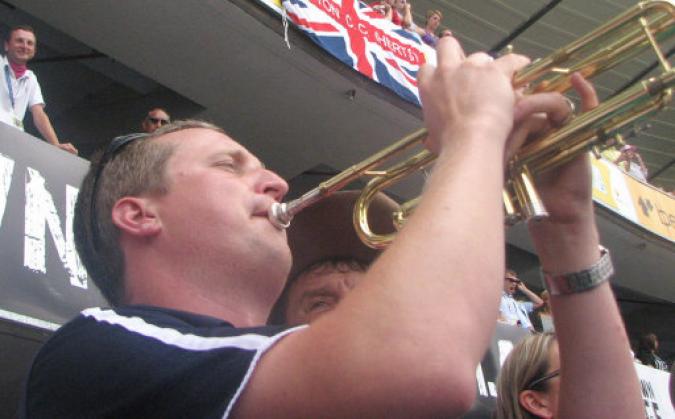 By Craig Norwood
August 10 2013
For the second part of my New Zealand blog, we moved onto Wellington for the second test match, with the series poised at 0-0.....
THE flight to the North Island and Wellington wasn't so straight forward as it was delayed by two hours due to fog. Being a cheapskate and saving money I elected to book the cheaper flight from Queenstown, which meant a change in Christchurch thus then missing the connection there.
We arrived in time to check in and then head off to the stunning surroundings of the Botanical Gardens where I was to play for the Barmy Army in a cricket match against our New Zealand counterparts, the Beige Brigade. The first game didn't go to plan for the Barmy Army, who were comprehensively beaten.
All three games arranged were the day prior to each test match in a last man stands 20 over game and the defeat in the first game could have been by an innings, it was that bad.
We were out to salvage some pride and lost the toss and we were put in to bat. I was down to bat lower down the order and didn't actually get a bat but we made a more respectable 135-7, which was around 40 more runs and seven less wickets than the last game.
I was unfortunately given the task of bowling the first over and while not as bad as Steve Harmison's first ball in the Ashes 06 in Oz, a waist high full toss was duly despatched for four.
The Beige Brigade had a decent team to be fair, a lot different to what I have to face on a Saturday afternoon for Thoresby Park and they duly set about chasing that total down. One of the players and regular tourer 'Gilly' set about dropping two dollies, one off me and another chance even easier, cue the crowd laughter and abuse complete with juggler actions.
In the end they reached their total with about six overs to spare for about four wickets down, two batsmen retiring out on 50. It was then on to HQ, The Four Kings for a pre-test party and take advantage of the $5 dollar beers.
The BA main organiser Gilo had arranged the same deal for HQ in Dunedin, which equates to around £2.85 a pint. Not bad at all considering we were expecting to be paying around £5 a beer and $8 dollars is the norm in most other bars, so the poor exchange rate wasn't looking too bad after all.
I arrived the next day early at the Basin Reserve, where the test was to be played and duly aimed for prime spot for the flag for the test, which I managed just to the left of one of the sightscreens.
I was impressed with the ground, a proper test cricket ground. The grass bank we parked on was a lot steeper than in Dunedin but a perfect spot for the army to take place for the test. Cooky lost the toss and we were put in to bat just as New Zealand captain Brendon McCullum had been saying he would do and Cooky confirmed he would have bowled as well.
Slightly overhead conditions meant this was going to be a tricky hour and if we could escape the hour and the morning session unscathed then we would cash in, in the afternoon. We did just escape the hour then Cooky misjudged a ball from Wagner and was out with the score on 27. Jonathon Trott joined Compton at the crease and they saw us through to lunch without looking in too much danger.
The weather improved and finally we had some sun, after not much sun in Dunedin it was relief to have to use the sun cream bottle. They continued to dominate the bowling attack after lunch and put England into a strong position reaching 162-1 at tea. After tea both Compton and Trotty carried on to put England in a great position with both reaching a hundred.
Trotty reached his first with Compton following soon after. There were no nervous 90s for Compton as in Dunedin, he looked more comfortable and played some cracking shots in reaching his ton. He was out almost immediately after the drinks break for 100 on the dot, but a superb innings from him and showing he can make the step up to international level.
Throughout the day the news and social media was only talking about a duck that had made its way onto the outfield in the morning and remained there all day. He even had a Twitter account in a matter of minutes that Jonathon Agnew soon began following and tweeting.
Rumour had it that he was looking for his mate who had perished the day before when the NZ team were training, either that or the host broadcaster didn't have an icon to show on screen when a batsman was out for a duck. KP & Trotty saw us to the end of play finishing on 267-2.
A cracking day after losing the toss and we headed to the bar hoping to see a run fest tomorrow.
Day two began and Trotty was soon back in the shed for 121, out facing his first ball of the day. KP looked determined to knuckle down and play through the pain barrier as he was struggling with his knee. England lost a couple more quick wickets reaching 353-5 at lunch, so it had been New Zealand's morning.
Five hundred-plus we were hoping for was going to be a struggle but we knew anything around 450 would give us a good benchmark as ideally we wanted to be only batting once and needed to score quickly as the forecast for the last two days wasn't very good.
Yes rain was forecast, more bloody rain. Not long after lunch a surprise visitor made his way over to the Barmy Army contingent. We had heard in the morning a certain Geoffrey Boycott was to make his way over and request that Bill played a Katy Perry song on his trumpet for him.
Apparently Geoffrey is a big fan of Katy Perry, to be fair to him I can see why. Geoffrey hasn't exactly been one of the Barmy Army fans over recent years, he's a bit of a traditionalist who isn't into the singing but if Geoffrey was changing his mind about the army, it was only a good thing.
Bill had found some lyrics to a song and duly played 'Firework' out to a delighted Geoffrey. He loved it and was more than happy to accept a little banter about his slow scoring rate and pose with pictures with excited fans. A surreal moment as I never thought I would see the day that Geoffrey Boycott would be standing with the Barmy Army. England were eventually all out for 465 and tea was taken.
A good total in the end as it did look like we were falling away but something for the bowlers to get stuck into after tea and make inroads into the Kiwi attack. New Zealand lost the early wicket of Fulton with Jimmy Anderson finding the outside edge. Hamish Rutherford fresh from his debut ton in Dunedin and Kane Williamson went about rebuilding the NZ innings.
One of the army contingent Graham was building up his rendition of 'In The Jungle' when Broad snapped up the wicket of Rutherford and then bowled Ross Taylor next ball. Broad was on a hat trick but that was kept out and NZ finished the day on 66-3.
It hadn't turned out too bad a day in the end for England, though maybe hoping for another 50 runs but with three batsmen back in the shed, hope remained that if we could get early wickets on day three, we could then en force the follow on. Day three was to belong to our very own Stuart Broad, a couple of early wickets left NZ on 89-5 and they were in deep trouble but Brendon McCullum as so often is the case was taking the attack to the bowlers and began to frustrate England. He has been joined by BJ Watling at the crease.
Now why a mother would call their child BJ is beyond me or maybe that's just my humour, but anyway back to the cricket – NZ were getting closer to the following target and Vic Flowers was to delivery his 'Everywhere We Go' song, followed by the continued chorus of Captain Cook's Barmy Army of minutes on end. This is the army's attempt to gee up the players on the field and to get that vital wicket, which when it comes during the singing, it becomes known as a Barmy Army wicket.
Vic had been joined by Freddie Mercury at the front, as it was fancy dress day, and the wicket of McCullum was snapped up, the barmy wicket was brought. NZ were eventually all out for 254 on the stroke of tea with Broady taking 6-51 and looking back to his best after a poor series in India that injury eventually forced him out of. Cooky elected to enforce the follow on and the first wicket to fall was that of Rutherford by Monty, NZ survived unscathed to the end of the day finishing on 77-1 still trailing 134 behind.
We were all hoping for an early finish to the test to give us a free day. The night at the BA HQ was the main charity night of the tour for the Christchurch Earthquake Appeal, the Dunedin one was more a quiet affair but this was the main one.
Graham Gooch was to be the guest speaker, and as with Geoffrey Boycott, not someone I expected to see with the Barmy Army, but what a great speaker he was. He praised the support from the BA and ran through many an old tale, joke and story from his playing days.
The main butt of the jokes was to be Mike Gatting and his weight, with Goochy saying that the ball from Shane Warne - the ball on the century - would not have got Gatting had it been a pie.
It was a great speech from Gooch, and he definitely went up in my estimations. Raffles and auctions were done throughout the night and upon leaving Wellington the figure was in excess of over $7,000 dollars raised, another superb effort from all involved and a great evening was had by all.
The least said about the last two days of cricket the better, simply it was a band from the 90s and wet wet wet. Rain poured it down. Day four was rained off from lunch, with a brief restart for half hour after tea and NZ finished on 162-2.
The forecast for day five was apocalyptic and that it was. It rained and it poured for the whole day.
My hopes of a day four finish and sightseeing were out the window and day five turned into a pub day.
It stopped briefly where I got the chance to venture out through town and go up the Wellington Cable Car, where there was some great views to be had over the city despite the grey clouds. Rain set back in for the day and the night and we finished off our evening in the Four Kings HQ.
Car hire was booked early for the morning as we were to drive up to the next test venue of Auckland via a night stopover in Taupo where I had an extreme activity planned. While I was in Wellington I had attempted to meet up with an ex Mansfield Town legend Chris Greenacre. Chris had finished his playing days playing in the A League for Wellington Phoenix and was a coach and then assistant manager.
A week prior to leaving the UK Chris was appointed temporary manager until the end of the season as Rick Herbert, also New Zealand's national coach, left his position with the Nix propping up the table I had contacted the club back from reception who was actually Chris' wife.
She forward the message one to him, but then a day later Chris was appointed interim manager so I didn't get a response. I knew he would be busy now he had this role and again contacted the club when in Wellington to ask if they would be training on the morning that I was to leave and his wife Lynsey said she would speak to him. Unfortunately it fell awkward that Phoenix were away in Perth, a five-hour flight away, which meant they were leaving on Day two of the cricket and not back till the night before I left.
I got an email from Chris on the Monday which I didn't see until later apologising that he hadn't got in touch earlier but it had been chaotic since he got the job and was there any other day I could meet and go and watch them train? Unfortunately I didn't pick this up to arriving in Auckland and as I had the car hire booked we were off early on the Tuesday.
Such a shame that it fell while they were playing far away and with Chris getting the job as it meant we had missed each other while I was there. It would have been great to have met up and got a few pictures but was nice it would have been possible had for not leaving and I wished him well from the Stags faithful.