New Zealand 2013 - Blog Part 3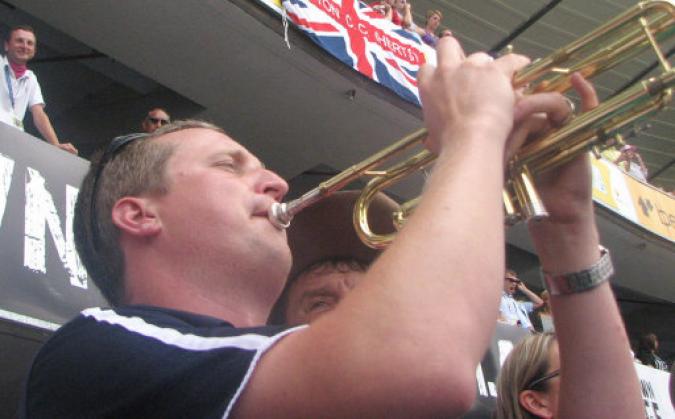 By Craig Norwood
August 10 2013
In the final part of my New Zealand blog, I look at the Auckland test match, which capped off a fantastic tour, and England gaining a tense draw on the final day.....
WE left Taupo early afternoon for the four to five hour drive north to Auckland. This is where the final test was to take place and the last leg of my New Zealand journey.
After not seeing an England victory in the previous two tests in Dunedin and Wellington, I was hopeful of seeing an England series win. I have proven to be a bit of a bad omen following England abroad and have a poor record of seeing us win.
I didn't make India so my record going into this test was only two England victories out of 11 tests with this my seventh tour. With those stats, if I was a football manager, I would have been sacked by now. The night we arrived in Auckland was just a quiet affair where I met my brother and my dad who had flown up from Wellington the previous day.
The next day was a free day before the test and we decided to explore a bit of Auckland, this was a much bigger city than Wellington - but I was impressed by the harbour and the Sky Tower that stood out across the city. After exploring I headed off to play in the final Barmy Army game versus Beige Brigade. We were 2-0 down and after salvaging some pride.
The game was being filmed by the local TV company and as we would find out later was to be shown at lunch on day three on Sky Sport NZ channel where the game is shown. Jock lost the toss and we were inserted to bat, and Jock shouted "Bread" do you fancy opening. I thought why not, I opened all last year for our Saturday team, without much success but on a artificial pitch I was hoping to score a few runs.
Early rumours that ex-New Zealand international cricketer Daryl Tuffey was to play were squashed and after the anthems of both teams were proudly sung it was time for the off. As we were heading out I had the camera pointed in my face and asked how confident I was and what sort of shots would I be playing, to which I said "the Dilscoop". For those who don't know this is sort of a down on one knee, close your eyes and hit it over your head type of shot, not the best shot without wearing a helmet. The least said about my innings the better, a common theme after my bowling in the last one,
I basically missed the first two balls, and was bowled the third ball, I wish I had now answered the cameraman with "just to hit it". A poor effort especially as I have been in the nets since January, but you wouldn't have guessed it, more practice required. We lost a few more wickets, but captain Jock steadied the ship and hit some cracking shots before retiring on 50, well supported by a few others we made in the region of 170. The Beige Brigade started off strongly but a few wickets pegged them back a bit. It was looking close before some late big hitting from a couple of their guys saw them home for about six wickets down ...or so, I'm not entirely sure as we had all had a few beers by then but they won with three overs to spare. It was a valiant effort and a stronger performance from the BA boys.
It was then time to head off to The Fox pub which was the HQ for the test. Situated in the harbour area it is a great pub in a stunning location. A few drinks were drunk till the early hours before it was time to get a few hours kip ready for the first day of the test in the morning. We got to the gates at Eden Park nice and early just before opening at 9am, ready to get the flag up in a prime spot. Same spot was located where the better half had placed it for the one day game before the test series. Eden Park is a cracking ground, but used predominantly for rugby. It's just plain and simply isn't a cricket ground.
After the grass banks at Dunedin and Wellington it was a shame the series would end playing here. As I say it is a stunning ground holding over 50,000 but with not many expected the ground was going to look empty and it's just a concrete bowl, rightly used for rugby. I couldn't help but wished we were playing at a proper cricket ground, just as the last two were. Cooky won the toss this time and elected to field first and McCullum saying he would have done the same thing.
The wicket is dropped in here, bought in on some lorry from where it is grown and the block placed in the middle of the field, and you couldn't help think that it was going to be a flat wicket, but we needed to make the most of the first session and get them a few wickets down. It wasn't going to plan as the NZ openers rarely looked threatened for most of the first session. Either it wasn't good bowling or the wicket was dead but it was becoming a struggle for the England bowlers who finally took the first wicket of the day just before lunch as Rutherford edged Anderson to Cooky at slip with the score on 79-1 and lunch taken soon after.
The afternoon session didn't get any better for England as no chances of note were created and opener Peter Fulton and Kane Williamson were in complete control at 173-1 as tea was reached. NZ reached stumps on 250-1 with Fulton reaching a 100 and a very poor day at the office was had by England, but a poor day by myself in the stands as well. The evening session ended up been more about the local crowd who had gathered in front of the Barmy Army.
They had all obviously had a few too many drinks and elected to turn on the Army and goad and swear, it wasn't a nice sight and one we expect not to see at cricket. It had the feel of watching cricket in Australia where at times the locals are none too friendly after drinking two pints of mid-strength lager, and even some of our own fans not with the Army were not helping as it got too much for one who confronted one of the locals.
It had a one day game feel and a football crowd feel as common in Melbourne an Sydney tests especially. After the friendly banter at the last two tests where we would applaud each other's songs this didn't have the same feel to it.
Day two was pretty much the same in the afternoon when it was some other English fans not with the Army who started singing football songs... it's just not cricket. A common phrase used by the Army is "we're only here for the cricket". Singing about what football team you support or hate or abusing other fans because they dare to challenge your attitude is not what we are about.
It proved to be a more successful day for the bowlers who finally found something in the pitch and more rhythm, eventually dismissing the hosts for 443. Not what we and Cooky were hoping for after bowling first. England had a tricky hour and half to get through the day and lost captain Cook early, eventually limping to 50-2 at close as Jonathon Trott was out just before the end.
A much better performance from the boys, but a tricky day three was on the cards and facing a struggle to force a result and win the series. Our mate Az, who had joined us in Wellington was flying home tonight. Az originally from Meden Vale now resides in Melbourne and was famously sent off while playing football over there for having a piercing in a sensitive part.
He had joined us from Wellington so it was time to say our goodbyes and get a picture with his own Mansfield Town flag, bearing the village of Meden Vale in the corner. A few of us elected to spend the evening at the local casino, situated in the Sky Tower complex. My youthful looks prompted me being asked my age ...twice!
It would have been cheeky not to have had a bet while in there, but, as normally the case, my number didn't come up and after about 10 minutes my 50 dollars investment was soon lost. I elected to spend my money on something more worthwhile and took to the bar for the evening.
Day three began poorly for England and it turned into one of the worse test cricket sessions I had watched. Three quick wickets were lost for not many runs and lunch was taken with the score on 92-5. Forty-two runs were scored at snail's pace in the 30 or so overs and three wickets had been lost.
It wasn't pretty to watch, and lunch promptly required a visit to the pub for a pint, and, with how it was going, I was close to staying there. I arrived back half hour after lunch just in time for a slow announcement on the tannoy system in the stadium to say England were 123-5, it took a few seconds to realise but in essence he was saying we were 12345, a scoreline that I'm sure doesn't happen too often.
The ever reliable Matty Prior an Joe Root upped the rate and brought up their 100 partnership and just as things were beginning to look a bit respectable, Prior was out for 73 just one over before the new ball was due. There's never a good time to get out in a cricket, but this was particularly not a good time ... that was for sure. Tea came with the score on 176-6 and to be honest I had seen enough.
I took the opportunity to leave at tea, head back to the apartment and chill for a bit. It looked a good decision as we were rolled over for 204 all out, a deficit of 239. McCullum chose not to enforce the follow on to my surprise and decided to bat again. The bowlers then came out all aggressive and looked pumped up and before we knew it, New Zealand were rocking on 8-3.
Peter Fulton who had hit his maiden test century in the first innings and an Aussie turned Kiwi Dean Brownlie saw them to the close on 35-3.
Day four wasn't getting any better as Fulton went on to reach another century and McCullum, as he had all series, took the attack to the bowlers and New Zealand added 140 runs in the first session. An hour or so after lunch, at the fall of the sixth wicket, the declaration eventually came.
Many Kiwis felt they had batted a tad too long though I learned later that McCullum looked like he wanted to bat on and only reluctantly called the declaration because Tim Southee, the next batsman, had removed his pads. So NZ were 241-6, a lead of 481 and a world record would need to be broken if England were going to win. To be honest the win was never on the cards and it had been another poor day to watch cricket (if you were an England fan). Compton was out early in the innings and the task got harder.
Finally some cheer was to be had as a famous face made his way to the Barmy Army.
It was none other than William (Bill) Roache aka Ken Barlow from Coronation Street. He was in Auckland narrating a play of the soap and wanted to join in with the Barmy Army, he had a quick word with Vic who led the crowd into "Everywhere We Go" but this time it was "Ken Barlow's Barmy Army".
Bill then chose to sit in the seat next to me, and joined in with the crowd clapping and singing. He asked me if the singing put the players off, but I said it spurs them on if anything, especially when fielding and the Barmy Army wicket comes as mentioned in a previous blog.
He spent a good 15 minutes there. England had reached 45-1 tea and we knew after that we could ill afford more than one more wicket to fall to give us any hopes of saving the day.
Trott was out not long after tea and just as it looked like Bell and Cooky would take us through till the end of the day, Cooky was out to part time spinner Kane Williamson. Night-watchman Steve Finn came to the test and our hopes rested on a another super batting display as in Dunedin. But Finny was out in the last over of the day to leave us on 90-4.
Our hopes of salvaging a draw looked long gone but, as in the past watching England, we still had some hope that Day five we could escape.
The Barmy Army end of tour party was planned for this night at HQ The Fox. Final drinks were had with a few people who were leaving straight after the test the next day and another auction was held to raise more funds for the Christchurch Earthquake Appea.I was determined to get some memorabilia, and was disappointed when I missed out on some Kevin Pietersen's signed boots that went for only £120.
We arrived day five at the ground more in hope than belief.
Ian Bell and Joe Root started the day off and battled hard for the morning session, runs were few and far between but that didn't matter. Attritional test cricket was all we were after, block, block, and block. Twenty minutes before lunch the new ball was taken by the Kiwis and the first ball accounted for Root as he was plumb lbw.
Johnny Bairstow was soon out after lunch after never looking comfortable at the crease, and out came Matty Prior with the score on 159-6.
It was looking ominous and we felt it all hinged on this partnership of Bell and Prior Prior came out playing shots and his natural game which wasn't good for our nerves as he was lucky on a couple of occasions. Bell an Prior were doing a cracking job and we started to believe that we could escape this, especially when it looked like Lady Luck was on our side. Matty Prior was dealt a fierce bouncer by Neil Wagner with the ball reacting into the stumps off Matty but without dislodging the bails.
With tea approaching and the draw looking more and more likely the pendulum swung back into the Kiwis favour as Belly was out for a magnificent 75 off 271 balls. He had done a brilliant job and took time out the game but what a big wicket that was for NZ with one final session and 32 overs left to get the final three wickets to win the match and the series. Prior reached his 50 soon after tea and continued to keep playing his strokes. Stuart Broad had joined him at the crease and was doing a great job supporting and blocking every ball he faced. A major scare was had as Trent Boult trapped Broady lbw and he was given out, but while on his way to the floor Broady was already signally for a review. Replays showed he had hit it, and in the moment of falling to the floor digging the Yorker out his neck had hit his bat helmet.
A classic moment as it looked like he was already reviewing it while falling to the floor. Broady had been batting for over an hour and, with 14 overs in the day to go and the draw now looking on, a cheer rang out as Broady soon reached his 50... that was 50 balls without scoring a run but what a great job he was doing, while Prior was still scoring at a impressive rate and was looking odds on for a magnificent ton. With 10 overs left finally Broady was off the mark after what was to be a new record.
One-hundred-and-three minutes and 62 balls to get off the mark, it was the best 0 I think I have ever witnessed. Matty Prior then reached his 100 to massive cheers from the England contingent.
It had been a superb batting display and we all began to relax as the draw was almost inevitable, or so we thought, but there was to be another twist in this fascinating test match.
With just four overs to go, the part time spin of Kane Williamson was brought back on and immediately accounted for Broad, getting an edge to Taylor at slip. Up stepped Jimmy Anderson, normally England's night watchman before this series, surely he could see us through.
Two balls later Jimmy was gone, and cue the pandemonium from the Kiwis and despair from the English fans, our nerves were frayed. I was in Cape Town in January 2010 where England were four down at the start of Day five and saved a draw with that going down to the final ball with England nine down, only then they were nne down for the last eight-10 overs and surviving that felt like a win.
It was now down to Monty Panesar, who else would you want coming to the crease to save you a test match. Monty had done this in Cardiff 2009 with Jimmy Anderson, but I'd be lying if I said we were all confident he could do it again.
He survived the final ball of Williamson's over and three overs were left. Prior survived the over and was desperate to retain the strike but his last ball went for four and Monty was on strike for the next over, cue more nerves in the crowd.
A comedy moment as Prior called Monty through for a run from the first ball of the over, Monty dived in but dived too early and only just got his bat over the line. Matty saw through the rest of the over but was unable to get a single off the final ball, so the final over was to be started with Monty on strike.
My nerves were really jangling now and the final over of the test match and series was to be bowled by Trent Boult. Monty survived the first two balls and then clipped the 3rd for a quick single.
Massive cheers rang out as Monty had done his job, and it was left to Prior to face the final few balls which he defended solidly. Cue the celebrations in the crowd as if we had just won, we had done it and somehow got a draw from the test.
Matt Prior was simply brilliant and played a superb knock, ably supported by Ian Bell and Stuart Broad throughout the day. What an end to the test match and series, who said test cricket was boring? After three tests, the series had finished 0-0 but you wouldn't have thought it. It was harsh on NZ who had been the better side in the test, but what a fightback from England it was and the draw felt like a win.
Had it not been for rain in the first two tests I think the score would have been 1-1 anyway, so in a way despite NZ maybe shading most of the series, a fitting end was a drawn series.
The three tests hadn't helped my poor away record and with a draw here my record was now standing at only two wins from 12 tests.
Following cricket abroad in some of the best places in the world is what it's all about with friends old and new made along the way.
Until you've experienced it my words might not mean anything, but you simply can't beat it. Celebrations were had that night at HQ and around the waterfront, it was most people's last night so goodbyes were said and last drinks were had with them.
We had one more excursion planned the next day where we visited the Bay Of Islands. The Bay Of Islands consists of numerous little islands, around 144 at the northern tip of country. Plenty of activities can be had across the islands.
We had a cruise planned from the town of Paihia passing around 12 of the islands. This involved dolphin sightseeing and it was sight to behold as dolphins surrounded the boats, they are incredible creatures that we should cherish That was it, the next day it was time to head home via a night stopover in Seoul to break the mammoth journey home.
What a trip and tour it had been in probably the best country in the world. New Zealand is simply stunning and I hadn't even touched the tip of it. There is just so much more to see and do and not enough time.
I will definitely go back soon to experience it again and do another one of those once in a lifetime trips, only I think I will make New Zealand a few times in a lifetime trip.