Abbott leaves is needing Devine intervention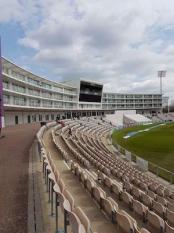 Looks better full
By Surrey Outcast
April 16 2017
A new name for a local reporter who gives us not so much a match report as a stream of consciousness of key moments. A novel way of doing things but we certainly get a flavour of a day which has Middlesex needing anther fourth day spectacular to get anything from the match. Plus an intervention from Kev whch many of us would probanbly agree with. And a final thought from a Hampshire supporter.
Here we go at The Ageas Bowl with the hosts on 209/4.Finn pavilion end and Murts from the Kevin Pietersen Hilton end. Lively start from both and new ball taken. Abbott looking the better batsman and moves on to 20 while a subdued Carbs who apparently has a hand injury watches on.Trj replaces Finn at pav end. Finally a wicket on 246/5 Carbs caught behind for 98. In cones Rillee Roscow Rousseau (no wonder they don't have cricket in China). Ollie injures hand and is off for repairs as Hampshire move to 261/5 after an hour.
(note from Kev on Carberry dismissal: This would have been a unique moment for me not celebrating an opponent wicket on 98)
Lunch at the Bowl. Hampshire move to 316/5. All the R's on 34 and Abbott a maiden 50. Couple of chances missed by Middlesex which could be expensive. Roy Simmons singing Lonnie Donnegan songs at a bright and sunny Rose Bowl.
Fightback by Middlesex. Great catch by Adam Voges to dismiss Lewis McManus. Gareth Berg in with 3R's. 346/7.TRJ looking lively
Hampshire reach 400 with 7 down. Malan puts down the easiest of chances in the covers. Middlesex looking very ordinary for a change. 3R's on 76 and Berg , who has just past 4000 career runs, looking set. 52 run partnership. Over rate minus 3.
Wicket for Dawid Malan. Berg out 432/8 .3R's on 93. Could be the end of the innings soon. 9 down. Malan on a hat trick.
438 all out. 3R's run out 99
Hampshire have the whiteist kit ever. Reminds us of the wear something white at night campaign years ago.Middlesex 13/0. Looking untroubled at the moment. Hampshire have 3R's and Fidel off injured. Fidel a big loss.
Middlesex struggling a bit. Been a few seasons since anyone said that. Still got a lot of players who can make big scores. Simmo for example.66/3
The Hampshire alcohol fuelled numpties gave Nick Gubbins a boorish send off. No need for that in cricket. Apologies to our guests for a bunch of brainless idiots . Only about 6 of them.
Slight lead for the champions. Need an early Abbot attack. Sounds like a morning session in a Greene King pub. Still loads of batting to come so an early breakthrough and Simmos scalp is of utmost importance. Hampshire must be slight favourites but this game is never a suprise. Good day good company good cricket good beer. Thanks Middlesex members. Enjoy your company as always.
I think Middlesex should declare and give us a chance of winning.
View a Printer Friendly version of this Story.
Abbott leaves us needing Devine intervention
Middlesex till we die (IP Logged)
16/04/2017 21:00
What do you think? You can have your say by posting below.
If you do not already have an account
Click here to Register
.
Edited 2 time(s). Last edit at 2017:04:20:09:52:40 by BarmierKev.
Re: Abbott leaves us needing Devine intervention
16/04/2017 22:53
Very enjoyable report from our Mexican Outcast,agree with Kev,it's a shame Carberry didn't reach his ton and if there would of applauded him off.
Sorry, only registered users may post in this forum.