From Taunton to Paddington Un BEARable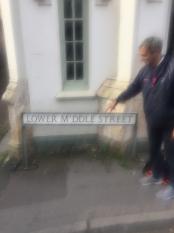 We Know What We Are
By Barmy Kev
September 29 2017
Barmy Kev describes the final rites of our last season from Taunton the night before to his home. This is a painful read
Just like last season it comes down to the final day of the season to decide our fate. However, this potential outcome is of a starker kind. Who would have thought?
THE NIGHT BEFORE
The Middlesex faithful having some consolation beverages singing led by West Ham Tony "que sera sera wherever will be we be we're going to Hove for tea" , then some optimism was changed going to to Headingley. Then we joked last year aiming for Abu Dhabi this year Derby. Potential new grounds cheered us up too.
MY MORNING THOUGHTS
The morning I had marmalade on toast not realising potential significance of this to do with journey home. We are 3 down with a target of 304 more runs which I knew would be way beyond us ( I perhaps under estimatedby how much). Our seasons ultimate fate is all down to Hampshire with 1 wicket down needing 238 runs to win or batting all day. I'm thinking " Come on you Bears." and texted a friend a Warwickshire fan with these thoughts.
A SESSION FROM HELL
Not a good start to day. Eski really not looking comfortable having just escaped one caught by Tresco with stance low down fielding on his knees. I find out there is a delayed start at Edgbaston grrr! The starting time there is 11:30. Hampshire now have better option to bat out a draw. By which time Voges is out on his last knock for us and Simmo shortly follows. Stirlo next with scoreboard unchanged where it mattered most. Harris gone still nobody out at that other place. Murts six brings up 100 sarcastic applause around me next ball out , Hants 49-1 at this point. I'm packing my bag with full bottle of wine that remained undrunk. The inevitable happened can't remember who and how. We have been slaughtered with no good news elsewhere. I remained at ground with head in hands as Somerset celebrated like we did last season. I can only say I am reporting on one of the worse mornings cricket from a Middlesex point of view I have ever seen.
FROM TAUTON TO PADDINGTON BEAR
I'm off to Paddington as a bearfaced Bear. While I'm at Taunton Station platform 5 , 3 wickets fell at Edgbaston evidently Patel is turning it sideways. Quick check of MTWD just before boarding train there is AGod who posts Gorgeous George LBW . Our final lifeline is well and truly alive.
The journey GWR signal not brilliant so struggling with updates but Hants 4 wicket partnership lasted the entire Taunton to Paddington journey with draw now their only intention. Vince and Dawson two players I have been highly been critical of their England call ups are sealing our fate
THE FINAL COUNTDOWN
I'm on the underground resigned. A longish break from checking scores. If by Finchley Road no more wickets I'm going to give up. Dawson out there's some hope. No more wickets as I get off train at Canons Park. Another break from checking on 10 minute walk home. Again if no more wickets when enter home that's it for me. But more hope another wicket. The cliche it is the hope that kills you was bought to my mind.
I'm now listening to commentary that is buffering but no wickets.The lossed signal easier than hearing block, block, block. A few returning home domestics are now complete. Before I know it we are relegated.
FINAL ANALYSIS
That hour lost in morning at Edgbaston proved critical. We can also look at Arrows , dodgy pitches , illogical declarations. From where I am for this day, Hants showed some backbone and we didn't. There have been many other feeble showings throught the season. We deserve to be where we are.
Writing this a day later it hurts. I'm Middlesex till I die and difficult to see now, but look forward to happy times again.