Q & A. Part 2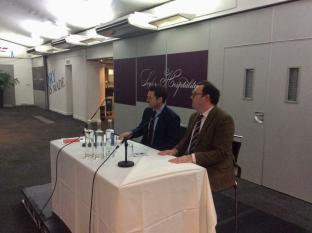 Seaxe Man is watching you
By Seaxe Man
December 6 2017
Sease Man provides further details of the MCC Middx Q & A. I don't believe he has omitted a single word that was stated.
Q. Keith Mein. MCC/MX match day experience. MX members experience much 'no cando' in the ground. Felt like second class citizens.
GL - just arrived so could' not express opinion on customer experience.
Q. Middlesex Room Upper option. Work?
Q - Fingers. MX Room - he saw NW Hospitality boxes as an option for ICC. Plus the Upstairs option would require a lift - casual dress code mentioned. How would that work? If you entered via the Pavilion.
GL - boxes mentioned were valuable.
Q - Gary Hamilton - disabled cricket followers - discounts and free entry for carers - disabled membership.
RG - disabled categories - agreed - though he added - at the moment trying to reduce membership levels. But in favour.
GL - could not answer at this stage.
Q Tony Jaffer - Middlesex Room - the decision came out of the blue.. Was there any planning?
GL This was a SGM decision - 240 MCC members were involved. Was not included in the MCC AGM Agenda.
Q Jim Knight - subject wickets - we need proper cricket wickets - he heard Mick Hunt had retired - we need wickets fit for purpose - Mr Hunts replacement - could that be a Middlesex groundsman.
GL Can't see any likelihood of a Middlesex groundsman and Mick Hunt has not retired. MCC now have three drop in wickets to help with the balance of a small square.
RG - said Gus has got the wickets he wanted - Lancs - worn wicket - points could have been deducted.
Q. Middlesex Room - questioner understood only MCC members involved. Should we be consulting Middlesex members as well?
GL - papers relate to all options for a replacement. When these papers are completed and ok'd. The information therein would be passed to Middlesex for comment.
Q - use of the pitch as it relates to new T20 in 2020. Does this put the existing T20 Blast and Middlesex at risk?
RG - New T20. Middlesex voted against along with two others but majority in favour. If the new T20 fails - not good - Lords needs to be involved to ensure its success. A total of 4 games in a six week period. Unlikely that MX will not get games.
GL Important new T20 provides a crossover to gain a new audience. 4 additional games should not prevent Middlesex cricket being played in that period.
Q. MCC members were not interested in promoting county matches.
RG MCC strongly support Middlesex.
GL MCC members will have varied interests.
Q Andy Higgs. We were unable to use the lights versus Essex after the follow on was not enforced and declaration delayed. So fourth day was dark as forecast. Not being able to use the lights not helpful.
GL - Westminster Council are being approached with a view to having day time lights. He pointed out that during the winter MCC have to dismantle the lights to comply with the licence at considerable cost.
Q Steve Baldwin. Middlesex Room alternative, The President's Suite. Could dates be made available for 2018. In 2017, it was found to be closed when it was alleged to be open. Stewards said only told on the morning.
RG . This is a extremely rare occurrence. 3000 MX members have no email address, so difficult to keep all informed.
Q Roy North. Playing side review.
RG. This has been passed to an outside agency to look at what we did wrongly leading to relegation.
Few changes are expected. Young players to be given their chance after the loss of Ryan Higgins. Max Holden to be brought back into the squad. Captaincy under review but unlikely that there will be a new captain.
Statement Mike O'Farrell Chairman - commented that the MX dressing room at Taunton was not a happy place after defeat by Somerset and the players realisation of relegation. Heads in hands etc. Mike expects that the Middle should progress back into the top division come 2018.
Q. Brian Dodds. - the Lords square is small, therefore to free up strips he felt that Eton v Harrow and Oxbridge should be sacrificed.
GL. Commented that those matches are historical.
Q. J.Fitz . Middlesex Room. Should it finish in the Upper Allen. What is the dress code likely to be.
GL. Dress Code policy moving forward.
Q. Lady local resident. Mentioned she lives nearby. Felt there was no advertisement of many (smaller) matches. She attended one, where ' there was one man and a dog there'. There was no food facilities for her family other than the Tavern which she did not like.
GL Accepted that there was a lack of engagement with local people. Needs to look into with a residents panel. Questioner said that that did exist but gets no information.
Q. Re MX family day. There was no information on this.
RG Good point. Commented that there is Ladies day which was well advertised.
Q, Fingers. Over rates. What is being done?
RG. Commented Dave Houghton has timed all of our pace bowlers in an attempt to rectify this long standing problem.. Pointed out the first priority is to win the match.
Q. Ticket pricing. Children should be free.
GL.Sympathetic but pointed out that the existing price is only five quid. Felt that the new Big Bash which will have free to air matches, will sustain the interest of youngsters.
Q. Arrogate. Appeal after relegation happened?
RG. We did appeal before. No clear route for appeal. Went back and followed procedure. However, no joy. He, RG, still felt it was the incorrect decision.
PS. One guy had an interesting theory.on our relegation. It was not Arrowgate. Nor the unenforced follow on v Essex, or the possible run chase versus the Mexicans. Nor the 11 points garnered from 4 matches. Namely Chelmsford 2, Southport 3, Lords v Warwick 3 or Taunton 3. No the problem was elsewhere..I wonder what he meant..
The meeting closed at 7.05 pm.
Seaxeman. The Nursery Pavilion Lords 30th November 2017.