Mrs Fozzie told to "Shoe" in Sandal Scandal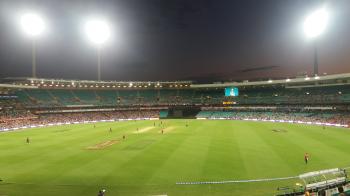 MCG view
By Fozzie
February 13 2018
Fozzie reports having recovered from his no expenses MTWD tour of Australia. He witnesses a meaningless 20/20 game and gives us a taste of what lies ahead for Franchise cricket. There's some desparate razmattazz and a Sandalgate
BIG BASH LEAGUE: SYDNEY SIXERS v MELBOURNE STARS, 23 JANUARY 2018
In the final days of our Australian trip Mrs Fozzie and I decided to experience the Big Bash League, taking in Sydney Sixer's final game of the season at SCG against the Stars, a bottom of the table clash. It took a bit of online research to establish exactly where the Stars are based – it turned out they are in Melbourne, playing at the MCG, whereas the other Melbourne team, the Renegades, play at the Etihad football stadium. Clearly it's considered an outdated concept to want to know where teams – sorry, franchises - are based, and it's noticeable that none of the teams' names give any hint of their location. And of course the ECB seem set to follow into this brave new world.
Nevertheless, I tried to go with an open mind. The BBL is broadcast live on terrestrial TV every evening (a pleasant change as I don't have Sky), and much of the cricket has been entertaining and exciting, even if inevitably falling short of the commentators' hyperbole. And it has some advantages that the ECB version won't enjoy: rather than dividing between haves and have-nots, two new teams have been created; and watching cricket under floodlights in the late evening is inevitably more pleasant n Australia.
One aspect of the BBL that no hyperbole can hide is that there is a distinct lack of high-wattage stars – there is no comparison with the IPL or even the T20 Blast – and a high preponderance of journeymen in their 30s (Melbourne Stars seemed particularly prone to these, few of whom had any connection with Victoria as far as I could see). This has been exacerbated by the absence of Australian internationals on Ashes and ODI duties. The only indisputable big gun with either the Sixers or the Stars, was Kevin Pietersen – and he wasn't playing, preferring to save himself for the Stars' final home game at the MCG. This didn't stop him sitting in the Stars' dug-out and giving a lengthy interview on the boundary edge. The Australian commentators love KP, who when playing is inevitably miked-up, whether fielding or batting, though his humble "It's not about me, I just love the Stars" schtick was wearing very thin.
Our evening did not get off to an auspicious start, with a stubborn young steward deciding that Mrs Fozzie did not meet the dress rules for the members' area ("Those are not leather sandals, madam"), even though the same attire had been deemed perfectly acceptable for three days of the Test match. An appeal to an older steward quickly saw the original decision reversed, and we left his younger colleague going into a massive sulk. Surely one for the oxymorons thread, when clothing is acceptable for Test cricket but not formal enough for T20!
Offending sandal
One thing that neither T20 in England or the BBL TV coverage had prepared me for was the non-stop barrage of noise from the PA announcer, which was ear-splitting and interminable. The determination to fill in the gap between each ball seemed almost desperate, as if it was feared that the atmosphere would collapse if the "entertainment" let up for even a minute. "A good game is a quick game" was the mantra, and yet there still seemed to be more breaks than are ever found in the first-class game. In fact it seemed that the raison d'etre of the breaks were to provide time for such larks as Snog.cam.
Despite (or because of) the desperate efforts of the PA announcer and all the distractions on offer to generate excitement, Mrs Fozzie and I agreed that we have never experienced such a flat lack of atmosphere and interest as was the case during the Stars' innings. At the end of the day no anount of hype or razzmatazz can transform a bottom-of-the-table encounter with no threat of relegation into something more meaningful, and it seemed as if the spectators saw little at stake or to get excited about.
Make some noise. Please And Wiggle
The Stars reached a decent score of 190, but I cannot recall a single shot. There was, however, one Sixers player in whom we took an interest – Joe Denly, late of this parish, who replaced Jason Roy when he left for the ODI series. Roy's tenure had been mediocre at best, and with him in the team the Sixers had a record of 6 straight defeats (the inspiration for their name, perhaps?). Joe was presumably considered rather a lightweight replacement, but with him in the team the Sixers had suddenly won 3 on the bounce. Late in the Stars' innings he was brought on to bowl, and just as I was sniffing that they clearly hadn't seen him bowl for Middlesex he took a wicket, with a short ball swatted straight to midwicket. He was even entrusted with the 18th over, in which he conceded a mere 6 runs, and finished with a commendable 1-19 off 3 overs.
Joe Denly ace bowler
So Sixers had 191 to win, and after an innings break with plenty of Snog.cam and Jump.cam Joe elegantly cover drove the opening delivery for 4. It was a stroke that was like balm to the soul. Even so, the stadium only really came alive when young Nic Maddinson slogged, smashed and smeared the out-of-favour James Faulkner for six consecutive boundaries. After he and Joe had put on over a century at over 11 an over a win for the Sixers was inevitable, though there was some entertainment to be had from Carlos Braithwaite selfishly trying to make sure that he would be the one to wrap up the victory and then being caught off what was intended to be a huge winning shot.
Joe Denly batted delightfully for 72 not out from 45 balls, a class above anyone else and quite rightly named man of the match. His four games for the Sixers brought four victories and left him top of both the batting and bowling averages. The emotional connection we felt with Joe as an ex-Middlesex player was really the only factor that maintained our interest in the match and gave us something to root for. But I wonder how much connection even the local fans had with most of the players in their teams. It was noticeable that although Nathan Lyons quite rightly got a big cheer when the teams were announced, most of the other players were greeted with indifference.
I imagine that TV gave the impression of a full house, but in fact the stadium was less than half full, with a crowd of 17,000. Not bad for a meaningless match between two under-performing teams, perhaps, but still fewer by some distance than Middlesex get at Lord's despite the lack of success on offer there.
So all in all my appetite for the forthcoming ECB franchise extravaganza was distinctly unwhetted, and instead I was left feeling disconnected and apathetic. Okay, I'm not the target audience, but can this really be the future of the game?
And we have the worst mascot ever