Drawing to a close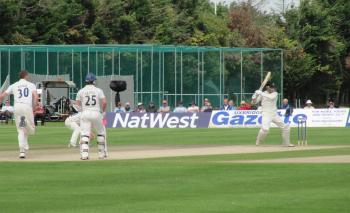 Murts helped see us safe
By London Leprechaun
April 17 2017
After first hand reports for three days we get a remote view of the last day at Southampton from the London Leprechaun, complete with phone dramas and views on the merits of radio commentators and some good news from the 2nd XI. So who was worried.
Plan A for this Easter Monday was to go to Radlett for the 2nd XI Trophy match – hoping for a Paul Stirling masterclass. And keep an eye or rather ear on the Hampshire game courtesy of BBC Radio. But that plan did depend on my phone as for eeasons best knowd to themselves, Radio Five have commentary fron the 2nd Division rather then the Champions opening game.
Anyway all that was scuppered when my phone stopped charging overnight. Changed plugs, changed charging cables,; nothing worked. So Plan A became Plan find a Samsung repair shop open today. That was surprisingly relatively easy. Only problem from Middlesex point of view was having no idea of any score without a radio or phone.
I am sure you are following this avidly! And be pleased to know that a nice man in the repair shop checked my phone, checked the plug and told me everything was working fine and the problem was that I was not using an original Samsung USB cable. If only I had known phones were that fussy.
So back home, Radlett abandoned as an idea with Bank Holiday trains in mind. Finally got home in time for the lunch score at Southampton and very relieved to see that my phone would not have been pinging away with wicket notifications all morning.
So a possibly intriguing afternoon was all set for radio commentary, tbough I did wonder if I ought to listen, Middlesex having had a good morning without me tuned in. Apologies in advance if I Jink them.
And by the way it looks like I did miss a master class at Radlett – but from a young man I had not heard of before! And no Paul Stirling playing.
Well the afternoon certainly was intriguing to a point. It was all going very well until the new ball when quick wickets gave the Hampshire commentators some hope. Which at least livened up the commentary. We are spoiled with our Kevin and the tone lived up a lot when he came on – which was not frequent enough.Cricket wise, I did not feel overly worried though,– we have been through worse crises. A series of small partnerships kept things going for us, and it took until about 3.20 when Kevin started to voice what I was thinking – that we were not that far off the point when a Middlesex win was not impossible if we were bowled out. And no one mentioned if we needed to bowl again for the over rate.
It was also quite interesting to see where people are listening from: there were Tweets from all over the place: Rayners Lane (A Hampshire supporter); Lucerne, an M25 traffic jam; Sussex supporters and even Yorkshire. ECB: take note: County Cricket is alive and well. Please look after it.
A delayed tea because of nine wickets down added to the likelihood of Hampshire not winning. Who knows what might happen when we bowl, although that was starting to look quite unlikely. The runs and over equation did not quite work. A slightly alarming delay just before tea when the commentator says Ollie is injured and gets some treatment on his finger. That won't help a race to get the overrate back if needed. (I did promise to myself that I would not worry about the O/R this afternoon but you just can't help it!)
So tea has come and gone, a short period of play after tea with us still batting showed, I presume, that the over rate was OK and we didn't fancy bowling Hampshire out! Commentators reflected both sides might have won if catches had been caught. And all remarked that the wicket was very much like last years which suggests that spinners will come into play and lots of games will go deep into the fourth day. That must be good for the Championship.
And a final PS; as I write this the 2nds have just had a huge win. Maybe Radlett is worth a trip tomorrow.
View a Printer Friendly version of this Story.
Drawing to a close
Middlesex till we die (IP Logged)
17/04/2017 18:08
What do you think? You can have your say by posting below.
If you do not already have an account
Click here to Register
.
Edited 1 time(s). Last edit at 2017:04:20:09:53:23 by BarmierKev.
Re: Drawing to a close
17/04/2017 19:45
Thanks for that update. My day was following from phone on train back from Easter break. The nervy bit was we looked safe and checked phone about 15 minutes later for loss of 3 wickets. When ship steadied I was envisaging a run chase with all results possible. I settle for draw and further proof we are a tough team to beat.


---

Barmy Kev
I'm only here for the tele
Sorry, only registered users may post in this forum.