It has been a while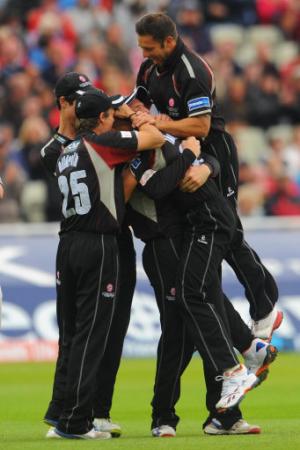 By Grockle et al
August 31 2018
It has been a while since I did a frontpage. It has been a while since we got to the T20 Finals. It has been a while since we looked this good in a Championship run. Let's have a chat shall we?
We come into the last month of the season with some suprising things happening on and off the pitch and an exciting end to the 2018 summer in prospect for many of us.
I do less front pages than I used to because of the excellent and very comprehensive writing of 'Farmer White' during games. His full day reports on the forum cover everything I would want to say and more so I thank him for that and I hope to customise summer threads using his reports as front pages in the off season so you may return to many of them during the winter. It allows us to keep the site open without pointless frontpages when there is little news and puts 'Farmer's excellent musings into the history of the site in front where they sdeserve to be. I'm not sure I can put ALL his words into a front page because I am not sure they would load for those using the mobile version of the site but I can identify what other reports are on the thread from the one I use so you can find them. Something to do in the in winter evenings.
I will be also be introducing you to another cricketing 'outcrop' during the winter. This one relates more to that definition than Oman because I will be reporting on the cricket setup on the island of Bermuda hopefully in the coming months. One of the main clubs on the island is Somerset Cricket Club so I will try and link us all with that august body - part of the major yearly game on the island. It might be a little easier to do this as cricket is more of a part of the island's integral makeup and the weather may be a little less hostile. I hope it will be an interesting investigation and if it has things of interest I will put them here to expand the Bermudan's cover and to make your winter nights move a little quicker (maybe :)) I hope to continue to cover the Omani developments for Wisden into 2019 (presently the ICC World Cup is doing the rounds of the country on it's movement towards the UK for next year) and will look at how often the Almanac have covered the Bermuda game and possibly add that to the site's llist of coverage.
As far as this next month is concerned I am ahppy that the site is down today as it means it will be unlikely to need an update until I am in place in Hamilton with wifi etc. With the prospect of an interesting end to the CC1 which we will be involved in and a Finals Day at Edgbaston in the T20 Blast! I am sad to be heading into the middle of the North Atlantic to the magnetic top of a 3000 meter sea mountain somewhere about 1000 miles off the coast of Eastern USA. Hope there is TV coverage somewhere!
We have to feel confident of showing ourselves in a positive light in the T20 finals. We were the best side in the Southern group despite not being able to beat Kent in either confrontation. We held and then overwhelmed Notts in the home Quarter Final and must feel we have a great chance of being in the final given our draw against Sussex in the second semi. Lewis Gregory has hit fine form as a skipper, batsman and bowler. Max Waller has really hit form in his specialist subject and we all hope that we will see Johann Myburgh finish his excellent time with Somerset raising the trophy in late September. It would be a good end to this summer but not as historical as the other victory would be if we could reach and overtake Surrey in the County Championship. That would be the pinnacle of this year, decade, century? We have been in this second half rush up the table before - Somerset do better in the long format during the later months of a summer. But we have never done it with a good first half of the CC1 and with so many players coming into form while we do it. Tom Abell is now, without doubt, our captain. Marcus Trescothick seems to just go on and on. Eddie Byrom has grown into his top three spot and still has some way to go before that development is complete. James Hildreth is presently simply the best English bat not to be in the frame for an international place. Steve Davies has returned to the quality in his longer format performances (still can't buy a run in the white ball stuff though). Lewis Gregory has established his Somerset credentials in all formats now he has a stable future to contemplate. Our spin 'twins' are the best pair about. Dom Bess is still working on it while Jack Leach is at a level where few can stay with him presently. Despite injuries, the seam attack has turned up. Craig Overton has worked hard and stayed fit most of the season, the Curran's have kept him away from the Tests but to be honest, they can have him for the winter Tim Groenewald has struggled since the first half and is still not fully fit, but Josh Davey has taken up the reins and become one of the most improved players we have. He is no longer a replacement, he is a contender for a first team place in every game. Jamie Overton started slowlyand we took our time getting him back in. Now he is IN and the change in quality is visible to all. We have a very potent and much more controlled pace weapon that many are struggling to keep from taking them apart. It is all going swimmingly.
Will we catch Surrey? Well Essex probably have to do us a favour and we have to keep winnning with maximum points but both of those scenarios are possible so it may go down to the wire at Trent Bridge at the end of next month. We are not here because of luck or single performances in a generally OK performance. We are here this year because of a UNIT performance, a side working together with performances from many members at the same time. This team will win on merit if it wins at all and... if it doesn't do it this year, many of the really promising developments are happening to players who aren't going anywhere.
Have a good month one and all.
View a Printer Friendly version of this Story.
It has been a while
Discussion started by Grockles.com , 31/08/2018 15:28
Grockles.com
31/08/2018 15:28
What do you think? You can have your say by posting below.
If you do not already have an account
Click here to Register
.
Edited 1 time(s). Last edit at 2018:09:09:12:49:13 by Grockle.
I worry it has been a while since we heard from Big Jim - let us get our priorities right - anyone know if he is OK ?
Presently working on getting him access again after he got to the Essex game Rodders. You must have missed that information.
Hopefully he'll be back quite soon. Dave from SN has sent information on what to do and I've passed it on to BJ.
---
Loyal of Lhasa
31/08/2018 17:40
There have been various recent mentions of BJ on this site, following his appearance on the first day of the Essex match. He was in extremely good form - I have never seen him looking better.


---

LoL

Seventy-two Seasons a Somerset Supporter
In my view, that's a very fair assessment, Grockle.

I hope that you enjoy your time in Bermuda. Someone I know who moved to work there told me that (taking into account that the island is small and that you are bound to bump into your colleagues when socialising) the convention is that you only acknowledge your colleagues when you see them outside work if you already know them socially.
I'll keep that in mind Wickham. Thank you. As you say the place is very small and a new experience which might give me cabin fever anyway. Just have to suck it and see.
---
Sorry, only registered users may post in this forum.