FAKE2020 CC1 v Surrey @ Taunton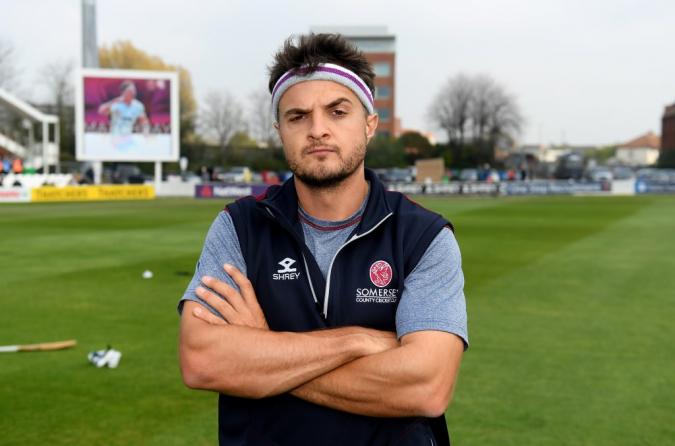 By Grockle et al
April 19 2020
Game 3 of the FAKE2020 CC1 in the parallel non COVID 19 universe. Surrey stand at 7th in the table and are looking to improve their position while kicking us off the top shelf. Let's see how it goes
FAKE 2020 v SURREY @ Taunton Sunday April 19 2020
Somerset have issues going into this match. With Craig Overton injured after the last game there was a decision to be made concerning whether the side should continue with the 2 spin option and which seamer should be incorporated into the side for this home game.
The general opinion decided that Jack Brooks should be introduced as the replacement even though his numbers were very very close to those of the other option Josh Davey. However, Mike Carberry pulling up with a hamstring injury during the warm up meant that a batting option also had to be included and with Craig out it was thought we should continue to include Dom Bess in the tail from a bowling and batting option with Eddie Byrom coming in at number 3 and Azhar moving up to open.
So Somerset go into the match with;
Abell, Ali, Byrom, Hildreth, Bartlett, Davies, Gregory, Bess, Overton J, Brooks, Leach
Surrey waive the toss and choose to bowl which means that Tom and Azhar start the game facing Mornie Morkel and Rikki Clarke on a sunny and dry day with some high cloud. This is a game where the batsmen will have the utmost respect for the Surrey opening pair and progress is slow from the start as both openers plan to take no risks at all.
As soon as the second over Clarke has Somerset's captain playing and missing and the first boundary does not come until the 7th over from Azhar Ali but there is goping to be no 'swashbuckling' at the beginning of this game though Tom gets a four from a thick edge in the 15th.
Clark and Virdi are the first change pair around the 16th over but it is Dunn in the 19th who breaks through when Abell, who really hasn't got into his stride at all, is caught by Clarke in the slips for 10 off 50 balls at 26 for 4. Eddie Byrom makes his first appearance for the first team this season and almost immediately gets into a duel with the other Clark. He shows great confidence in straight driving the Surrey bowler for his first boundary and then makes a pretty uncontrolled 'swish' at the next delivery and is nearly bowled. This should be interesting if it gets any length of time to develop.
The 50 comes up just before lunch with Somerset's Pakistani international starting to let the bat flow, Ali has 23 and Byrom has reached 15. They go in for lunch at 56 but it is hard for both of them to get moving when Surrey stick to their jobs. Morkel has bowled 7 overs for a mere 17 Rikki hhas bowled 9 with 5 maidens and single figure runs given away. Dunn got the wicket but both Clark and Virdi have more than held up their part of the attack.
There are things for the batsmen to think about during their meal.
Dunn is flying after lunch and Azhar mistimes one on to his helmet and has to retire dazed for 27 just after the restart. But James Hildreth is not fazed as he smokes the same bowler for two boundaries in his first over. Surrey bring Virdi on to vary the deliveries in the 37th and he gets some purchase... get the pitch inspectors in!!. Rikki Clarke takes up the work at the other end and Eddie Byrom strsaight drives his second as he moves Somerset past 100 (103) in the 46th. He gooes to 50 quite soon after off 96 balls with 6 fours. A confident start to his 2020 season.
Virdi is variable, he has both batsmen struggling and then they hit him for 10 in an over. The boudaries count and the edges fall in space. Dunn is reintroduced but both batsmensend him over the rope.
It is Virdi however who tempts Hildreth and he snicks behind before he gets to his 50 (48) or Somerset get to 150 (146) He then nearly gets Eddie a couple of balls later as concentration wavers. George helps his teammate get the 150 but Clarke bowls him with only 4 to his name 155 for 3.
Tea arrives at 175 without further loss with Eddie Byrom on 74 and Steve Davies off the mark with 7. Most of the score is courtesy of the 120 run partnership between Byrom and Hildreth although the bowling has remained tight and demanding.
The cloud is starting to gather as the teams return to the field but the light is perfectly adequate at the moment and the sun keeps breaking through. But it will build and it may not be a complete third session. The software suggests that players who retire hurt do not return and so the 155 for 3 is really 155 for 4 so this period of the game is important for the home side while the visitors need to hold the side in check and get into the back end of this line-up.
Clarke and Morkel resume against Davies and Byrom. The Somerset wicketkeeper is not to be cowed and hits Morkel for 2 consecutive fours to bring up the Somerset 200. It is to Morkel's credit that he keep at his job and catches Davies in front LBW for 24 at 201.
Gregory is off the mark quickly against Dunn and Virdi, who is brought back to cause the new man problems. He is not helped when his second ball is misfielded for 4.
After 81 overs Surrey take the new ball at 230 for 4 with Byrom on 91 and Gregory on 19. Clarke takes the first and Morkel returns with Eddie still swinging and missing him pretty regularly. He almost loses his wicket when he loses concentration at 99 but he then drives the next ball for 4 and passes three figure to 103 from 207 balls with 11 fours. It also takes Somerset to 250.
Just after this Lewis mistimes a fairly straight ball and the umpires consult about the light with half an hour to go. They decide it is a problem and take the teams off. 20 minutes latere they suspend play for the day and Day 1 ends with Somerset on 253 for 4 Eddie Byrom 103 and Lewis Gregory 28.
Somerset 2 points and Surrey 1. We lost 32 minutes today, they might be made up during the rest of the game. Well played Eddie Byrom
DAY 2
A promising day, less cloudy than Day 1 with Morkel and Clarke both questioning the Somerset batsmen early. Eddie nearly went in his first over he faced but he survived and moves on from his 100. Dunn is into the attack quickly but put to the sword by Lewis Gregory who takes him for double boundries in his first 6 balls. He goes to a welldeserved 50 from 95 balls with 8 fours at 292. Things are starting to move for the homed side but just as it brightens Byrom is caught in front by Clark for an excellent 116 (245 balls 8 fours) and it is 294 for 5.
A time for a reboot as Dom Bess strides to the crease and sends the ball to the Botham Stand boundary to bring up the 300 off Virdi. This does not phase the Surrey man however who waits his moment and clean bowls Gregory for 62 20 runs later. He then nearly get Brooks before he has settled but the ball goes down the legside. Eventually patience wins out and Bess falls to Burns close in for 13 323 for 7. Jamie Overton takes over trying to get to 350 and lunch in whatever order. He almost makes it but isout for 10 with 1 minute to go to the interval and 5 runs from 350.
An excellent spell from Virdi with 3 for 82 supported by Clark with 2 for 32 and Abell has to decide if it is worth coming out to bat after the break. Having been close to winning the trophy more than once without enough points decides the plan and the 'The Two Jacks' come out to carry on.
Leach cover drives handsomely just 3 balls into the session to take the extra batting point and then he and Brooks add another 17 before Rikki Clarke brings it to an end clean bowling Leach. It seems Azhar is not fit enough to bat - we do not get the chance to choose if that it the case so it is probably doubtful that he will bat in the second innings either.
Elgar and Burns open for the visitors against the pace of Brooks and Gregory. The competition is most definitely on and it is not until the 6th over that the ball crosses the rope. Jamie takes over in the 9th and with 30 minutes to the Tea interval Abell experiments with Leach at one end. This seems good so Dom makes it spin from both ends with 15 minutes to go.
Elgar is looking good however and nothing so far has phased him as he brings up the Surrey 50 on the way to 66 for no loss at the interval. The spin option has not really worked. Elgar is dangerously moving towards a 50 (41) and Burns is looking more comfortable as the innings goes on.
After Tea Gregory and Brooks are back and the latter nearly takes burns just before Elgar moves past an individual 50 (83 balls 9 fours) at 78 for 0. There is the feeling that a wicket is needed to get this game under home control. Almost on cue Burns skies one to be caught in front of the caddyshack. Optimism increases as Jove is re-introduced and removed Elgar for 58 and it is 94 for 2 and looking much better.
With the Surrey 100 Somerset go back to the spin of Leach 40 overs down and Pope looking ominous means Tom introduces himself as a variation but he goes for 11 off his first and Surrey move into the 140s. Lewis purts an over in to allow Jack to change ends but the change has little effect and when Dom is back on, it is to defend to the end of the day rather than question the batsmen. Stoneman has gone to 53 off 68 balls (9 fours) and the total keeps moving with Pope hitting out to take it over 200 just before the end of the day which comes with Surrey on 213 for 2 and in very little trouble on a pitch that seems to have lost its life in the afternoon of Day 2. No Somerset bowler has exactly covered himself in glory but it is more to do with consistent Surrey scoring than one individual performance as such. More tomorrow.
DAY 3
Ollie Pope continues where he left off the evening before and goes to 50 from 75 balls with 8 fours in the second over from Overton but that is all the early excitement and Abell changes bowling options introducing Brooks in the 63rd and bringing himself on for the 66th. He gets close but misses Pope and then Stoneman nearly goes during the next over. Close but no cigar isn't good enough though as the score mounts and the skipper introduces a slow man, Bess, in the 73rd at 286 for 2 wiith both Surrey men in the 90s/
At this point Stoneman miscues off the slower man and is caught at midwicket by Leach for 90. Pope edges the next ball but not near any fielder and he then goes on to three figures off 134 balls with 19 fours. He has made the difference in this innings and Somerset don't seem to have an answer to him.
Leach enters the attack as Pope brings up the 300 and he has Harinath 'plumb' but not given almost immediately. That leaves the decision to take the new ball for three more overs but little is happening so the new ball is taken for the 84th ball.
Lewis comes back and the pace of the new ball nearly does for Pope as the ball goes narrowly down the legside. However he is cleaned up very quickly by Gregory for 128 in the 85th at 337 for 4. This is just before lunch and Surrey only add 5 before the break. 25 behind with a lot of wickets in hand.
This was not a good session for anyone with the ball I'm afraid with a 192 partnership between Stoneman and Pope followed by another 51 between Pope and Harinath. No bowler really came out smelling of anything pleasant.
After lunch the 350 arrives as Foulkes takes over as the man to get rid of quickly. Unfortunately he doesn't seem keen to go but Harinath is not so hard to get out and he is caught at first slip by Lammonby (on for Ali) for 19 353 for 4. But Foulkes is not going quietly and he moves the score on at a pace while Somerset scrabble to find a bowler who can contain. Surrey bring up the 400 before Leach gets the Surrey keeper for a quickfire 41 at 402.
It then all ends quite quickly. First Jack gets Clarke LBW for 2 at 409 then Gregory finds a line, bowls Morkel for 9 and almost immedaitely takes out the other Clark also bowled for 21 and it is 417 for 9. He nearly gets Dunn next ball but it is Leach who bowls Virdi to close the innings at 417 some 50 ahead and a hell of a lot less than it could have been thanks to a sharp fall of wickets at the end of the innings.
Somerset take 6 bonus points while the more effective Surrey claim 7 and with 37 minutes left before Tea Somerset are facing theiir second innings without the injured Azhar Ali. There is no issue up until Tea with Eddie moving to 15 and his captain to 4. 20 for 0 at the break.
After Tea Byrom nearly goes without adding to his score closely missing a Morkel delivery. He doesn't look any more comfortable against Clarke. However, it is Abell who is caught at first slip by Pope for 16 at 35 for 1 Byrom meanwhile seems determined to give his wicket away through injudicious batting at the other end.
Nevertheless the 50 arrives to tie the scores which is followed by 4 leg byes before Eddie gets his eye in and hits Clark for two sixes in four balls. THAT came out of nowhere. The 100 comes up from a Hildreth boundary and the third day ends with Eddie one short of 50 while James has almost caught him up at 42. 114 for 1 some 64 runs ahead and a day to go.... Going to be a good one.
DAY 4
If Day 3 was Pope's, Day 4 could be Byrom's as he passes 50 early (136 balls 6 fours and 1 six). He is dropped just after this, an easy catch at mid wicket. But the consequence is minor as Virdi gets him LBW at 60 134 for 2. Maybe Hildreth will put his name on this day as he also passes 50 (104 balls 5 fours and a six). Eddie and James put on 99 for the second wicket. George Bartlett comes out needing a significant spell of runs after a very dry spell with less than 20 runs per visit to the wicket. He miscues his first shot to the boundary off Virdi and plays and misses against Clarke. It isn't looking good and it seems inevitable when he is caught and bowled by Virdi for 19 at 179.
Lunch arrives 10 minutes later with a boundary off the last ball to Steve Davies. James and George have however added a significant 45 in short order and there is the possibility that if Somerset can bat well after the break they may be able to put a score on the boards to tempt Surrey but wsith enough time to get into them and cause some panic.
After lunch Virdi is getting turn that the Somerset spinners did not get in the first innings. Nevertheless James brings up the 200 and moves on. Surrey take the new balkl in the 82nd and almost immediately Hildreth passes 100 (190 balls 11 fours and a six). Dunn is re-introduced and Davies thick edges him for 4. Clarke returns and has an LBW shoud against the keeper turned down because the ball hit the bat first then Dunn returns and is smashed for a six and a fourn iin 3 balls as Somerset briing up the 250.
Finally Clark gets Davies for 31 at 257. Hildreth continues until Virdi bowls him for an excellent 132 (229 balls 17 fours and a six) at 273. The Surrey bowler also gets Gregory who is late on one for 2 at 275. Then Virdi bowls Bess for 5 at 279 but Brooks is not impressed and smacks Clark for a huge six to bring his side to Tea at 303 for 7
So... do Somerset declare and put them in? Some woould probably say they should have already done it but the concensus is that it is time to put the question to Surrey and Tom Abell invites them to go for it straight after Tea.
Burns and Elgar stride out. Burns walks back 4 balls later plumb LBW for 0. An Impressive start. It gets better when Brooks gets Elgar also LBW at 16 and it is 20 for 2. 220 needed and it isn't lokking likely.
Jamie Overton is on early and agressively. Stoneman is caught brilliantly by Hildreth in the slips for 6 at 22 for 3 and the score stays the same as Pope is caught behind. The pacemen have done their part of the deal and Abell turns to his spin duo to get the side home.
Leach takes no time bowling Harinath for 6 at 31. Bess is on and has Clark caught by sub Lammonby with only 5 to his name at 38. It certainly looks like it might happen even though the 50 comes up in the 21st and both time and balls are running out.
When Clarke is bowled by Leach at 51 the faithful start to hope and when he repeats the act by bowling Morkel at 56 they can almost see the win. But there aren't enough overs and Foulkes again looks immoveable. Bess has an LBW scream turned down against Virdi and the two Surrey men survive until the close at 56 for 8.
A good claose game that came down to the wire and probably a fair and just result in the end with Somerset taking 11 points and Surrey taking 12. Yorkshire go back to the top of the table as they win their third so Somerset move down to second.
And the beat goes on. Leach takes 3 for 17 in 8 and Brooks takes 2 for 9 from his 8 Bess, Overton and Gregory all contributed 1 but they probably waited 50 runs too long to be sure and ran out of overs. Who could have predicted however that a side scoring 400 first up would fall to less than 60 for 8 in their second push?