Godleman Almighty - Middx v Glos 2008 Day 2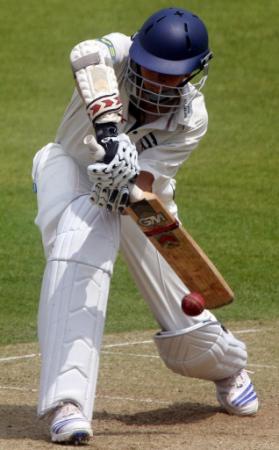 Almighty
By Howard Moon
September 5 2008
Howard Moon, with his usual panache, gives us chapter and verse on Day 2 at Lord's. Not only did he eat Alphabetti-Spaghetti for breakfast, he also kindly took his camera with him and got some excellent snaps for all of us to see. Only Howard would describe Jon Lewis as "the spitting image of a young Lord Byron". Perhaps your next report in verse, Howard? Many, many thanks for this one.
[Howard Moon has very kindly taken some photos of action which can be seen here:
http://www.facebook.com/album.php?aid=155621&l=d3ea0&id=578305251]
"Hitting the Kirb" – The Morning Session
Though I had been keenly anticipating my first sight of Middlesex under the new feUdal system, I managed to set off late, as usual, thanks to a lost shopping list, a missing umbrella and several complications with my bicycle. Nevertheless, thanks to the rain's intervention, I arrived at the ground just as play was starting – with the family fridge now well stocked with sausages, my head reasonably dry and my treacherous wheels still rolling.
*
I took my place on the Upper Edrich as Steve Kirby – whose own fridge is apparently brimming with several (presumably semi-hypothermic) batsmen – was serving up some delicious legside half-volleys to NW8's answer to Frank Lampard, Ed Joyce. For the time being, the contractual wrangler dealt quite stylishly with the ginger-top tyro, flicking him to the midwicket twice in one over.
*
At the other end, however, Jon Lewis was causing Billy G all sorts of problems. Swinging the ball prodigiously under damp and murky skies, the Gloucester captain consistently shaped the ball into Godleman who unsurprisingly started his account for the day with the streakiest of edges.
*
Kirby was soon following Lewis' example, finding both movement and direction as he sent several swinging zippers slanting across Joyce's bows. A fuller, angular ball which swung late was too much for The Portrait, who could only feather a regulation nick through to Marshall at slip.
*
His replacement, Eoin Morgan, brightened the gloomy proceedings for a moment, classily flicking his first ball to the fine leg boundary before the lunch interval called a halt to a desperately short session. Perambulation was banned but prandial pleasures remained: replacement entertainment was ably provided by my chorizo and cheese sandwich. Patrick Leigh-Fermor's travel classic, A Time of Gifts, also kept me amused.
*
"Malan Fashion Week" – The Afternoon Session
*
Post-nosh, a blustery north-westerly wind and continued cloud cover provided excellent bowling conditions for the Bristolians. Though initially sparky, even Morgan was subsequently subdued by the excellent Lewis, whose nagging swing and clever changes of length consistently coaxed a host of false shots from both youngsters.
*
The Captain (a very confusing nickname for a Middlesex player just now) Morgan in particular rode his luck, edging a beauty just short of Marshall before, less excusably, wildly slashing a rare wide long-hop from Lewis into the diving palms of Gloucester's outstanding keeper Stephen Snell.
*
It was a just reward for the medium-pacer who, it occurred to me at this juncture, is the spitting image of a young Lord Byron. He wasn't the only one spitting though: the lurking drizzle at last made a reappearance, prompting a pantomime-like series of to-and-froing to the pavilion and back by the players and umpires.
*
Following their example, I took shelter from the elements at the back of the Mound Stand, at which exact moment the sun quite spitefully made its presence known and play was resumed in earnest. The après-rain period was considerably easier for Middlesex; with Lewis and Kirby resting and young seamer Ian Saxelby off injured, Gloucester's remaining bowlers were utterly toothless.
*
Brown and Marshall, the trundlers, lacked any threat and the hapless Dawson, perhaps low on confidence, bowled either too short or too flat. At last, Godleman and Malan were able to get the score moving. Dawid was particularly at ease, his shots as stylish as the threads at the Malan Fashion Week as he dinkily reverse-swept and cut his way to a decent score. Godleman was less fluent, but what he lacked in elegance he made up for with grit.
*
Billy The Kid reached his fifty with a lucky edge – an instance which I pleasingly caught on camera – but gradually showed more confidence as Middlesex, for the loss of only three wickets, passed Gloucester's first innings score of 218.
*
However, as Billy's concentration intensified, mine evaporated shortly before the tea break with the arrival of two good friends, Vincent Noir and Bob Fossil. Vincent is a fan of Warwickshire, the scoundrels who, as he took delight in reminding me, are allegedly in the throes of poaching one of our heroes of the hour, Dawid Malan.
*
There was only so much of this I could take and so, during the interval, I set off in search of a hot chocolate – the perfect antidote to both cold conditions and cricket-based cajolery. My cocoa quest ended in heartbreak at the Indoor School where I found that the bar, like every other outlet at the ground, only served tea and coffee. This crushing disappointment was, however, tempered by the frankly hilarious discovery that the School would that very evening play host to something called 'The Daily Mail International Dodgeball Championship'.
"FeUdal Law" – The Evening Session
*
Two more reverse-dinks brought poacher-fodder Malan his half-century and it's worth noting that his celebrations were certainly muted; most significantly, perhaps, he didn't once wave at the Middlesex dressing room. In any case, he was out soon after, LBW to the returning Lewis. From my side-on angle, it looked all right for height.
*
The new ball was taken soon after, with Godleman still five runs short of his century. The Boy Wonder looked calm, however, and it was Ben Scott who looked more uncomfortable. Indeed, Godleman soon brought his hundred with a confident pull and he celebrated with understandable jubilation, hugging his diminutive partner, taking several emphatic steps towards the pavilion and ecstatically saluting the home dressing room. Though he departed soon after, dabbing Lewis to the keeper to spark a mini Middlesex collapse, Godleman can take great heart from an innings full of character, if not beauty.
*
Middlesex needed further grit from Udal and Kartik after Scott's departure left the Crusaders in danger of failing to make the most of Malan and Godleman's century partnership. The spin-twins, mysteriously promoted ahead of Screaming Blue Murtagh in the order, painstakingly saw off the new ball before cutting loose. Dawson was the victim of a stonking smash over cover by Strudel Udal whilst even Lewis, who had just brought up his five-fer, was treated to some vintage back-foot drives from Murali.
*
That Middlesex reached a commanding 313-7 at the close is thanks in no small part to the diligent tweaker duo, Godleman and Malan. The home side are certainly in a strong position, though weather is likely to have the final say.
View a Printer Friendly version of this Story.
Godleman Almighty - Middx v Glos 2008 Day 2
Discussion started by Middlesex till we die , 05/09/2008 07:23
Middlesex till we die
05/09/2008 07:23
Godleman Almighty - Middx v Glos 2008 Day 2
Thanks for the report Howard , nice to get a view from the other end of the ground.

Some of the Glous supporters I was sat with yesterday in the Allen thought both Kirby and Lewis employed too much energy in sending down shortish leg side deliveries the batsmen were untroubled by and almost playing for the draw from the start of yesterday.
Sorry, only registered users may post in this forum.