Forums Galore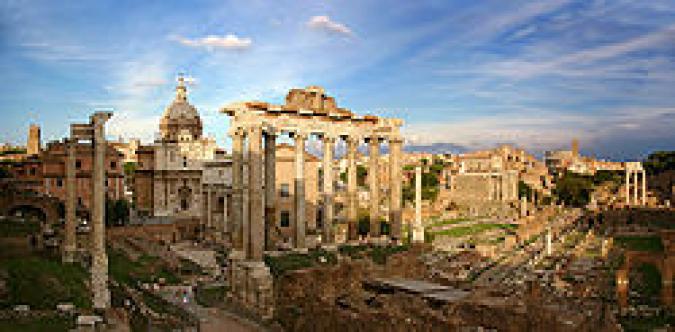 Not that forum, Ged!!
By Ged Ladd
April 13 2009
It can be lots of fun visiting other county cricket fan forums, especially during the season when we play that site's team. This feature provides links to other forums for county cricket fans. Please help us to keep this resource up to date by chiming in with changes and new sites that you find on your journeys around the web. (Picture credit: http://en.wikipedia.org/wiki/Roman_Forum)
Here at MTWD, Middlesex CCC's unofficial forum, we often enjoy visits from fans of opposing sides. But how many of us make similar visits into the vast unknown to chat and banter on other boards? Of course, sites that are "nearby" on Sportnetwork, such as Grockles (Somerset) and The Riverside (Durham) are favourite haunts for many of us. But there's plenty more out there. This feature highlights those we know about.
Like other MTWD features, such as the Lord's Pub Guide, we will aim to update this feature and keep it going as a regular information source for County Cricket forum lovers. Importantly, the best way to ensure that we keep a resource like this up to date and useful is for you, dear reader, to let us know about changes and/or omissions. So please do let us know if you stumble across a new forum or if one of those listed here disappears.
Official County Sites
A few counties manage forums on their official sites, although most (probably wisely) prefer to leave such matters to informal or unofficial places on the internet. Here are links to the official ones currently in use:
Kent CCC – I think this is relatively new as it didn't exist last time I went looking:
http://www.kent-ccc.co.uk/forums/
Sussex has had a jolly decent official forum for some years. Sadly I have had less cause to visit it in the last couple of years than I would have liked:
http://www.sussexcricket.co.uk/fanzone/message-board/
Warwickshire have had an official forum for some years – although it now looks as though it has some unofficial competition (see Bears Forum in the Unofficial sites below):
Unofficial Sites
Some counties have one, some counties have more than one, several have none. These are all we can find for now. Please let us know if you find others so we can update the site.
Durham CCC – Down By The Riverside – Sportnetwork (our hosts) are Durham supporters, but this site is significantly less active than Grockles and/or MTWD on that platform:
http://www.cricketnetwork.co.uk/boards/list/s86.htm
Essex CCC – appears to have some official sanction, but is not part of Essex's main site:
http://www.essexcricket.org.uk/forums.html
Gloucestershire attempted to set one up on Sportnetwork over the winter (perhaps a mistimed drive), but hopefully will return this summer.
Lancashire, in common with the other rose county, seems to have a couple at (least) on the go at the moment. If it were up to me, I'd name the unofficial Lancashire forum "The Pit Of Hate" after the well-known section of the Old Trafford pavilion where "supporters" let the players know how they feel in no uncertain terms. On Sportnetwork there is a brand new site "Red Rose County":
http://www.cricketnetwork.co.uk/boards/list/s682.htm
In addition, there is longer-established official/unofficial Lancashire Supporters' site:
http://lancscricket.informe.com/forum/
It looks as though Leicestershire have recently tried but FoxesForum looks somewhat moribund to me:
http://leicestershirefoxes.webs.com/foxesforum.htm
Nottstalgia seesm to be primarily an historically-oriented forum:
http://nottstalgia.com/forums/index.php?showforum=84
Somerset has the always-excellent Grockles site on the same network as ourselves. Highly recommended:
http://www.cricketnetwork.co.uk/boards/list/s59.htm
Surrey, of course, did have a forum on our network at one time, but sadly it disaapeared down the toily a couple of years ago, along with what was once a quality team. RIP "Down By The Gasworks" (or whatever it was called). However, a bunch named Ovalworld.com are trying to get something started by the looks of it:
http://ovalworld.yuku.com/bovalworld
In addition to an official forum, Warwickshire also have Bears Fans, which I think is relatively new but looks pretty active:
http://www.bearsfans.org/index.php
Worcestershire have the WCCC Fans Forum:
http://wcccfansforum.forumotion.net/forum.htm
Yorkshire have at least two. There is the Corridor of Uncertainty which used to be hosted on Sportnetwork but moved away a couple of years ago:
http://fansonline.net/yorkshireccc/mb//
Also, Yorkshire has the White Rose Forum which is also highly active:
http://www.network54.com/Forum/274761/
Multiple County Forums, Multiple Purpose Cricket Forums With County Interest, Various Other Stuff
Grand attempts to set up a locus for all counties have tended to end in failure. Here are a few places where county cricket chat happens or once happened in the relatively recent past. Again, keep us posted if something interesting crops up.
County Cricket Clubs – currently moribund in the county sphere:
http://www.countycricketclubs.co.uk/forum/index.php
Forum.cricket.co.uk – has a specific county cricket area:
http://forum.cricket.co.uk/forum26.html
You'll find some county cricket message board action on the Victor Trumper site:
http://thevictortrumpercricketboard.yuku.com/
Please let us know about new ones, defunct ones and/or your favourites that aren't listed here, either by posting on this thread or by e-mailing us on mtwdadmin@googlemail.com - we'll update this feature periodically based on the intelligence we gather from you, dear readers.
View a Printer Friendly version of this Story.
Forums Galore
Discussion started by Middlesex till we die , 13/04/2009 09:30
Middlesex till we die
13/04/2009 09:30
What do you think? You can have your say by posting below.
If you do not already have an account
Click here to Register
.
Edited 1 time(s). Last edit at 2009:04:21:09:25:21 by Ged.
Janet Davis
13/04/2009 09:39
The BBC also have a cricket forum called 606
Thanks Janet. 606 is a strange beast - part forum part blog really. But it does package up into counties as well as countries so I suppose it qualifies. Here's a link to keep those who want to see it going until the next feature update:
BBC 606 Cricket spaces
Durham update;

Durham refugees from DBTR and 606 are now posting here [www.cricket-match-special.com]

The biggest board is probably the Sunderland board, which has a general cricket area; so if you want Geordie free footy fan views....I don't post on it as you can only join if you have a non web based email account.
[www.readytogo.net]

Our club now has a forum on it's web site but that is pretty slow most of the time - it was new last year and may pick up at some point.
[www.durhamccc.co.uk]
Sorry, only registered users may post in this forum.