Lace is a Shoe in for Middlesex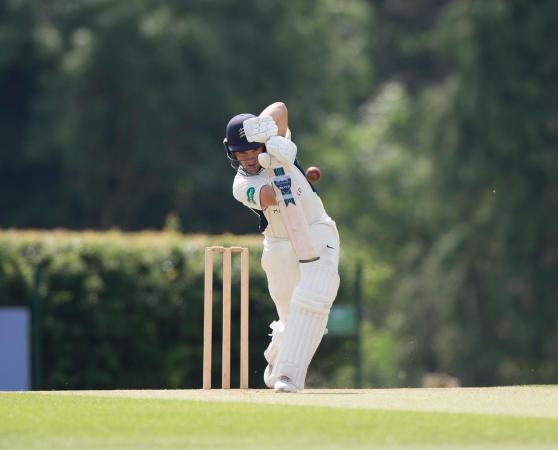 Lace. Great Material
By Dingy bags
May 14 2019
ABBAS NiCKS AND OLD LACE
So it was back to four day cricket with some interesting selection issues before we even got started. We knew Tom Lace would debut for us and the Lawman had said that either the German or the Rabbit would play. Those were not actually his words but he is still relatively new to the club. But would George Scott play? He deserved to after his white ball efforts.
In the end, Toby was given a rest so he and Rabbit missed out. On a beautiful sunny morning Leicestershire took up the option to bowl which was a bit of a surprise. However, Sam was lbw to the first ball of the match from Abbas and we feared the worse. Runs were initially very hard to come by but gradually Max and Gubbo picked off a few runs. As the bowling changed, runs came more readily with both batsmen cutting and driving impressively. Abbas, by far the best bowler on view, returned for another spell but Gubbo brought up his classy 50 in the penultimate over before lunch (83 balls) which we took at 95-1, Max on 36.
Straight after lunch, the persisting Abbas had Max caught behind for 41 which brought in Tom Lace for his county debut. This probably extended his spell. Ackerman had bright himself on perhaps to bring the -3 over rate down before lunch. He continued afterwards and Gubbo, batting beautifully even against Abbas, had one heave across the line against Ackermann which brought an lbw appeal then, failing to learn his lesson, had another go and top-edged to fine leg. He looked aghast, as He is a number of Middlesex supporters. By now we had moved from the Warner which was now in shade and a chilly breeze to the sun-bathed Mound. Once Abbas had gone off, batting was a good deal easier and Lace and Eski were able to score at a good rate which made Eski's dismissal, again to Ackermann, aiming a huge cut, almost as culpable as Gubbo's. The Leicester captain must have been delighted. 177-4. Eski 33 from 32 balls.
Fortunately, Tom and Simmo batted very sensibly, picking up runs when on offer, so that at tea.We were 227-4 with Tom on an excellent maiden 50. Intervals sermed to do us no good because straight after Mike, previously pretty ineffectual, got one to lift on Lace to get him caught behind and then trapped Simmo lbw. Suddenly 229-6 and we were behind in the game.
Scott and ton-up Harris now came together with Scott the more attacking. Cosgrove bowled a useful if defensive spell up to the new ball, 9 overs for 18 but it was clear that the new ball would be crucial. At that point, the seventh wicket had realised 52. Fairly soon after, Harry became yet another batsman to perish after getting a good start, lbw to Abbas turning to leg. Ollie went the same way three balls later.284-8.
Scott and Helm then mixed caution and aggression against some testing but tiring bowling, one hook from Scott over square leg a highlight. Scott went to his 50 shortly before the close. So both he and Tom Lace both scored their first half centuries for us today, perhaps a glimpse of the future. Oddly, Taylor bowled only one spell whereas Abbas bowled around 5 and 26 overs in all.
At the close, we were 335-8, Scott 52 and Helm 17. The eigth wicket has so far put on 41. Honours about even.
View a Printer Friendly version of this Story.
Lace is a Shoe in for Middlesex
Discussion started by Middlesex till we die , 14/05/2019 19:16
Middlesex till we die
14/05/2019 19:16
What do you think? You can have your say by posting below.
If you do not already have an account
Click here to Register
.
Edited 2 time(s). Last edit at 2019:05:20:20:40:38 by London Leprechaun.
A really enjoyable day's cricket in lovely weather. Great to see both Tom Lace and George Scott fighting hard to score 50s.

A Leics fielder confirmed to one of their supporters near me that Taylor was injured. They had a sub fielder on for some hours, though he came back on towards the end.
BarmierKev
15/05/2019 08:23
Thanks Dingy. I'm reporting today and cannot guarantee it will be as timely or accurate as above effort.


---

Barmy Kev
I'm only here for the tele
Cosgrove's bowling was interesting - he gets plenty of wobble (on the ball, that is) and when he gets it in the right areas it looks quite tricky to face. According to the commentary team he actually dislikes bowling and usually has to be persuaded to come on for a spell.

As someone whose bowling is dispatched all over the villages of Kent on a weekly basis, and who shares Cosgrove's body shape, I have to say I'm inspired by his tight spell yesterday.
Sorry, only registered users may post in this forum.
More Middlesex CCC headlines