I Believe in Rainbows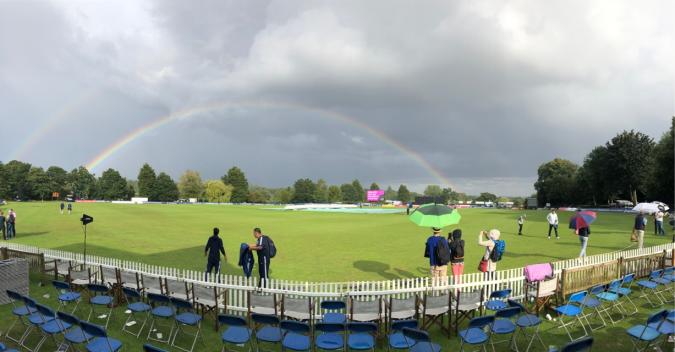 Somewhere over the Rainbo
By Barmy Kev, Hackneyshire and Dasher Denning
August 12 2019
In between observations from Hackneyshire and Dasher Denning Kev reports on strange win and some significant rainbow lnks. Thanks to Beefy and Hackneshire for some good pictures.
I met Beefy, Hackneyshire, Dasher Denning, Way out West and Way out West Junior (in case Mrs Way Out West is reading MTWD WOW only had 2 pints all day and WOW Junior did not have any sugary coke) at the Red Lion. We had chats about how VAR is destroying football and this 100-ball nonsense will ruin cricket. The discussion led by Hackneyshire got more sensible about Radlett that was unresolved. "The question of the biggest six. Both sides had sixes that went missing on the railway side of the ground, but did any of them land on a train and get taken to a different part of the country and, if so, how far did the ball travel? Landing on an East Midlands service to Sheffield could have meant a 149 mile six for example, and a likely world record, while in the other direction a Thameslink could have ferried the ball to Sutton for a 57 mile six. These are the missing statistics that cricket fans deserve to know".
We arrive to a bumper sell out crowd of 2700 for the inaugural 20/20 fixture at Radlett, What was nice to see to show the inclusivity of our club was players wearing rainbow laces, rainbow coloured stumps and the LGBT flag on display.
Respect
I've learned at out grounds if you don't get a seat at the front the best hope of a decent view is standing near the back. The only challenge is if you move to the bar someone will place a seat and you end up blocking his or her view. There was also a police presence in the pavilion, but some Glous fans may feel the daylight robbery happened later.
A fair cop
An opening stand of 53 Glous looked on for 200. As in previous games this year and unlike previous years we did not allow them to take the game away from us TRJ clean bowled our nemesis Klinger. He in tandem with Hi Fi bowled accurately to stem the run rate. Cockbain soon followed. The danger man was Hammond and was a relief when out for 42 caught on boundary. Our old boy Higgins threatened to destroy us hitting 2 sixes of a Rabbit over before he gave him a catch in the deep. There was a late cameo fromVan Buuren. The total of 168 for 8 seemed below par.
Cant take eyes on the game
It was worth noting a few Middlesex fans gave Tom Smith (Seaford plumber) a rousing reception as he came out to bat. I learned about their Rainbow Day where Glous will host a charity event for Grief Encounter for their game against Sussex. https://www.bbc.co.uk/news/uk-england-bristol-49225540. Good luck Smudge.
During break I needed something to eat and nothing seemed visible. I saw a food sign opposite the pavilion. I was amazed at the array of choices on offer in this hidden area. I had a delightful chicken noodle dish.
Meanwhile, Stirlo and Mala gave us a quick opening stand of 61, which meant we were always ahead of the game. Exki continued to accelerate with Mala. Unfortunately, the Seaford Plumber came in for a lot of stick. With Eski and Moggie out it was becoming nervy. The heavens opened and to their credit the umpires tried to keep them out as long as possible. I would have loved for Mala on 91 lead us to victory with a ton. Once it became clear there would be no more play I had no idea where we were on Vera. With a close looking 13 needed off 11 balls I was surprised when I did learn that our margin of victory was 9 runs. There was a feeling of anti climax despite moving up to 2nd place with a rare 20/20 win against Glous. I left Radlett in glorious sunshine with an appropriate Rainbow backdrop.
Middle Middle Middle. Wet Wet Wet
Final word from Dasher Denning. "Having been there twice this season, I like Radlett as a ground, but it was also a very odd atmosphere for a T20, one that I've never really experienced before. It was just really, really quiet. That's no bad thing, it was just completely not what I was expecting. Maybe it was the fact that the Premier League had started and the singers and shouters were down the pub watching Newcastle v Arsenal and Man United v Chelsea. But in the member's area people seemed to be almost whispering to each other. Apart from Kev and Beefy".
View a Printer Friendly version of this Story.
I Believe in Rainbows
Discussion started by Middlesex till we die , 12/08/2019 12:52
Middlesex till we die
12/08/2019 12:52
What do you think? You can have your say by posting below.
If you do not already have an account
Click here to Register
.
Edited 2 time(s). Last edit at 2019:08:14:16:16:14 by BarmierKev.
adelaide
12/08/2019 13:22
The bit about the sixes reminds me of Saracens' days at Bramley Road ("this park-like ground" - Nigel Starmer Smith - er, it's a park, Nigel). If points were not on offer for hitting a passing bus, they should have been.
BeefyRoberts
12/08/2019 16:24
Well done Kev.
Yea,shame the downpour ruined the finish,but still a good win.
Poor old Fletch caught the full force of the monsoon whilst helping groundstaff put the covers on.
Thumbs up to Radlett for a well arranged afternoon,and the ease of getting in the ground,will be honest and was thinking of a long queue to get in,was proved completely wrong!
Good to see familiar faces of stewards around,and relaxed as well!

As Kev said,a good meeting before and return to Red Lion,Nachos were very tasty!
And,another win towards a top 4 finish with 5 games left,2 at home.
Seaxe_man1
12/08/2019 17:12
Plus AB playing at Ageus Bowl and Taunton gotta be a help where we don't win often. Uxbridge which Mx had the presence of mind to advertise on the screen versus Sussex another crucial match.
Sorry, only registered users may post in this forum.
More Middlesex CCC headlines