Robinson Smokin Miracles Need DrinkStronger Than Barleywater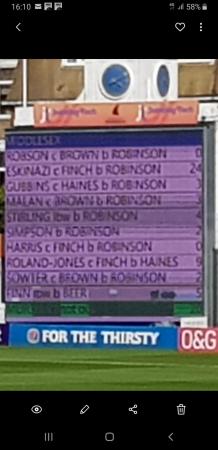 Here's 2 U Mr Robinsonfo
By Primrose Hillbilly
August 19 2019
I will remember my day at Hove for several reasons. Firstly, I was lucky enough to travel down from Victoria in the company of the walking, living, breathing Middlesex omniscient that is Seaxe Man. His knowledge of things both on and off the field puts so many events in the correct context and period. While some of us think we may know a bit about a few things, he just lays it out there and says it in such a way that you know that he not only knows, but shares this amazing font of knowledge without even thinking about it. Thank you, Roy.

We got to Hove just as the heavens started really chucking it down, and my Moderator's first message announced there would be no play before lunch. He returned my call, stating that he was thinking about throwing himself into the sea, which at that time was being lashed by gusts of about 60 mph . I reflected that he sounded as bad as the time of the botched declaration against Essex, after which we had had to take away his razors. I walked along the front to Brighton, and by the time I crossed from Hove into it's more fun neighbour, the sun was out and deckchairs were being put out.

Upon entering the ground, I witnessed the umpires exhibiting great concern about a muddy area the other side of the boundary rope at the lowest point of the ground. Hove, like Lord's, has a slope that tilts the square slightly from the top end towards the "Sea" end. The muddy area was at the sea end – surprise, surprise. The area of concern was at fine fine leg, or deep mid on for a right hander, and despite there being no game where the ball has always gone there, the men in white shirts were very exercised about it, but were eventually reminded that cricket is part of the entertainment industry, and that some err .... cricket was permissible in the circumstances. I hadn#t heard about eh concert, but the rest of the playing surface- as exhibited by the warm ups being conducted by both teams was absolutely, fine.

Sussex won the toss and inserted us.

Ollie Robinson's first ball was well pitched up, and did just enough to take the edge of Sam's rather exaggerated forward defensive, to leave us 0 -1 off one ball. Nick Gubbins could not get a bat on the next 5.

Gubbo and Eski briefly prospered, before Nick, driving, as he had done a couple of times, got a thick edge to gully for a very good low catch, and soon after that Dawid feathered one to the keeper, to give Robinson figures of 6-2-14-3.

The slightly nippier Wiese had bowled uphill from the Sea end to very little effect, but he was replaced after a fairly ordinary opening spell, by Haines, who bowls at a sort of Higgins like dibbly dobbler annoying medium pace to which the keeper stood up.

Stirlo fell LBW right in front to Robinson's combination of line, length, a bit of lift generated from a good high action and wrist position, and very soon thereafter, just as I was imagining a headline of Eski rows us to safety, he fell caught in the slips to give Robinson figures of 6-2-19-5, to which Harry added without err . ...... addition.

We were then 37 – 6.

Simmo touched to the wicket keeper to make it 8.1 – 2 – 20 – 7 for the man of the moment, and the Rabbit was soon back in the hutch to go to 8.4 – 2- 22- 8, and we had hopes of witnessing a tenfer.

Except Toby took the long handle to Haines and effortlessly put him over the longest boundary for a 6, only to guide the next ball to first slip.

Despite his immaculate figures, at one time Mr Barleywater (or I'll have whatever else he's drinking) had four guys on the boundary for our Lambeth Lara, and he and Finny at least put bat to ball and hoicked us up to 75, until, having turned a couple past Tim's edge, legspinner Beer got Finn to play for the turn and had him LBW and last man out, leaving the Lambeth Lara undefeated on 20.

Tea taken early, and Toby opened with Tim – first time for a long time. I personally would have wanted Tim to bowl from the "Robinson" end, but in his first over, Tim got Salt to loft one directly to Gubbo at midwicket, who was so surprised by how easy the catch was that he almost dropped it, eventually securing it after juggling and ending up on his back. 4- 1.

Toby was generating lift from the Robinson end, and he got one to take a good edge from Haines low to Stirlo in the gully, who took it with a typical combination of maximum efficiency and self effacement. At the other end, Tim was beating the bat without any luck, which is so often the way it goes.

At one time we were even – relatively – ahead of the game, because Toby then had a big confident shout for LBW against Finch to take us to 15 – 3, but after that Wells and Carey batted very sensibly, with minimum risk and got their side ahead.

During the tea interval, Ollie Robinson was awarded his county cap, having now taken over 200 wickets for Sussex. Well done him. They're in the book, and can't be taken away from him, now. And yet, and yet, ............... did any of our batsmen bat out of their crease against him ? He wasn't even up to Tim's pace. Did we treat him with too much respect? Is this another game sandwiched between T20 fixtures, where our batsmen might even have been too aware of the need to exercise a bit more caution to bed themselves in after the more frenetic format?

I saw metronomic command of line and length off pretty much an amble to the wicket. I saw a bit of swing and seam, but not at high speed. I saw lift from that end, but at that pace, I'd have had some batsmen sashaying down the pitch to disrupt his length and get after him. He is nothing special. He certainly ain't a Wasim Akram, a McGrath, an Imran Khan, or even a Murtagh.

However, a footnote to this day, which leaves us very much behind the eight ball. My moderator had delegated reporting to me, as he was due for a summit meeting in the Sussex Cricketers with a former paramour, her new paramour, and others subject to the NDA that he made me sign.

"Oh, gosh ," he said, "I had a great time this morning. What a day, I met some amazing people. There was so much love and positivity in the air, what a meeting of minds. I feel as if my entire consciousness has been replaced, relaxed and expanded. We talked. We really talked. We got the fundamentals out in the open, and WE .......SET ..THE .WORLD .........TO ........RIGHTS. By the time I came in to the ground, Middlesex were nine down. We must have talked for ages."

"Err...... .no, not really............... maybe 18 overs or so."
View a Printer Friendly version of this Story.
Robinson's Smokin' Miracles Leaves Us Needing Drink Stronger Than Barleywater
Discussion started by Middlesex till we die , 19/08/2019 07:22
Middlesex till we die
19/08/2019 07:22
What do you think? You can have your say by posting below.
If you do not already have an account
Click here to Register
.
Edited 2 time(s). Last edit at 2019:08:23:08:46:11 by BarmierKev.
Whatever Robinson's limitations might be, he's been good enough to take 46 wickets in five matches against us.
...and needed just 3 balls in the second innings to increase his rally to 47.
Sorry, only registered users may post in this forum.
More Middlesex CCC headlines