Middx Miraculously Cain Somerset despite their Abel start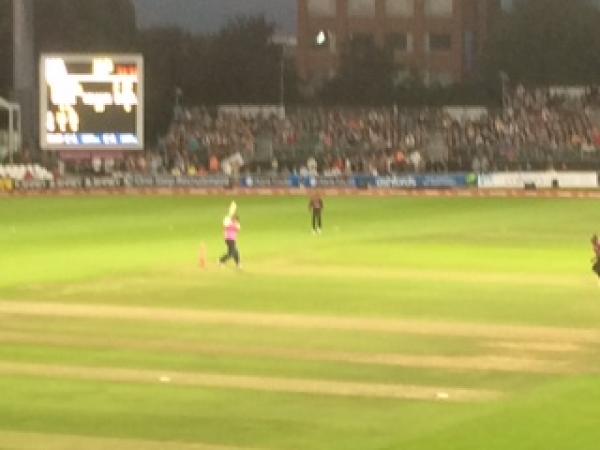 Mala 6 of the best
By Rogers and Out
August 31 2019
Rogers and Out reports on a day that started depresingly , seemed to get worse and worse and somehow suddenly got better and much better.
After looking to have thrown away qualification for the T20 quarter finals following a series of dire performances, Middlesex produced a resurrection of almost biblical proportions in chasing down 226 to beat Somerset by six wickets with eighteen balls to spare in front of an astonished (and silent) Taunton crowd on Friday night.

It was a game of atrocious bowling, brilliant batting, poor fielding, dropped catches and one sensational catch.

Only two bowlers returned figures of less than ten runs per over, but it was the salvo from opening batsmen Malan and Stirling that got us off to flyer. AB then produced his customary quick runs despite being hindered by the slowcoach Hafeez, but it was the much derided Captain Morgan who stole the show with 83 runs from 29 balls that won the game, aided by the doughty George Scott.

QPR Chris and I travelled by train from Southampton to Taunton via Westbury in low spirits after witnessing our poor effort at the Ageas Bowl. We had pretty much written off any hope of qualification and when we heard that the team would be unchanged from the previous night, we were even less optimistic.

However Somerset won the toss and opted to bat first on the hybrid pitch. We did at least change our bowling tactics with Toby taking the first over, in which he clean bowled Babar Azam and was unlucky not to remove James Hildreth LBW soon after.

After that excellent first over, normal service was resumed. Banton dispatched Finny to the boundary three times in the next over and Somerset increased their run rate steadily throughout their twenty overs.

Banton and Hildreth were accumulating runs fast and it was a surprise when Hildreth attempted a non existent second run, leaving him and his partner at the same end. Nathan and Simmo professionally executed the run out leaving Somerset on 41/2 in the sixth over.

This success was tempered by some poor fielding and bowling as Banton and Abell laid waste to our attack. Abell should have been run out by Sowter, but in true Nathan Lyon fashion, he did not take the ball cleanly and the chance was gone.

Banton then skied one to Helm who managed to put it down to match his effort in dropping James Vince the previous night.

The Somerset wicketkeeper eventually departed for 62 from 39 balls, caught in the deep by Nathan off the bowling of Hafeez, which was his only success on a night when his poor bowling matched his pedestrian batting.

Abell and the incoming Byrom were now launching us to all parts of the ground and it was clear that Somerset were going to reach a score of over two hundred.

Byrom fell for a quickfire 44 from 20 balls, but Abell went on to complete an excellent unbeaten 101 as Somerset totalled a daunting score of 226/5. Only Toby bowled with any semblance of control with reasonable figures of 2/32 from his four overs.

The prospect of penning a damning match report was much on my mind as Stirlo and Mala came out to bat for us. Incredibly, Somerset's bowling was even worse than ours with Waller, Taylor and young Lammonby serving up a series of pies that our boys tucked into with relish.

We scored 67 runs in the first four overs before Groenewald dismissed Malan then Stirling in consecutive balls. AB came in at three, with the tortoise Hafeez at four.

De Villiers immediately got into his stride with a series of effortless shots to the boundary. Even the tortoise managed to find the rope on a couple of occasions before nearly running out AB after an injudicious single.

He was, however, a little unlucky to be run out for 18 by van der Merwe, but I think most Middlesex fans were glad to see his departure and the entrance of Morgan.

AB was really hitting his straps and the re-introduction of Lammonby to the attack looked to be an interesting change. However the youngster was delighted to see Waller take an astonishing catch at full stretch as AB looked to clear the midwicket boundary.

George Scott was next in and it became apparent that we needed something massive from Eoin, and, my word, how he delivered.

He destroyed Lammonby in his third over, dispatching him for twenty three runs including three sixes. George was a good foil, hanging on in there and clouting Groenwald over the ropes for a maximum.

We were requiring around 9-10 per over but Eoin's blitz had it soon down to just six per over and it looked that the impossible was going to happen.

Van der Merwe bowled the seventeenth over and Morgan took him apart too, hitting a six off the last ball to clinch a fantastic win, aided by the hapless Somerset fielder fumbling the ball over the boundary (not the first time this happened either).

So 83 runs from 29 balls from Dublin's finest to clinch a quarter final at Trent Bridge on Thursday 5 September. One of the most incredible games of cricket I have had the privilege to watch. We set a domestic record for chasing the highest total in T20 and the fourth highest chase of all time.

Sadly QPR Chris had to leave before the end to catch his train, but within five minutes of his departure, we had secured our historic win.

It appeared that I was the only happy spectator leaving the ground, and I do believe I may have been humming Sweet Caroline on my exit.


View a Printer Friendly version of this Story.
Middx Miraculously Cain Somerset despite their Abel start
Discussion started by Middlesex till we die , 31/08/2019 00:35
Middlesex till we die
31/08/2019 00:35
What do you think? You can have your say by posting below.
If you do not already have an account
Click here to Register
.
Edited 1 time(s). Last edit at 2019:09:07:18:41:17 by London Leprechaun.
chunkyinargyll
31/08/2019 06:59
It was funny when the PA blared out 'Sweet Caroline'

I've never heard a crowd not join in before. Whoever thought it was a good idea must have realised they had ever so slightly misjudged the mood, as it terminated fairly quickly.

Something funereal like 'The Lord is my shepherd' would probably have been more appropriate for the home crowd, but I guess it wasn't readily to hand.
Qualification beyond my expectation . I was hoping for fourth place and a game just down the road at Chester le Street .
BeefyRoberts
31/08/2019 10:51
Fabulous report Mick,watching on tele was tense enough,but being there must of been even worse.
Still,we did it in the end.
You must also be congratulated on the amount of miles you travel each season watching The Middle.
Sorry, only registered users may post in this forum.