An New Extended Episode of the Simpson's Show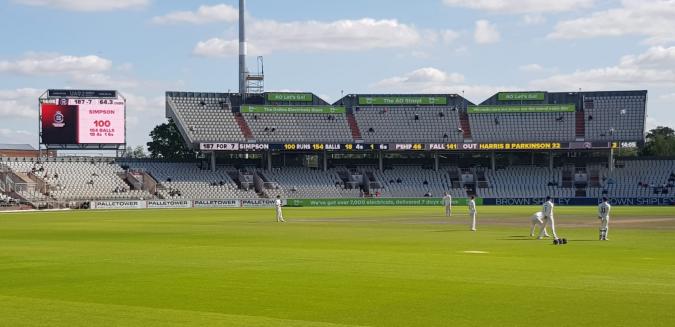 SIMMMMMOOO!
By Beefy Roberts
September 18 2019
Beefy reports on a day that started with doom and gloom for the Middle. BUT ended , well you know the rest.
Waking up in Manchester for day 2 (the expected final day). Looking out of the window it's wall to wall sunshine, except there is a huge dark cloud hanging over Middlesex.
As we walk into the ground an irate Lanky fan said to us "they could let us in for nothing today as we have won division 2". I replied no we haven't!" he then saw my Middlesex attire.
First cheer we pass 43 our lowest score against Lanky. Another louder cheer Simmo reaches double figures, first batsman this innings. We reach 50 there is loud music from The Point. Dingy Bags reckons it's auditions for Britain's got Talent. Seaxe Man said maybe we should do auditions for Middlesex Got Talent. We reach 50 partnerships, then 100 without loss of a wicket to more applause. When Simmo reaches 50, John Gwynne of Sky sports darts commentary announces end of game Lanky will be presented with Division 2 trophy and says to Middlesex balcony " look what you could have won". We survive to lunch without losing a wicket.
Straight after lunch a Simmo glorious drive for 4 brings up 100 partnership. Harris bowled by Livingstone, I presume, for 32. No worries TRJ hits out and we take our first batting point since July. This 76 partnership ends with wild TRJ shot, takes us 42 behind and it now looks a one innings match. Maybe not as the Rabbit comes out of his hutch and with Simmo takes us 7 behind at tea. We have a second unheard of batting point.
More joy after tea. Simmo on 144 a career best and unbelievably a 3rd batting point. Am I dreaming? Bamber comes to the party and we finish 337 all out. Simmo ends with a superb 167 not out.
An uncomfortable 8 overs for Lanky.. Ist over Davies out hooking 1-1. The locals are moaning as Lanky dig in to the close.
An extraordinary day. Nobody saw that coming. The Middle faithful are out for a well deserved curry and a few beers
View a Printer Friendly version of this Story.
An New Extended Episode of the Simspon's Show
Discussion started by Middlesex till we die , 18/09/2019 09:27
Middlesex till we die
18/09/2019 09:27
What do you think? You can have your say by posting below.
If you do not already have an account
Click here to Register
.
Edited 2 time(s). Last edit at 2019:09:22:12:55:05 by BarmierKev.
adelaide
18/09/2019 09:34
Think it wa Parkinon who did for Harry, not Livingtone.

Adelaide
Sorry, only registered users may post in this forum.