Last of the Summer Whine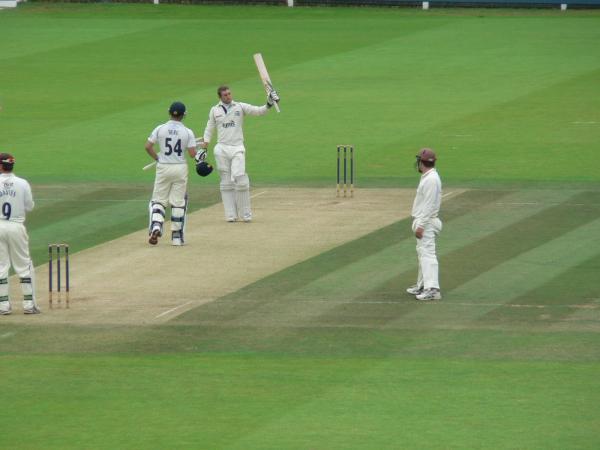 Is this the end?
By Dingy Bags
September 25 2019
Dingy Bags reports on the penultimate day of the season with an end of season feel, a typical batting collapse, dramatic skies and even an alternative demolition Derby.
After the near washout of the second day, though we managed to lose two wickets, my thoughts were focussed on our captain, one run short of a thousand for the championship season and not too far off three figures. He'd played some typically languid, elegant shots on Day 1 and I was hoping for more. There are always lots of rumours this time of year, most of them with no basis, but I'd be lying if I did not confess that I could not escape the feeling of this being a last. Perhaps it was the time of year.
The weather on the journey in was more in tune with going to watch rugby or football; not the deluge of yesterday but persistent drizzle. At least it was mild but we should not be playing championship cricket around the autumn equinox. Next year, games in March or October? The covers came off as I walked into the Middlesex Room, which was virtually deserted, adding to the autumnal feel. But with one floodlight out, it was probably too dark to start. To add to the strange atmosphere, the nibbler was beginning to eat the Compton stand.
Compton Stand being eaten up.
We got going at 11.15 and Mala soon stroked one through extra cover to complete his thousand and take us to that comparative rarity, a batting point. Sadly, he played across one from Reece soon after and was lbw. Harry and Toby then embarked on an entertaining partnership, Harry looking increasingly like a proper batsman, especially through the covers, and Toby in his own effective style. At 242-6 the new ball was taken by the admirable Reece, who was starting his 24th over.
Two thumping blows from Toby, one straight off the front foot and one off the back foot through the leg side, brought up another batting point. On the stroke of normal lunch, Toby shouldered arms and was lbw, to his obvious disappointment. San Miguel came out, Hudson-Apprentice was sharing the new ball at the Mcalpine End from which Harry took a single and our latest signing was comprehensively bowled. I had not heard or seen any information about timings for the day. After the Durham match, and with another Q&A arranged for tea time, this was less than helpful. Bambi was then caught off H-P and we had the further complication of being 9 down before an interval. I watch plenty of cricket and can usually guess how the playing regulations are being applied but God knows what newcomers sometimes make of it.
251-6 had become 252-9 as the tail did a fair imitation of what the top order has done all too frequently of late. Murtagh was clearly peckish because he batted even more frenetically than usual, being dropped at slip. This cost Reece a five for. Harry got the message and lifted one through the legside for 4 and Murts was caught at slip at the other end.
After the belated lunch, the Derbys openers batted in extraordinary fashion, lifting the ball in the air and swinging wildly. Whether this was part of some collusion, or a tactic on their part to make a game of it was not clear. Certainly Murts (nibbler end) and Bambi (Kremlin) looked a little startled. One of the openers was Reece, who presumably also organises the catering and locks up every night. Bambi rather soon got him lbw and did the same to Madders next ball. I have never seen a Middlesex hat trick live so watched with interest. Alas it was not to be. Toby replaced Murts and Billy the Kid, who had himself gone past the 1000 championship runs, carved a shot of his own invention to Mala at slip. After 12 overs we were already -1 but no one seemed too bothered.
Hughes and Duploy actually brought some sanity to proceedings for a while, until the former hacked Murts to wide mid off. Murts gave him a look as he departed. Tea came with Derby just short of the follow-on. We were curious to see, given their attitude to batting, if they would declare to set a game up. In fact, this did not happen and the game became very post-tea, Septemberish. Harry and Bambi ran in with continuing purpose; DuPloy and Hosein took what scoring chances came their way. The were a few hooks and a few edges. Malan, possibly dreaming of black pudding and whippets, missed a hard chance at slip off Bambi. Compton continued to be nibbled to death. No doubt in the pavilion, Reece was collecting the subs. We were still -1.
Murts and 'Miggy' replaced Bamber and Harris. The sun, rather eerily, shone from a sky that was mainly all cloud. The cricket had a timeless quality about it and fewer and fewer people seemed actually to be watching. Max came on as it got darker, with -2 on the board. Hosein went to a pleasant 50 and Duploy soon followed as the light closed in.
Dramatic skies
After a few twitches from the umpires, as the we lost more light, along with the will to live, play was suspended at 17.40.
This is my final report of the season. I hope you have all enjoyed the cricket in 2019 that you have watched. If it has often not gone Middlesex's way, it's always worth coming for the company. To the usual suspects, thanks for that, from Manchester to Hove. Winter well, all.
View a Printer Friendly version of this Story.
Last of the Summer Whine
Discussion started by Middlesex till we die , 25/09/2019 21:03
Middlesex till we die
25/09/2019 21:03
What do you think? You can have your say by posting below.
If you do not already have an account
Click here to Register
.
Edited 1 time(s). Last edit at 2019:09:28:21:40:18 by BarmierKev.
BeefyRoberts
25/09/2019 21:42
Certainly has an end of season feeling today,but at least we had play,although down to tripod working and 4th floodlight still down injured.
At times watching Norbert Nibbler eating the Compton Stand,and guessing what part of stand was next...Then Norbert Minor arrived at front of stand and helped nibble away,but was so gentle placing the front barriers down!
One day to go,well documented today mate
Terrific report DB, really communicating the end-of-term feel.

Strange to think that just 3 years ago this week we were winning the Championshio in beautiful weather. What a long time ago it seems.
Sorry, only registered users may post in this forum.