The Long and winding Room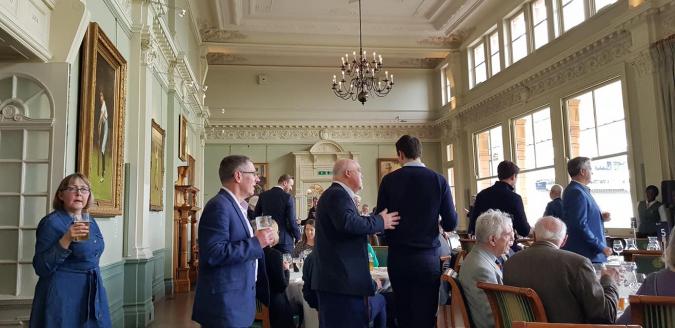 No Long faces
By Beefy Roberts
February 3 2020
Beefy reports on our birthday lunch celebration. A new venue and a diversion. Most importantly a more enjoyable occasion than expected.
Today is the 156th birthday (rumour has it Seaxe Man was around then) of our wonderful club. A special lunch is being held to celebrate the occasion.
An email was sent in advance regarding the lunch menu etc. For the Pelham restaurant a dress code of no jeans/trainers was enforced. I didn't like this yet again another rule set by the landlords. Nevertheless, I still decided to go along. A number of the usual suspects boycotted this event.
Here we go again at the Grace Gates the usual pat down and security checks as I show my meal invite. Bad start for me.
Walking in I passed the empty Pelham's, what's going on is anyone here? I was diverted back to Pavilion entrance, Due to heating not working the party was moved to the Long Room,
There were 14 tables of 8 in Long Room dining room. The company was excellent. I admit I was the first to complain about price/dress code for today, however, £30 to dine in Long Room was not that bad value the meal was tasty and service quick including the bar. The added bonus me in the Long Room without jacket and tie.
Call the police
There was a pre lunch introduction by Gus and after meal he led a Q&A with Max, Toby and The Law Man. Mike O'Farrell also said a piece. Buy me a drink a may reveal what I can. The outlook is generally optimistic.
With the surprise of dining in the Long Room it was a nice way to celebrate our birthday. Many thanks go to Loz and Julie for their hard work in arranging.
View a Printer Friendly version of this Story.
The Long and winding Room
Discussion started by Middlesex till we die , 03/02/2020 10:06
Middlesex till we die
03/02/2020 10:06
What do you think? You can have your say by posting below.
If you do not already have an account
Click here to Register
.
Edited 1 time(s). Last edit at 2020:02:10:19:36:43 by London Leprechaun.
BeefyRoberts
03/02/2020 10:59
Just to add,Mike Gatting also in attendance.
Found out Max Holden is a rather good chef,as he said he does a rather good Sunday lunch at the Edgeware players house. (That's what he said!)
Jules took a lot of pics to record the event.
Must admit,it was a rather relaxed afternoon.
The Law Man did say he wants to see 11 captains out on the field this coming season,and said Peter Handscomb is a very competitive person,not just on the field,and wants to win all the time.
BarmierKev
03/02/2020 11:05
Thanks for sharing Beefy. Perhaps I should have turned up but was put off by price and dress code.

Also in Q&A I may have said something inappropriate about T100.
BeefyRoberts
03/02/2020 12:50
The lunch was served 'buffet style' table by table invited to be served.
The choices being Lamb or Veg Hot Pot,along with a sweet of fruit cocktail or Pear/Plum crumble,my choice of the crumble was good,all in individual dishes with a warm,tasty vanilla custard.
There was an empty plate at each of our table seats.
The guy my left,Dev or Deb was his name was a 5 yr member,and was very happy to get presented with his badge.He knows about our website,and he also purchased one of the 'love cricket,hate the 100' polo shirts once he saw the picture of shirt.He does read the website,and tried to get him to log on to post,hope you do if reading this!
The 1** thing was mentioned 2 or 3 times,with a hiss from our table!
Must admit,if the stewards were not at the entrance,I would of taken a picture of the painting of my cricket all-time hero,the great Sir IVA Richards,but they wouldnt shift!



Edited 2 time(s). Last edit at 2020:02:03:14:05:09 by BeefyRoberts.
Sorry, only registered users may post in this forum.