We Ain't Going to Stanford it. Part 5 of 6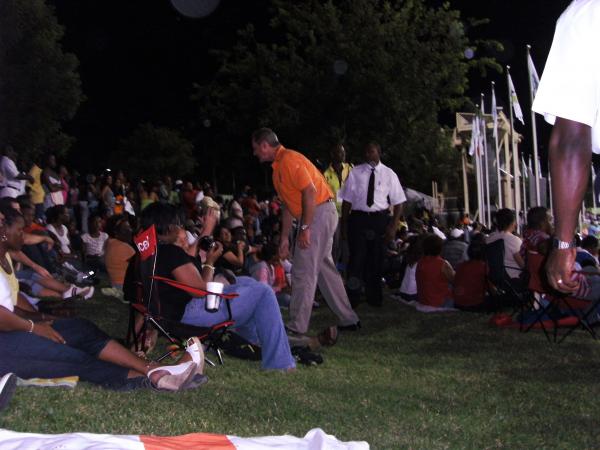 How the mighty fall
By Beefy Roberts
March 1 2020
Due to mix up in order this is final offering from Beefy of Antigua trip. Part 6 was submitted before part 5 and can be read at end link. Meanmwhile we hear of a game of beach cricket with legends and a boost for a local barman. .
Kev, have done out of order this is AFTER next part. Got all confused what has, and hasn't been done...lol
Feeling slightly rough around the edges after the Stanford game and drowning our sorrows last night, Today is a more sedate game of cricket. More beach cricket, but this time we find out our idea from a few days ago has been 'stolen' by others and the hotel had arranged a game on the beach. Starting at 11am,with the first game at 11.30.
We meet at breakfast as usual, with all out 'things'...Flags, bags, cameras, sun cream etc and we head to 'Jolly Beach Cricket Ground'. We have music a temporary pitch players in kit and a lovely backdrop of the ocean.
West Indies, who are full of stars, Captained by my cricket hero, Sir IV Richards (I am watching him play, i really am in Antigua!), Gordon Greenidge, Joel Garner, Richie Richardson,Curlty Ambrose, Courtney Walsh, Eldine Baptiste, Roger Harper. That is some side to play beach cricket!!
England consists of Devon Malcolm, Phil DeFraitas, Gladstone Small, Allan Lamb, Darren Gough, Nasser Hussain, Graeme Hick, Craig White, and Andrew Caddick.
This as just after Goughie had won that dancing stuff on BBC. Yes we did give him some stick!
To be honest, i can't remember the result, but with these two sides, ii have a feeling the West Indies side would of won!
After the fun, we had time to ourselves, so we spent time at the 'local bar' and decided to go on a tourist trek to Shirley Heights that evening. Ironically Kev got a text from someone called Shirley on the journey, which caused much laughter and some crude unrepeatable comments
I was very lucky to get hold of a ticket for the $20m game in the hospitality area and, talking about it to Kev at the bar, Our friend behind the bar was listening as was saying he didn't have a ticket for this game, As i had a spare i offered it to him at half the face value of ticket. He wanted to go, but just couldn't afford it. Kev pulled me to one side and had a chat with me. I followed his suggestion and asked the guy if he would like the ticket free, as i am already going to the game. His eyes lit up, so, he still got to the game.
Coming up, the final part of this trilogy...i can hear the cheering now!!
View a Printer Friendly version of this Story.
We Ain't Going to Stanford it. Part 5 of 6
Discussion started by Middlesex till we die , 01/03/2020 12:28
Middlesex till we die
01/03/2020 12:28
What do you think? You can have your say by posting below.
If you do not already have an account
Click here to Register
.
Edited 2 time(s). Last edit at 2020:03:17:18:04:44 by BarmierKev.
Very generous of you Beefy to give the barman a ticket. What I don't understand is why you bought two tickets in the first place if you were unaccompanied. I presume Kev already had his ticket?
No response !



Edited 1 time(s). Last edit at 2020:03:15:13:14:39 by Gezza .
BeefyRoberts
15/03/2020 13:18
Oh,sorry,didnt realised I had to drop everything and reply to you...please forgive me.

Will tell you then..correct I had 2 tickets as purchased them.
Not at all Beefy,you've had 2 weeks to respond, and my question was WHY did you buy two tickets if you only needed the one ? just curious.
BeefyRoberts
15/03/2020 14:10
To be honest,its NONE of your business why I purchased 2 tickets!
Think yourself lucky I even bothered to reply!
Entertaining piece, Beefy, though I imagine you're maybe wishing you hadn't bothered.

Amazing line-ups for any match, let alone beach cricket!
BeefyRoberts
15/03/2020 17:02
It bought back some great memories Fozzie,wont be repeated either.
One thing will always stay with me..
Keith the Pipe.
The great man was there,he saw Kev and myself walking towards him,he was,as he always was,immaculately dressed,even in that heat..His 1st words were...What the **** you doing here?!,then..welcome to my country let me buy you a drink.
Yea,wonderful memories
Sorry, only registered users may post in this forum.