Languauge Timothy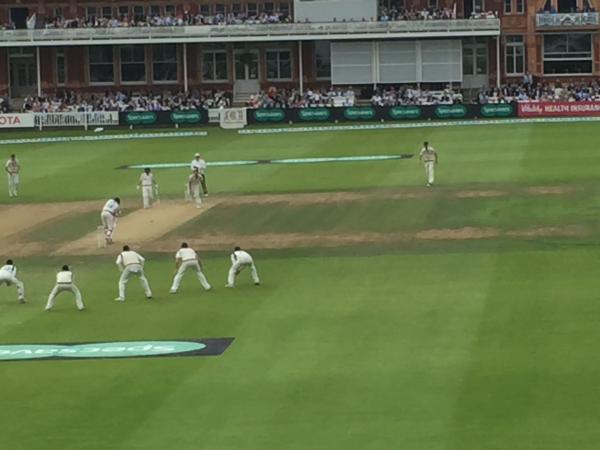 Under pressure
By Barmy Kev
April 26 2020
Due to lockdown we continue the MTWD build up to the dramitic climax to our famous 2016 season. We have Kev's report on the twist and turns of day 2 with some colourful language to follow.
This is a crucial day for our season and have many scenarios in my mind. Bonus points and our over rate now seems to be irelevant. My thoughts are primarily on the bleeding obvious, let's just win this bloody game. We have a good chance with our over night score 208 hard fought runs for loss of only 5 wickets, which looked like a bowler friendly wicket.
I was happy to sit in Upper Edrich after being very claustrophobic in the crowded Pavillon yesterday. Not a good start for us with early wicket of Gubbo, well caught at 2nd slip and my technology advised of Somerset huge last wicket stand giving them another bonus point. Franco wicket seemed not all bad news as catch behind indicated there's something in the pitch. I was hoping Yorkie's in hunt for bonus points so they will attack to look for win which will increase our chances. I felt the same when TRJ 7th out in 105th over. The extra bonus point crucial for Yorkie and maybe us was earned as Murts is caught at mid off. Scenario now is Yorkie will need, I thought at the time 400 but is 350 or Notts may hang on otherwise they are out of title race. We are all out for 270, which I consider a good score under circumstances, but not totally convinced. Are you keeping up?
It seems gloom and doom straight after lunch. Chesham Steve tells me Notts have lost a wicket and Yorkshire at time are 32 for 0 wicket, all runs scored by Lyth. Hang on TRJ bowls Lees, next ball Ballance LBW shout, next ball he's caught at slip, another LBW shout, Gale out Bresnan in, another appeal to follow. 3 wickets in no time I checked Notts in this period not losing a wicket and Lyth has all 32 runs with 3 0s as his back up. When Tim Bresnan came out to bat my first chant of day "no 5 you're having a laugh " and I accused Hodd being a "night watchman" in bright sunshine. Soon after A Lyth no longer Kicking played on to Finn. It's 59-4, Notts are 90-2.
This is as good as it gets for today. Notts collapse to 120-8. It's now down to us as "tail enders " Hodd and Bresnan see Yorkies safely to tea. In this hour, are our dreams over?
I'm now seeking refuge in the Lower Tavern with a somber feel, joining Beefy and Yorkie fan Hobbo. Somerset have now effectively won and are out of equation with my only comfort I do not have to check their scores on my phone which is running out of juice.
As Timothy Bresnan was piling on runs the language was colourful and Beefy set up a swear box, £1 an expletive going to Breakthrough for Cancer charity. Major contributor was Yorkie fan Hobbo, you still owe us £11 all credit cards accepted. The eventual Hodd wicket led to a TRJ chant. Tim Bresnan out, at least £4 raised for comments made, I will give my £2 worth. No more wickets to follow
At close now we are not out of it. 2 scenarios
We take early wickets, then pile on some runs and allow a day to bowl them out.
Yorkie get 350, contrived declaration time to deny the Cidermen.
After play, we were upbeat at the Tavern, All we can do as fans is get behind the team and you never know. We will be in the Lower Tavern days 3 + 4 cheering our team to the bitter end. FFS Battle !!!!!, Sh!t that's another pound, make that 2
View a Printer Friendly version of this Story.
Language Timothy
Discussion started by Middlesex till we die , 26/04/2020 13:11
Middlesex till we die
26/04/2020 13:11
What do you think? You can have your say by posting below.
If you do not already have an account
Click here to Register
.
Edited 2 time(s). Last edit at 2020:06:07:12:05:10 by BarmierKev.
BeefyRoberts
02/05/2020 22:20
Bringing back great memories Kev.
Hobbo still hasnt paid up!
Sorry, only registered users may post in this forum.