The Latest Forum Middlesex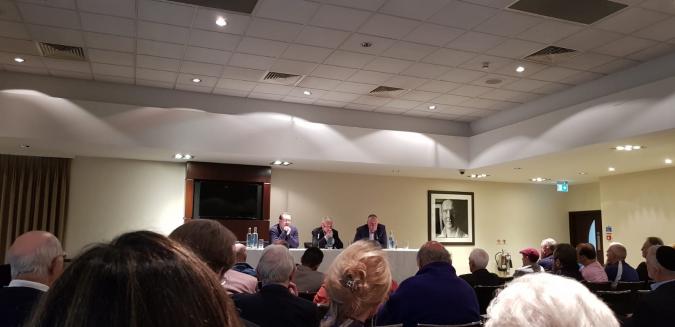 Top table
By Jonathan Winsky
October 7 2018
Jonathan Winsky gives us a detailed report from this Sunday morning forum.
The top table at Middlesex's post-season forum consisted of chief executive Richard Goatley, chairman Mike O'Farrell and managing director of cricket Angus Fraser.
The forum began with O'Farrell talking about the appointment of Stuart Law as head coach on a four-year contract. O'Farrell felt that the club had done a good job in ensuring that there were no leaks in the media.
Goatley then spoke, saying that he, Fraser and executive board member Richard Sykes were involved in the panel which drew up a list of potential head coaches, and that Mike Atherton was involved with interviewing the shortlisted candidates. Goatley said that Law will report to him and not to Fraser, and that Law will be involved in selecting the XI which takes to the field and in appointing the captain. Goatley named James Franklin amongst the players who will be leaving this winter alongside the players we already know about, despite Franklin's departure having not previously been announced. Goatley said that due to the 2019 World Cup, we expect to only be able to play five County Championship matches at Lord's next season, with it being likely that at least one match will be played at Merchant Taylors' School.
Fraser gave an overview of our season, saying that the team hadn't fulfilled their objectives. However, he disagreed with comments made that our players didn't care, pointing towards the fact that we often fought back in matches.
The first question asked was whether Richard Johnson will remain a part of our coaching set-up, and the top table replied that they would very much like him to stay.
A question was asked about why John Simpson was dropped. Fraser replied that it was because Simmo had not scored enough runs, whereas Robbie White had scored plenty of runs in the 2nd XI, and also because captain Dawid Malan wanted us to play six batsmen and five bowlers.
A question was asked about how Ireland's Test status affects Tim Murtagh and Paul Stirling. We were told that ECB agreed that existing contracts could be fulfilled, which will enable them to play in 2019, although it is expected that Ireland players will be unable to play county cricket as domestic players after 2020 unless they relinquish their Ireland status.
When a question was asked about what our aims are for 2019, Goatley replied that the talent in our squad means that there should be no excuses for failing to get promoted from the Championship, while he said that we will enter all of our limited-overs matches aiming to win. Fraser added that it would be unhealthy to prioritise any of the competitions.
A question was asked about why James Fuller left. Fraser that he was annoyed about this move, although he also said that it could be helpful for Martin Andersson's progression. O'Farrell said that Fuller was offered more money, although he said that we should not begrudge this, as a player's career can be short, and that he expects that those attending the forum would do something similar if they were to be offered more money.
A question was asked about how Brexit may affect players' ability to play as Kolpaks, and specifically whether this will impact the eligibility of Murtagh and Stirling. None of the top table were too sure about what the impact of Brexit will be on the Kolpak rule, although Goatley said that Murtagh and Stirling will definitely be able to play county cricket (whether this be as domestic or overseas players) post-Brexit as they were both born in the UK.
Someone said that Eoin Morgan didn't put much effort in during his County Championship appearances, but Fraser disagreed, although he said that Malan tried to support Morgan and that maybe Morgan should have been dropped sooner.
Goatley said that the Partnership Agreement will be rolled over for another year, and that it is hoped that the agreement for 2020-2024 will be finalised in April 2019. The amount of cricket we will able to play at Lord's in future years will depend on whether we will be allowed to play there during the month of August, or whether the only cricket allowed to be played at Lord's during the month will be matches in The 100. On the subject of the latest news about plans to build a new ground, Goatley said that two or three locations have been identified, although he doesn't want to go public with these locations yet. He denied rumours that the ground will be located at Wormwood Scrubs, something which would not have been as strange as it sounds, as there is a large open space next to the prison, although a government act passed in 1879 would make building there difficult. Goatley said that our new ground could stage some of the minor MCC matches currently staged at Lord's, which would help free Lord's up to stage Middlesex matches. He added that this is a perfect time to build this ground, as more money is coming into cricket thanks to the new TV deal, and the club faces an existential thread due to a new team being set to host matches at Lord's in The 100.
Fraser said that Toby Roland-Jones' recovery is going well, and that he might be able to bowl in November or December. The club are considering sending TRJ, Steven Finn and Tom Helm overseas in January to do some bowling in warm weather.
A question was asked about why no players were at the forum, to which O'Farrell replied that it was decided that it would have been unfair for the players to have the face the members after a difficult season, while another factor was that it was felt that the top table should take responsibility for how the season had gone.
After it had earlier been announced that Law will report to Goatley, a question was asked about who the coaches of the 2nd XI and youth teams will report to, and we were told that they will continue reporting to Fraser.
Someone requested that there should be round of applause for the years of service given by Richard Scott, who of course lead us into division one in 2011 and to the title in 2016. Fraser said that the decision to relieve Scott of his duties was one of the hardest he had to make.
A question was asked about whether the prospect of spending a second season in division two has caused us to lose sponsors, but O'Farrell said that it has had no effect, with the amount of sponsors having increased from 9 in 2015 to its current level of 60. He said that most businesses have good years and bad years, so our sponsors are understanding about us having followed the 2016 title win with two disappointing seasons.
The last comment made was to send our best wishes to Ruth and Andrew Strauss and their family as she battles cancer.