71. That's All Foakes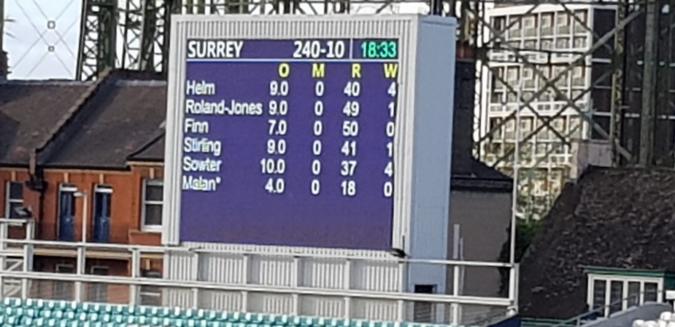 SScoreboard doesn't lie
By Seaxe Man
April 26 2019
Seaxe Man gives us full details of the fluctuating fortunes leading up to the win against our South London rivals and the celebrations after. Read on
Set off for the Hacienda at around 9.30am in sunshine at Eastcote. On crossing the Rio Grande (Thames) and arriving at the Hacienda was greeted by cloud and spitting rain.
The journey was uninterrupted by the ' gorilla glue brigade' who were reported to be taking action somewhere.
Spent awhile chatting to FFC Graham in the Long Room afore play. It was then announced that MX had won the toss and would bat. This after a short delay.
Surrey played as carded while MX made two changes from the Ageus - Ross Taylor quad number 3 and TRJ replaced Murts- both rested.
Powerplay 1 overs 1 to 10.
Mx recorded a score of 66 for 2, the salient points being the dismissals of openers Stirlo and Mala. by the (revolving door bowler) Morne Morkel still of sharp pace for 16 and 19 respectively.
This occured when the scores were 34 and 55.
Stirlo's knock as I think he would admit, was of the Good, the Bad and the Ugly variety, featuring two sumptuous off driven boundaries. Mala after wafting Morkel for a 6, had his stumps rearranged next ball. Stirlo's day was to be on the bowling and fielding front. More of that later.
Powerplay 2 overs 11 to 40.
At the conclusion of PP2, MX had moved onto 199 for 8. This featured a number of highs and lows. It also introduced Ross Taylor on his MX debut. He impressed yours truly with his calm approach and as with all class international batsmen has that little extra time to play his strokes.
He entered after Simmo went caught and bowled Batty for 19, score on 69 and was joined by Gubbo, after Esky edged Plunky to slip for 1. Score 70.
Taylor and Gubbo then embarked on a 79 run stand, the best of the innings. This ended at 149 when Gubbo was bowled by Plunky flor 33.
In the meantime Taylor anchored the innings assisted by Scott 18 bowled by Batty at 176, Two further wickets Taylor 64 and Helm 0 followed both removed by Batty. Score on 185. Batty's analysis of 10-0-29-4 underlines the value of spin in white ball cricket a big reason for MX's (lack of ) success over a long period methinks.
So by over 40 MX arrived at 199 for 8 and things looking far from good. This PP went to our friends from South of The River.
Powerplay 3 overs 41 to 50.
At the start it looked unlikely that MX would bat the overs. However, this session went in the end to the Men from The MIddle from the low base of 199 for 8. The last two wickets added 78 runs in the session and 92 overall.
First TRJ and Sowter who came in at 185, added 42 before Sowter was stumped by Foakes off Jacks for 31. Score 241. A further 36 was added by TRj and Finny afore TRJ was stumped off a wide bowled by by Jacks for 45. This left a defendable total of 277 off 49.2 overs. A total beyond our dreams earlier.
Mx restricted the hosts to 46 for 2, an advantage of 20 runs. Wickets to fall Stoneman caught by Finn off Helm at score 20 . Jacks caught at the wicket off TRJ for 16. Score 23.
This then started a stand of 78 between Elgar and Burns not to be broken until PP2. Helm and TRJ bowled the ten overs between them.
Mala used a duo of Finn and Stirlo at the start of this session. As in the MX innings, where 6 wickets fell to spin, a similar story unfolded in Surrey's as 5 fell to spin. Tom Helm kept the pace flag flying with four wickets.
Overall he bowled better than at the Ageus Bowl..
Anyway the stand was broken at 101 when Finn snaffled Elgar for 43 off Sowter.
Next to go at 177 was Burns trapped lbw by Stirlo at 178, a useful bowling change by captain Mala.
Clarke was then taken at the wicket for 1 off Helm. Score 178.
The session closed at 197 for 6 a two run deficit but with a 2 wicket
advantage, so work to do.
This session went to MX. The first wicket went at 214 when Plunky went for 12 after a few blows, bowled by Sowter. McKer then went for 10 caught by Malan off Helm followed shortly after by Batty 2 caught by Mala off Sowter. These wickets fell at scores of 234 and 236. The MX followers were now getting excited.
The final wicket of Foakes 71, at 240, caught athletically by Stirlo off Helm led to wild celebrations amongst the MX followers.
It was noticeable that Foakes who was the main stumbling block has a penchant for playing through mid wicket which we fed a bit too much with legside deliveries.
However all ended well. I thought we would bowl the Mexicans out for 220, so was 20 runs out
Sowters 31 was a career best beating his 29 last year at Lords against the same opponents.
The MX 9th wicket record between the sides was improved to 56 by Sowts and TRJ.
This beat the previous record of 23 held by Neil Williams and Wayne Daniel in 1985 and Tom Helm and Steve Finn in 2018.
PS. I was impressed with Ross Taylor's debut. Apart from his valuable 64, he assisted Mala in the field.
PPS. Stirlo and Mala gave good support to Helm and Sowter keeping the rate down plus Stirlo getting the valuable wicket of Burns.
Afterwards we retired to the Beehive for s celebratory drink. Here we ran into former Legend David Nash jnr. Had a brief chat. Snr is ok as well.
Don Shelley produced a huge cheer on his appearance as did the Sky replays.
Hammersmith Les, Rogers and Out. Fulham Des. The Power, Beefy and myself raised the rafters to end a great and fluctuating day of fortunes.
Seaxe Man at The Hacienda.
View a Printer Friendly version of this Story.
71. That's All Foakes
Discussion started by Middlesex till we die , 26/04/2019 16:18
Middlesex till we die
26/04/2019 16:18
What do you think? You can have your say by posting below.
If you do not already have an account
Click here to Register
.
Edited 2 time(s). Last edit at 2019:04:29:09:16:05 by BarmierKev.
Good report Roy, hope to see you at Radlett on Wednesday.
dingy bags
26/04/2019 18:05
Lovely effort SM. See you tomorrow. And your dancing partner on Wed, it seems. Up the Middle!!
BeefyRoberts
26/04/2019 19:50
Perfect report from the perfect match
Captured all the points,and as always when we venture over the border you add your great comments!
Not forgetting the usual pitch invader,being the sly old fox who ran on from the left of pavilion,and did a half circuit to the covers at the Vauxhall end,a quick double back,and disappeared away towards the gas holders...to cheers,of course!!



Edited 1 time(s). Last edit at 2019:04:26:23:21:55 by BeefyRoberts.
At a time when allegedly real and cricket supporting newspapers are cutting down their staff, they could do worse than sub- contract Simmons R onto their staff.

A great read, Roy. thank you very much.

Long may your quill pen flourish!
Sorry, only registered users may post in this forum.