No pun intended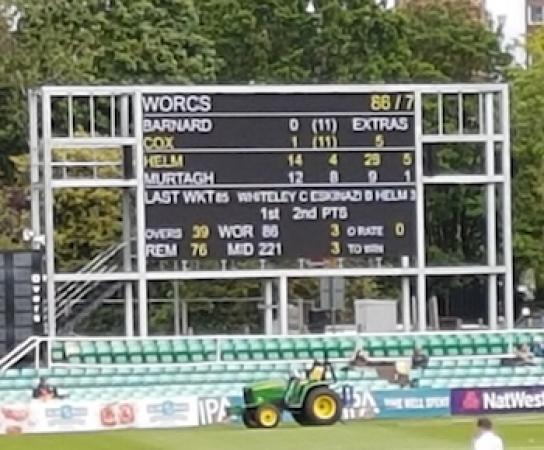 fab bowling figures
By London Leprechaun
May 29 2019
So many Worcester batsmen lent themselves to headline ideas that we could not choose just one. So London Leprechaun's report is a bit different as the headlines have become part of the report. If the puns become too much for you rest in the knowledge that it was actually a very good day for Middlesex
It didn't start too well. In the first over a boundary hit and a misfield didn't suggest that Stuart Law's strong words overnight were bearing fruit. However, in the third over, Fell's stumps were felled by Helm. And shortly after there was a slip of the Tongue as Nathan Sowter took a catch worthy of Ollie Rayner. Just as we were hoping for a few more wickets before lunch a heavy rain shower appeared, almost from nowhere, and put paid to any more play before an early lunch.
It was not quite wet enough to need any kind of Wessels but shortly after play resumed he seemed to miss the boat, as he played the wrong line from a ball from Murtagh. Helm continued to be the man navigating us to a good position, as Whiteley steered another ball to Sowter – showing himself to be a good fielder anywhere. Surely that was the start to the final countdown of the Worcester innings.
Barnard was dogged for a while (some of our puns are better than others) but he was out lbw after Nick Gubbins passed on a message from the Middlesex balcony to Murts who obviously followed that lead.
Cox hung around for a while but although he drove Harris and TRJ for a few runs eventually Harris navigated a way to trap him lbw.
We then had a frustrating half an hour as we Leached runs with Morris playing a minor role before he too played some expansive drives and a potential lead of over a hundred started to speed away. But just as the overrate also started to slip Sowter came on. He managed to stop Morris dancing down the wicket to him and instead pinned him right in front of the stumps. Just in time for tea. And to enjoy some quite outstanding bowling figures.
A long last session of 51 overs was the pivotal one for the shape of the match. We came out with a lead of 65. Good but not match winning. And not a good start. Holden could not hold on for long; Sam (Robson) could not play it (the ball) again and both were so clearly LBW the umpire had his finger up almost before the appeals. Both showed on the scoreboard as lbw bLeach. Were our promotion hopes being washed away?
But then the sun came out strongly, the sky got bluer, and the long session started to take its toll on Worcestershire. Mala started to maul the bowling, and Gubbins looked anything but at odds and ends with the situation. As the scoring accelerated and the day drifted into lovely evening sunlight we could actually relax, enjoy those lovely cover drives that left handers make look so silky, and think about a pub quiz planned for the evening. During which one of the Middlesex teams missed out on winning by a hair's breadth – literally. Full details available on request.
If you have made it this far well done and we promise more sensible reporting tomorrow, when we hope to have to steered our way close to a new road to promotion.
View a Printer Friendly version of this Story.
No pun intended
Discussion started by Middlesex till we die , 29/05/2019 01:09
Middlesex till we die
29/05/2019 01:09
What do you think? You can have your say by posting below.
If you do not already have an account
Click here to Register
.
Edited 1 time(s). Last edit at 2019:06:02:21:42:02 by BarmierKev.
chunkyinargyll
29/05/2019 06:32
Let's hope we continue to pun-ish Worcestershire for the rest of the match.
BarmierKev
29/05/2019 07:06
Rod Ed and myself will be taking it a pun ourselves for reporting today so unlikely to be anymore sensible. Surrey.


---

Barmy Kev
I'm only here for the tele
Devon Dumpling
29/05/2019 09:02
Two outstanding contributions have put Middlesex in a very strong position. Helm's spell at the end of Day 1 was riveting - fast, hostile and intimidating. It set the tone of the fight back. Malan had been the pick of the batting in the first innings and kicked on impressively in the second. As the Worcester attack tired in the long final session Dawid went up through the gears and deservedly reached three figures.

Thank you to all the MTWD crew for their excellent company. It was so good to see so many Middx fans there celebrating the various successful milestones together. Especially towards the end when most of the home supporters had long since left.

Judging by the chat during the day cricket was simply the warm up before the main event - the evening quiz. I await a report on that with great interest. If they had a round on famous puns we should have cleaned up on that too.
chunkyinargyll
29/05/2019 09:40
After what was clearly a late night for you all, I hope you are punctual for the 11 am start.
BarmierKev
29/05/2019 09:43
The crucial question was. The cuticle, cortex and medulla are found in which part of the body?


---

Barmy Kev
I'm only here for the tele
Sorry, only registered users may post in this forum.