What have we to Declare?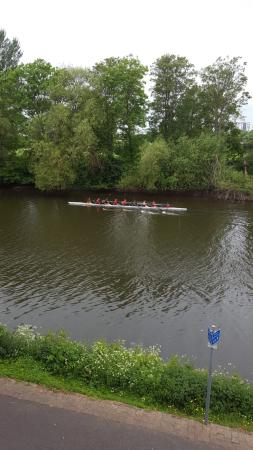 Cox out
By Barmy Kev
May 30 2019
Barmy Kev reports on day with mixed messages
I woke up on a great high from previous days cricket. What could possibly go wrong today? Over breakfast at the hotel someone pointed out it would rain at 3pm. Then someone got phone out and said it's going to rain from 11pm . I leave hotel at 10pm it's raining heavily. Definitely no play for a while. I met someone at Premier Inn Hotel by the ground who insisted it is going to stop raining 3pm. Various other devices differed from it will stop at 1pm . According to the BBC Weather it changed every 5 minutes probably on toss of coin. My comment this is changing like the weather was not well received. Nor was when they tested fire alarm my favourite chant" is this a fire drill"
This all did my head in too so went to Weatherspoons where I met HDO who's device said no play today . He was planning a strategy for day with in-laws trying to incorporate cricket. I also met Talliman at various places for first time. Any contributors to MTWD you are not safe near ground when no play.
At 4 o'clock it stopped raining but was damp and dark. I gave up on any cricket today. Back to hotel and Worcester fan said there will be play soon. Various texts it is now a 4.45
Meanwhile RodEd nominated reporter watched Rocketmann film instead and offered to do report from there. "Film Okay but preferred Bohemian" and here's photo of Cox (headline photo ). Then sent dreadful pun involving wicket with Tongue and Cox.
In ground I counted about 50 there. With light always an issue was happy we added 70 more. They are off for light 630 that's it for day even though light improving. Back at hotel hear we are back on. Missed 2 overs that including a 6 and 4 then off.
Evening I'm at Don Shelley birthday celebration at Cricketers Pub . We are watching some tin pot European cup competition with all players and the Lawman present. Gubbo happy with result. Like the weather they were mixed messages on whether we will declare overnight. I urged them to and they ended up agreeing. Whether this was to shut me up or thinking 353 is enough I don't know. I reminded them I was the one that shouted out the Rabbit on and that caused end of previous day last wicket stand.
Interesting day ahead tomorrow with by all accounts no weather interruptions.
View a Printer Friendly version of this Story.
What have we to Declare?
Discussion started by Middlesex till we die , 30/05/2019 07:49
Middlesex till we die
30/05/2019 07:49
What do you think? You can have your say by posting below.
If you do not already have an account
Click here to Register
.
Edited 1 time(s). Last edit at 2019:06:02:21:41:32 by BarmierKev.
After two days of my three day trip to Worcester it was a case of " Don't stop me now coz I'm having such a good time ".The rain came and since the late great Barry Norman was Middlesex till he died I feel I should expand my match report from the cinema..." and why not ".
Rocket Man is an enjoyable two hours but not as well acted as Bohemian Rhapsody. It charts the time line of Elton John but the music used is not in the chronological order so in that respect a bit contrived, the more so since he didn't write the lyrics. However it does follow his life unlike other musical films on which note when I came out the cinema and heard play had started in thought " Mama Mia here we go again "
MiddleToWest
30/05/2019 09:10
Rocketman, as a Dexter Fletcher film, is more akin to Sunshine on Leith than Bohemian Rhapsody. And yes I know that DF finished BR but it wasn't really his film. Rocketman is a biopic musical, not just a hagiographic remembrance of a great showman.

Taron Egerton portrays the essence of Reggie D rather than a straight impression and he does it well. The Troubador scene was, for me, easily a match for the Live Aid bit in BR.

Don't get me wrong, BR is a decent film with a great central performance and many cartoonish cutouts in support. RM is more rounded with other characters - especially Jamie Bell and Bernie Taupin and the always excellent Stephen Graham hamming it up - adding to the whole.

Like the band Queen, BR rode a wave of hype and hysteria that is somewhat lacking in substance. RM beats it hands down.

And that lead is plenty. Declare and get amongst 'em.
Sorry, only registered users may post in this forum.