I'm not Shaw about this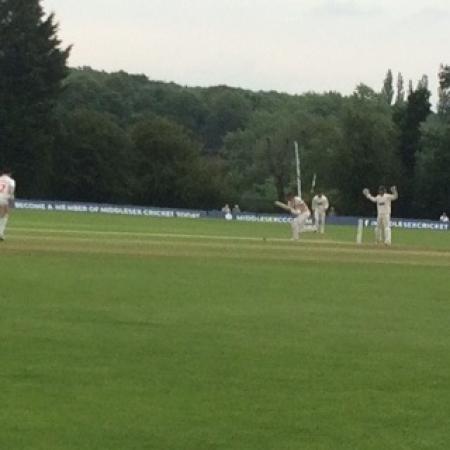 Howzat
By Hackneyshire
July 8 2019
Hackneyshire reports on an even days cricket, cider runing out, tube station quiz and some snake porn.
Moor Park Station: 10.30am. We get off the tube and are greeted by cloudy skies and mizzle as we make our way along the lane to the school. It's one of those strolls that seems much more like the start of a country walk than the route to a County Championship game and there's an early split amongst the dozen or so supporters who leave the station at the same time as four choose the hilly path and the rest of us plump for the flat one, that seems a little bit familiar. Our choice is vindicated when we reach the entrance that is only a couple of hundred metres from the pitch, as opposed to the one that is more like a kilometre.
The mizzle continues. This too seems familiar: the only other time we visited the school the weather was rather similar and no play was possible all day. We are told of a micro climate at the school where it is always either damp or cold. At least on this occasion there are players out in the middle for an uncontested toss and the mizzle starts to dry up. An announcement is made that the match will start at 11.15. 18 year old Ben Charlesworth is in the Gloucestershire team after recently completing his A Levels, while Ethan Bamber is playing for Day 1 only, to be replaced by Tim Murtagh on Day 2 after his stint with Ireland. Various Gloucestershire fans start to arrive, as well as the MTWD crowd, and we notice a non-paying guest under the advertising boards: a chubby little mouse is hiding underneath there and scuttling from board to board.
As the game gets underway an older, well-spoken chap approaches: "Tell, me, who is batting?" he asked, clearly having missed the various announcements, the scoreboard showing Robson and Eskinazi as the batsmen in and the Gloucestershire players in the outfield. Just behind us an Under 12s County game (Middlesex v Sussex) had also got underway and the first wicket of the day to fall is in that, as the shouts behind us testify. Almost immediately the men's game copies its younger counterparts, with Gloucestershire's overseas bowler, Chadd Sayers, trapping Eskinazi lbw for 9 in the 8thover, leaving the hosts 26/1. To make things worse, what looks like a certain boundary for Middlesex is thwarted by the ball literally sticking in the grass. One more wicket falls before lunch (Robson caught behind off Josh Shaw for 23) and when we get to the break honours look fairly even.
By the beer tent Gloucestershire's resident statto, and often wildly inaccurate predictor, Adrian announces that it will clearly end as Gloucestershire's sixth draw of the season. Inside the tent there is bad news. All the bottles of warm cider (fridges clearly don't exist out here) have been sold and there is only some filth with berries in left. Better planning could have happened for the visit of a West Country team. Meanwhile, actual sun has appeared: what happened to that micro climate?
After lunch Malan and Gubbins continued, with the former hitting a glorious cover drive off Shaw, hailed as the "shot of the day", only to follow it up by spooning an east catch to van Buuren at mid on. This seemed to trigger a flurry of wickets, with Gubbins brilliantly caught behind, also off Shaw, and Scott falling lbw to David Payne to make it 117/5. Former Middlesex player Ryan Higgens, having the season of his life at Gloucestershire, then picked up Robbie White caught behind, had Helm lbw and bowled Sowter, with Roland-Jones also out, caught by Bracey off Sayers. At this point the Middlesex interest was whether extras could become top scorer and shouts of "Come on extras" came from the home supporters. I mused that we could do with the final wicket and Gloucestershire immediately delivered, with Simpson skying one off Shaw, which the bowler caught himself for his fourth of the innings. Middlesex were all out for 172, with extras (26) only managing joint third highest score alongside Gubbins.
The afternoon had also been punctuated by Tube related quizzes:
Name seven alliterative tube stations;

Name the one station with a 'z' in its name?

Name two four letter tube stations;

Name two stations with all five vowels in their names.
We did (just about) manage to get all of these. Meanwhile Lord Powell had brought some local news. "Do you read?" he asked Kev, holding out a copy of the Yate Gazette? If you want stories of snake porn and cats being rescued, then this is the paper for you.
Read all about it Whatever turns you on
Miles Hammond and Chris Dent made a good start, putting on 36 before Hammond was caught by Malan off Roland-Jones and almost immediately James Bracey celebrated his England Lions call up with a four-ball duck, caught by Eskinazi off the same bowler. Dent and Roderick managed to hold out until the close, with young Bamber getting a bowl on his only day in the game but not managing to take a wicket. We did, however, get to hear that his father once played Adolf Hitler, in Bryan Singer's film, Valkyrie.
Gloucestershire ended on 59/2, not dissimilar to Middlesex's lunchtime score, and will be hoping to avoid a similar collapse. As for Adrian's prediction of a draw, well that seems rather unlikely right now.
View a Printer Friendly version of this Story.
I'm not Shaw aboiut this
Discussion started by Middlesex till we die , 08/07/2019 10:05
Middlesex till we die
08/07/2019 10:05
What do you think? You can have your say by posting below.
If you do not already have an account
Click here to Register
.
Edited 1 time(s). Last edit at 2019:07:11:07:37:59 by BarmierKev.
BarmierKev
08/07/2019 10:10
An entertaining day apart from lack of Cider. Feel free to answer the tube station questions.
Sorry, only registered users may post in this forum.