TRJ and Helm turn the tide as they steer us to victory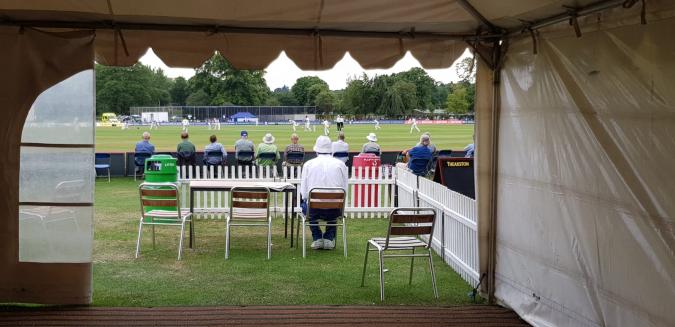 View from Q&A
By Barmy Kev
July 10 2019
Barmy Kev reports on an unlikely victory for Middlesex
My pre match thoughts.
Middlesex start the day effectively 67-3 in a one innings match, This is evenly poised,50/50. Ideally I want this match to finish today, but if this happens it is unlikely we will win.
Dawid Malan or Dingy Bags Player of month?

On route to MTS I collect Dawid Malan June player of the month award for his innings in July. It is so much easier making the presentation at out-grounds rather than at Lord's. However, given the circumstances of the game I need to handle this sensitively. It would have been so much easier had Dingy Bags won. Mala is out first ball of day. I text Fletch is this a good time to give him his player of month award? I won't repeat his response.


New Grounds

Soon after Scott slashes hard juggled from one slip to another, luck is against us we are effectively 70-5. Hurricane Higgins bowling to Whirlwind White we need snookers and he's caught behind. Simmo soon out for dodgy LBW. Rogers and Out has eye test today and suggested umpire takes his place. At 94-7 to console ourselves we were then discussing away trips if we got relegated to the Minor Counties. One idea was here against Herts if they moved the pitch to the school area. There were other discussions about dodgy towns in Wiltshire, Bedfordshire. Someone suggested Uxbridge was in Bucks. Meanwhile TRJ and Helm successfully took the attack to Gloucestershire we survived to lunch with a 140 lead. Honours now even or dare I say in our favour.
Landmarks
After lunch this partnership was building. A farcical 4 overthrows from nowhere Glous were flagging. This was moment felt the game was now ours.
New ball taken 3 landmarks on for the Middlesex faithful to ecstacilly applaud. First one achieved TRJ reaches his 50, muted chant from me. Then one short of 100 partnership and Helm on 46 I don't want a four. I should keep quiet it's a wicket with both landmarks thrawted. Sowter then Murts follows it's 216 to win. Far more than I could of ever dreamed of especially after first ball of day.
Their response Déjà vu Again
Talking of which 1st ball of Glous innings a Dent in their chances first ball wicket for Murts. Hammond soon out. Either side of tea, which included a Richard Goatley Q & A, was going on 5-5 spell. Not sure how much our die-hard fans missed of this dramatic collapse.

Polishing up the last two wickets was painful. There was a 50 stand and then last pair looked solid. We were allowed an extra ½ hour which pleased me as didn't fancy returning tomorrow. TFFT TRJ shattered Sayers stumps a 78 run win that was often in doubt.
Postscript
This result defied anything I could have believed at many stages. This gives us momentum in a tight league. Onwards and upwards as we go to Cardiff Saturday.
View a Printer Friendly version of this Story.
TRJ and Helm turn the tide as they steer us to victory
Discussion started by Middlesex till we die , 10/07/2019 10:48
Middlesex till we die
10/07/2019 10:48
What do you think? You can have your say by posting below.
If you do not already have an account
Click here to Register
.
Edited 1 time(s). Last edit at 2019:07:11:07:37:02 by BarmierKev.
BeefyRoberts
10/07/2019 15:33
Well documented Kev.
It was a crazy game that ebbed and flowed,3rd day had it all!
Toby rejunivated,Murts breaking Wayne Daniels wicket milestone,and I'm sure our own Diamond would of nodded hiz head in agreement.
The tea interval QnA had a couple of fiesty moments regarding bonus points...some agreed,some didn't.
Icd cream man was busy,and having a new exploding ice cream,and a great win to finish if off.
Wednesday..a day off to do housework and garden!
Cardiff here we come!
Sorry, only registered users may post in this forum.