Beer or Robinson's. I need a drink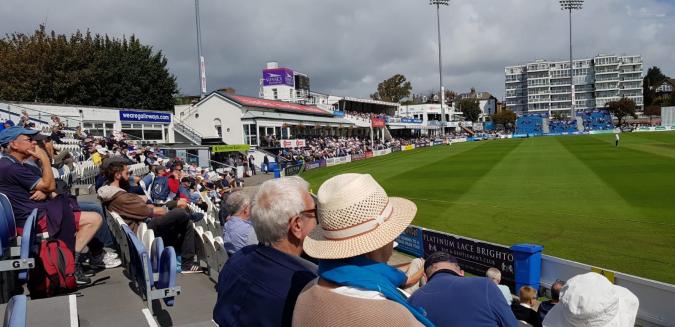 Captive audience
By Dingy Bags
August 19 2019
So, once again we travelled more with a sense of insanity than optimism. Toby opened at the Cromwell End but there was no wicket first ball today. Indeed, he and Murts with the sea behind him had no luck the first half hour against the two left handers with a century stand already on the board. Only 9 runs came in that time but there was no real threat of a wicket. Then Wells played and missed at Toby and the lifted one to midwicket. Suddenly, we were in the game. Carey edged to fine leg and then to slip. Brown swung at Murts and tickled behind. Toby got one to lift at Wiese and off he went and we had a chink of light.
Sadly, this was extinguished by an ugly passage of play where the ball went to the boundary from Beer and our nemesis Robinson all too frequently a series of meaty blows and a few edges. 232-7 at lunch. Seaxe Man was talking about Rourkes Drift and El Alamaine.
Malan had had a bowl before lunch, to stem the flow and took the first over afterwards. This proved to be to turn Sowter around and he got Robinson caught and bowled at once. Debutant Hooper edged Rabbit either side of slip but Beer continued to what was yet another PB against us. Hooper was dropped at slip off Sowter but Finn had him nicking off soon after. Then came a nasty incident as Beer smacked one to longish off and Finn appeared to get hit in the face. Eventually, with the new ball, Murts bowled Beer to end the innings.
Robinson had to wait for the third ball of his opening over this time, bowling Eski after a lovely cover drive. Umpire Evan's had to walk most of the way to the boundary to retrieve a bail. For a time, Sam and Gubbo batted carefully with the latter producing a couple of lovely straight drives. This meant, in the 23rd over of our second innings, that someone else had to bowl from the Cromwell End. Indeed, we got to the point where the two least experienced Sussex bowlers were on together. Alas we could not make this count. Gubbo edged Warner to slip, Mala was caught in at least three minds and bowled by Hooper, a debut wicket, and Robinson returned briefly to bowl Stirlo. This was announced as his 50thCC wicket of the season. I think it is his 22ndagainst us!
It was left to the staunch Robbo and a confident looking Simmo to play out a day where at least Murts, Toby and these two had performed well.
View a Printer Friendly version of this Story.
Beer or Robinson's. I need a drink
Discussion started by Middlesex till we die , 19/08/2019 21:28
Middlesex till we die
19/08/2019 21:28
What do you think? You can have your say by posting below.
If you do not already have an account
Click here to Register
.
Edited 1 time(s). Last edit at 2019:08:23:09:45:26 by BarmierKev.
BeefyRoberts
19/08/2019 22:46
Well documented Andy.
It's all to do on Tuesday,as we need to really dig in to get past the Sussex 1st inns score.Also,fingers crossed that damn wind slows down.
Umpires took a light reading wirmth 4 overs left as well
Sorry, only registered users may post in this forum.