A Complete Pain in the Carse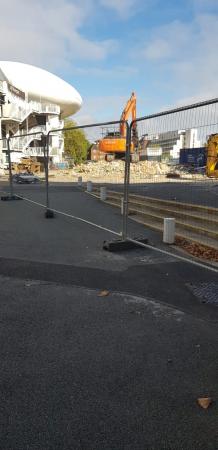 Our season crumbles
By Rogers and Out and barmy Kev
September 13 2019
Two perspectives from the ground and an airbound fan whose hopes after landing were let down. Once again this report contains a MTWD health warning.
Rogers and Out
Our slender promotion hopes were reduced to a pile of rubble similar to that currently on view at the Nursery End as we capitulated to Durham by 44 runs at Lord's on a sunny Thursday afternoon.

We lost six wickets for 45 runs in just under fifteen overs after lunch to propel Durham to victory, aided by a great return of 6/26 from Brydon Carse off 9.4 overs.

Sam Robson managed to beat his brother's second innings score by one in reaching 65, but once he departed, the writing was on the wall and we fell apart.

Robbo apart, our batting was once again poor. Gubbo looked marginally better with 17 runs but nobody else was able to make any sort of telling contribution. Durham's tight bowling and excellent field positions made it hard for us to pierce their cordon and the result was a deluge of wickets.

So it's off to Old Trafford next week with nothing much to play for. Perhaps a batting opportunity for Martin Andersson to come in after his century against Essex at Radlett for the Second XI yesterday.
Barmy Kev
Last week I was on a long haul flight landing to find we lost 20/20 1/4rs by 10 wickets. What went on the holiday will stay there. Yesterday, I was hoping for better news on return to Heathrow. I had every intention of attending if anything at stake. from 2:30. On landing 106 for 4 at lunch it was reasonable to think. I could arrive just in time for a close finish. The taxi journey home by a Middlesex fan who lurks here and gave a verbal report of day 1, hi Richard we lost 6 quick wickets. We wre all out by the time we reached the Target Roundabout. I would have preferred to report on reaching a more sucessful target. I was spared the rush to the ground and consoled myself with the positive an easy headline that sums it all up.
View a Printer Friendly version of this Story.
A Complete Pain in the Carse
Discussion started by Middlesex till we die , 13/09/2019 07:24
Middlesex till we die
13/09/2019 07:24
What do you think? You can have your say by posting below.
If you do not already have an account
Click here to Register
.
Edited 1 time(s). Last edit at 2019:09:14:04:13:19 by BarmierKev.
Jameslawler
13/09/2019 13:15
I was at the game too. Disappointed once again with middlsex the batting has been extremely poor despite one or two telling contributions. Since winning the championship our batting has been the weakest link (and our ower rate) Stuart law has a big job on his hands and needs to be given time.I am surprised that a overseas bowler has been brought in we needed a batsman I hope one.or two younger players need to be given a change now in readiness for next season.
BeefyRoberts
13/09/2019 20:31
Any thoughts of a slight chance of sitting on the top 3 shoulders went after this one.
Got it spot on Mick,was painful watching again and the trip up north to promoted lancs will just be a beer match for us,and bit of pride as well.
Another game to erase from the memory banks,cant say much more



Edited 1 time(s). Last edit at 2019:09:14:04:12:38 by BarmierKev.
Sorry, only registered users may post in this forum.