We've been Robbed ( part 1)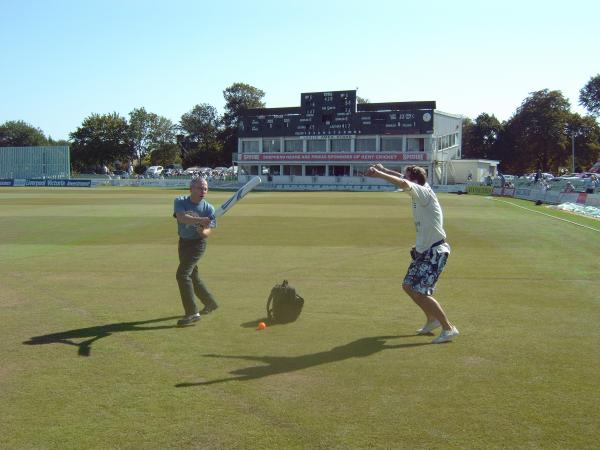 Rob was ther bowler
By Barmy Kev
October 27 2019
My favourite cricket buddy Rob ( The Punk) Ward passed away this summer. Here is the first of a three parter describing our unique special bonding formed abroad and an amazing co-incidence to follow.
It was March 1997 in Antigua as part of England v West Indies tour. This was my first cricket overseas trip as a lone traveller having just broken up from a long-term relationship. The 2nd week, as much it was great being abroad in winter watching cricket in the sun, I was struggling fitting in with the various cliques who travel together on mass and was feeling depressed. After a bad day for England I was Kev no mates drowning my sorrows. Then Rob with Peter, Clive and Vicky descended upon me and asked me whether the surrounding four seats were free. Immediately we struck a bond of cricket nonsense, football trivia and dodgy humour with random discussions on these subjects. We had a debate on name the worst County Championship batsman you have ever seen. I mentioned Kevin Jarvis. Rob boasted about seeing him score 26 not out for Kent against Derbyshire. We discussed this vocally and KJ became an icon. There were some Derbyshire fans on table next to us who became upset, thinking we were only being this way to annoy them. As the evening went on it was just Rob and myself left. Walking the streets of Antigua we were reciting all the chants of the cricket day and ended up chanting. "There's Only One Kevin Jarvis ". After two weeks travelling I finally found a soul mate.
The next day was the last day of their holiday and Rob invited me to join the group on their night out. It followed similar lines as the previous night. I mentioned I used to go to County Cricket as a kid, but this had lapsed. Rob described the joys of County Cricket and this conversation paid a big part in me returning to watch Middlesex and eventually becoming a member. I shared that I was not looking forward to going back home and will be attending a wedding, which under my circumstances I was dreading. He said he had a wedding to attend too where he won't know anyone. I jokingly said see you there. I took Rob's number and somehow lost it and thought this would be the the last i see of Rob.
I was at the wedding trying to enjoy it. I went for call of nature and on way back gingerly opened the door to walk back in function room. There was a familiar face coming up to door suited and booted. Due to change of attire from the Caribbean it took a while before it registered. It was Rob. He words were "f… me what are you doing here". I was about to ask the same question. His partner was a friend of the bride, I was a good friend of the groom. When the shock of co-incidence registered we carried on where we left off in Antigua. His partner Lysa who he was reunited with after break did not mind me sharing him. We were chanting, "Who let the dogs out" and of course "there's only one Kevin Jarvis" at various inappropriate moments. We established the first game of the season at Canterbury was Kent v Middlesex and we would meet. I had another chance to get Rob's number. and we would meet for more nonsense.
The season started on a Saturday at Canterbury on one of the coldest March days I have known. Sleet prevented play starting. Although I made the journey but due to weather Rob cancelled. With both us working at the time and less able to do away trips, I had a feeling we may never meet again.
The years pass by and it was September 2006 Paul Weekes last game for Middlesex at Canterbury. I was able to get the day off work for day 1. I still had Rob's number and texted him on the off chance we could meet. I was delighted he too had the day off (he worked for Teletext selling advertising space), and with Peter, Clive and Vicky would be in attendance. We again carried on from where we left off sharing laughter about the quirkiness of cricket. In those days for away trips I used to try and arrange during the lunch break a fixture on pitch of MTWD regulars versus the home team and then we'd get trounced. MTWD were a bit short so Rob volunteered to play for Middlesex and led us to a victory. The headline picture was off of Rob's bowling. At the end of day we agreed we would try to meet annually for Middlesex v Kent games. The only problem was Middlesex were relegated.
View a Printer Friendly version of this Story.
We've been Robbed ( part 1)
Discussion started by Middlesex till we die , 27/10/2019 15:35
Middlesex till we die
27/10/2019 15:35
What do you think? You can have your say by posting below.
If you do not already have an account
Click here to Register
.
Edited 1 time(s). Last edit at 2019:11:22:13:47:02 by BarmierKev.
BeefyRoberts
28/10/2019 12:04
Met Rob a few times,and always made everyone welcome.
Shows the sort of person he was,having time for one and all.
Looking forward to part 2 Kev.
Sounds like a great friendship and memories.

Rod the Pict
Sorry, only registered users may post in this forum.