We've been Robbed ( part 2)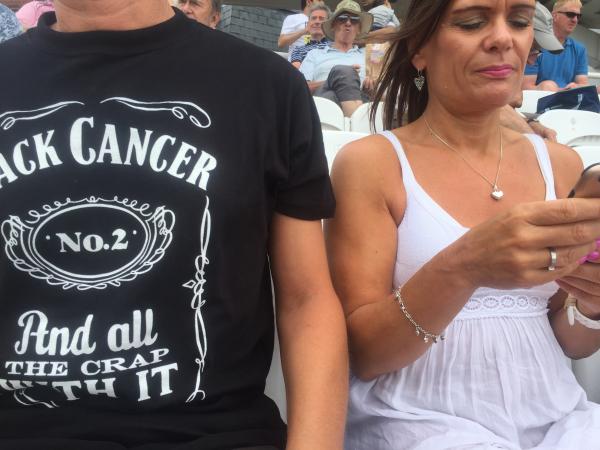 A brave message
By Barmy Kev
November 24 2019
This a follow on Kev's association with Rob The Punk. Having by chance been reacquainted, there was doubt if we would meet again. A combination the fixture list and again by luck we meet and we share more quality nonsense. This all before I hear some devasting news.
More years passed by. Then there was a day at Lords Middlesex v Kent and we are now in the same lowly division. I arranged to meet Rob who agreed to do the MTWD match report. He became electronically attached as ""Rob the Punk" to Janet Davis through the then notorious BBC 606 message board. His role assumed the voice of reason amongst some nasty debate. He advised he would say hello to her before he joined me. With Janet providing food and giving her life story 3 hours later, he was still stuck being cornered. He finally made the great escape to join me. Most people found Janet (bless) not the easiest to sit with, but rather than being critical he stated he was happy to be a sounding board and giving her some pleasure. This gesture bought out his compassionate side. I remember it being an attritional Billy Godleman day and our conversations diverted to many areas. I reminded Rob he was reporting, saying he can't have seen much of first session and with myself we weren't fully focussed on the cricket. He did not take any notes, but was able in his own words to summarise the next day the key points on the field of play picking up on the humour. Regrettably, this report is lost in the MTWD archives.
Then there was a Friday, I remember well. I gambled with my annual leave in advance to book a day off 4th day of CC match. I forget the opposition, but it wasn't Kent. The game was evenly poised but the weather forecast was dreadful for that day. I left home in glorious sunshine hoping for the best arriving in a virtually empty Upper Compton stand thinking WTF am I doing here. After lunch as predicted the heavens well and truly opened up. The game was over I was soaked wearily making my way to the Tavern for a consolation drink. As I approached the Warner Stand I saw in a distance someone wheeling a bike with no top on. I acknowledged whoever this nutter was, then I realised it was Rob. This was another "f me what are you doing here" moment. He had the day off work decided to cycle from Barkingside to Lords. His t-shirt was so drenched he had to take it off. I suggested he joined me in the Tavern to share our woes. We enjoyed a few hours conversation while his dripping shirt was drying out. I was newly wed and he was delighted for me. I asked if he was going to marry Lysa and he said something to the effect of over my dead body. He was happy in the relationship but just did not believe in the marriage stuff. What stood out as a devout atheist with Lysa being Jewish he observes keeping Kosher in the home and on Friday lights the Shabbat candles with her. His knowledge of Judaism put me as a Jew to shame. We shared many views regarding fairness and justice. This was a quality moment and looking back was glad I made that crazy decision to turn up for the cricket day that was going nowhere.
August 2011 at Canterbury I remember being a most funny day. I'm so glad I was able to achieve the narrative of his report from our messenger chat. The stand out was why do the Dutch football team have a blue away kit when no other country plays in orange? We concluded it is necessary in case they play Easy Jet Works Team...Ulster Protestants FC.....the Kent security stewards playing in only their vests. You had to be there.
July 2013 was a tedious days cricket at Uxbridge against Warwickshire. I decided to do a lap of the ground and there was another "f me what are you doing here" moment as I bumped into Rob. He said he didn't cycle this time. We made our way back to Vermin Corner where I'm sure some of our regulars met up with him. He explained he is using his time to see as much cricket as possible regardless of who's playing. He talked in detail about watching England out in India during the winter, although I did recall him previously saying he had given up touring with England. He then mentioned he married Lysa. I reminded him of his over my dead body statement about marriage and he calmly responded he is terminally ill with prostrate cancer. There was nothing awkward about the moment and he just said he wanted to live his life to the fullest. We then smoothly moved on to his concern about how shit Kent were, while joining in our Vermin Corner banter.
I'm grateful there is much more to follow on how Rob fought his illness and gave me many more memorable cricket days in his company.
View a Printer Friendly version of this Story.
We've been Robbed ( part 2)
Discussion started by Middlesex till we die , 24/11/2019 21:46
Middlesex till we die
24/11/2019 21:46
What do you think? You can have your say by posting below.
If you do not already have an account
Click here to Register
.
Edited 1 time(s). Last edit at 2019:12:22:17:29:44 by BarmierKev.
BeefyRoberts
01/12/2019 19:23
Read this article 3 or 4 times now.
A true cricket fan was Rob,and not just watching Kent.
The last part,when he told Kev about his illness (and,it seemed,so coolly as well) shows the strength of him.
I know how much of a close friend he was of Kev,and it must of taken great strength for you to write these memories.
Sorry, only registered users may post in this forum.