We've been Robbed Final Part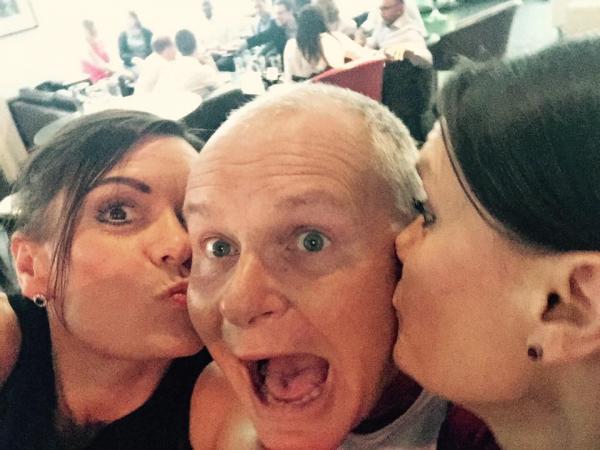 God bless Iím grateful th
By Barmy Kev
January 5 2020
We are on the final part of the Rob Story. Previously we hear he is terminally ill. Yet thankfully there were many more fun times together before the inevitable.
As part of his travels Rob explained he was planning a trip to Australia. I was surprised as soon as he landed back in UK he messaged me about this encounter with Gurjit Sandhu. "Wotcha, Kev, Lysa and I returned from a holiday in Melbourne this morning, and sitting in front of me on the plane was Gurjit Sandhu. I had a brief chat with him and he promptly disappeared shortly afterwards (to find a seat with more leg room, rather than to avoid a county cricket anorak, I hope). I caught up with him at the baggage carousel and wished him all the best for the new season".I'm grateful he immediately thought to share this with me in confidence.
After this I saw Rob regularly at Middlesex games. He just wanted to watch County Cricket at every possible opportunity. I noticed him looking frailer and his walking was more difficult, but his spirit was increasingly uplifting. We now shared some common ground with football. As a West Ham fan he stated he now preferred to follow Redbridge FC. Something similar occurred to me on my football journey supporting Barnet from QPR.
A standout memory was Ladies Day at Lord's 24th July 2016. Link to the report attached.
http://www.cricketnetwork.co.uk/main/s66/st193011.htm?fbclid=IwAR02lKllE1SZEskiCWxmdeuhsgO-Bp4202InYDnuXdiO8Y3aG6475IbC73k.
As you can see much laughter was shared that day. A touching moment was when Rob went down to fetch paper towels clean up the spilt tea situation. Having been too scared to ask Rob, I asked his sister Debbie about his health. It was not the answer I wanted to hear, but despite the upset all they wanted to do was enjoy what time he had left with him. I was close to tears, then Rob returned with paper towels galore explaining in detail the interrogation with the MCC steward. The world suddenly seemed a better place and the hilarity continued.
The following season 6th May 2017 Middlesex were at Canterbury for a 50 over game. Rob agreed to report then a few days before the game said it would be difficult as he was having treatment the next day, but could do something on the Tuesday. Under the circumstances I said don't worry about this and I will do it. I still have the message saying he had a brainwave, he will take Lysa's laptop into the Royal Marsden and type report from there. This is what he came up with the next day from there. http://www.cricketnetwork.co.uk/main/s66/st194876.htm?fbclid=IwAR0pS-CL7hF9XdBP6rr0RuXwJBUMNP9m98fGTKXZ-ywcHM1tZNR-u4ZjM84.
I recall the moment seeing Coles and Porter playing having the idea of us forming a composers XI. Then with the mention of Kevin Pieterson an unrepeatable geneltalia X1 was introduced. Rob was telling Pete and Clive about his chemo the next day, joking he has not got much hair to lose anyway. From a cricket perspective this was a dreadful day for Middlesex and it was very cold. There was a temptation to join the Middlesex faithful inside in the bar. I'm so glad I stuck the day out with Rob talking more nonsense for the last time we would meet.
I did contact Rob about the day night game the season before last. Due to distance and late finish he replied saying he is going to Chelmsford, as this is easier. I had the impression his health was deteriorating fast.
The 50 over game this season, I did not ask Rob if he was attending. He was not there and I had a horrible feeling. I contacted Debbie and the prognosis was grim. Christmas time he was told he had weeks/ months to live. He was bed bound and being made comfortable. Despite this he was still trying to remain as cheerful as possible and one thing that couldn't be taken away from him was his humour.
In June this year Rob wrote an uplifting touching farewell message on Facebook saying there is nothing medically that can be done to save him and his innings is about to end. The opening words of this were "it's been a blast". My reply was "there is only one Kevin Jarvis." Which was well received.
Despite this with assistance he was still able to go to the Oval to watch Surrey Essex match. The only disappointment he shared was one of his heroes Alistair Cook just missed out on a century (92). This seemed his final live game but miraculously made another fixture. Final message I saw from Rob was how overjoyed he was to have witnessed England winning the World Cup this year from his bed.
On 7th August Rob passed away. While there was a feeling of sadness, it was expected news and he certainly outlived any medical predictions. The funeral was one of the most moving I have ever attended. The celebrant who presided the service met Rob six times on a professional basis while he was terminally ill to plan the funeral. During the Rob's written eulogy he broke down saying how in such a short space of time how much Rob had affected him. There were many cricket references, his pet cat was called Deadly after one of his favourites Derek Underwood. When the congregation were asked to state words about Rob I felt compelled to speak of our many days talking "nonsense" at cricket". We left the crematorium to the test match theme Soul Limbo
At the wake, I bonded further with Rob's twin sisters. I don't know how this came out in conversation but I asked the date of their birthday, which coincidently is 18thFebruary the same date as mine. We agreed every season we would have a Rob day to keep his memory alive at cricket.
RIP Rob The Punk. Talking nonsense at Cricket will never be the same for me without you, but you will never be forgotten
View a Printer Friendly version of this Story.
We've been Robbed Final Part
Discussion started by Middlesex till we die , 05/01/2020 21:21
Middlesex till we die
05/01/2020 21:21
What do you think? You can have your say by posting below.
If you do not already have an account
Click here to Register
.
Edited 2 time(s). Last edit at 2020:02:03:10:16:23 by BarmierKev.
BeefyRoberts
05/01/2020 22:10
Yep,Rob was a very brave guy,and,as I know,a close friend of Kev as well.
Thanks for sharing the stories Kev,and the last moving times you spent with him.
Huge cricket fan,huge character as well.
I bet he is watching how the game is being ripped apart by the ecb and disagreeing with what they are up to.
RIP Rob
Sorry, only registered users may post in this forum.