Gut Morgan Caption Competition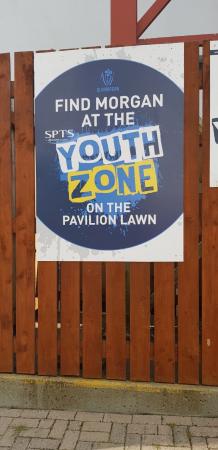 Morgan Morgan
By MTWD Admin
March 15 2020
Now I believe MTWD has found some relative normality time to lower the tone and have some light relief in these most difficult times. Please feel free for any witty comments for the two photos. New Boy 2 the previous streaky winner will be the judge on the best and worse captions we come up with. Be careful out there. .
.
View a Printer Friendly version of this Story.
Gut Morgan Caption Competition
Discussion started by Middlesex till we die , 15/03/2020 17:53
Middlesex till we die
15/03/2020 17:53
What do you think? You can have your say by posting below.
If you do not already have an account
Click here to Register
.
adelaide
15/03/2020 18:28
The MCC tries its best to engage youth but did not realise it could have called upon Banksy as a member.


Adelaide
No expense spared on MCC's new initiative to brighten cricket by introducing 5 stumps.
Seaxe_man1
15/03/2020 19:41
Close by the Peterloo uprising I believe. Any connection?
adelaide
15/03/2020 20:46
I found him/her (*). I hope the prize isn't judging a caption competition.


Adelaide

(*) It could be Beth...
BeefyRoberts
16/03/2020 17:42
MCC have already put the queue barrier up for the first 100 franchise game.
Ebor Gooner
27/03/2020 19:06
The ECB insist that corporate hospitality areas for "hundred" games aren't deliberately "down market". They are merely designed to reflect the quality of the cricket on display.
BarmierKev
29/03/2020 10:01
New Boy 2 is still deliberating and will announce verdict soon.

The MCC sign is May Coronavirus Cease.

And the Morgan sign. Young MCC members spotted trying to look for bottles of rum.
BeefyRoberts
29/03/2020 12:13
It's the first MCC hurdle we have to jump over before Middlesex members can enter Lords.



Edited 1 time(s). Last edit at 2020:03:29:12:14:36 by BeefyRoberts.
Sorry, only registered users may post in this forum.
More Middlesex CCC headlines