Pettit Margins are decisive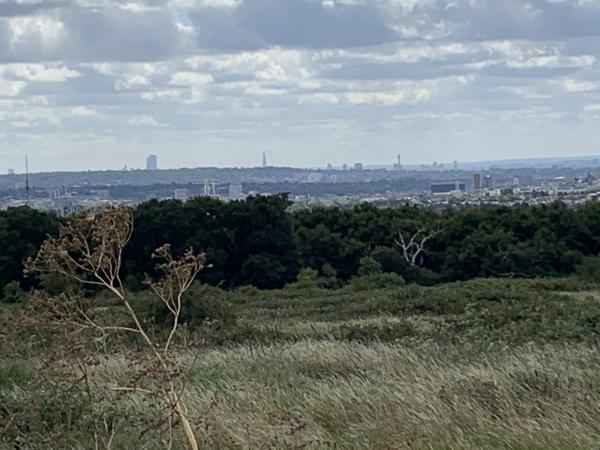 Best view of Oval
By Barmy Kev
August 2 2020
I was feeling great disappointment over the circumstances of the cancellation of spectators not being allowed in person at the Oval. I reverted to my original plan of watching the Middlesex League Div 2 match Stanmore v Harrow St Mary's as some consolation.
During lockdown I have discovered new areas previously unchartered that are virtually on my doorstep. The picture taken is from Stanmore Common where you can see Crystal Palace Tower. I tried but was unable to get a decent view of the Oval. I'm at the ground 1130 not realising it was midday start. So more tourism around the Common which is a beautiful area i recommend to anyone who likes close to nature walks.
It was a great feeling seeing the first ball of the season albeit on 1st August. It didn't matter I had no idea which team was batting. I only discovered when 3 early wickets were down it was Harrow trying to bat. One of the wickets was our Ravi Patel batting at 3. I discovered he is their captain, coach and his dad advised me he is doing well since cricket retirement. His role with Harrow is a hobby going back to his roots.
Meanwhile, there was a minor recovery for Harrow and there was an accomplished innings from someone who I later found out was named Tom Pettit. There are no names on the electronic scoreboard or on player's shirts so was a case of asking someone in the know. The other thing I had to watch out for was during Mr Pettit boundary fest not to field ball when in my direction due to risks. Harrow looked like getting score close to 200 from the 45 allocated overs then a turning point. In trying to be on strike on 61, Mr Pettit scampered a quick single, the fielder turned direct hit on the stumps, Mr Pettit slid his bat in, but was controversially given out I guess based on the excellent fielding. I decided it was not a good idea to speak to him as we passed when I was approaching the Stanmore pavillion bar.
Harrow collapsed Middlesex style and the lady serving drinks who was preparing lunch for both teams at end of innings was advised 9 wickets down with overs in hand. Food nowhere near ready caused her momentarily great stress as someone else was asked to serve me. Harrow soon all out for 150 and lunch was served to the players on time.
I also found out Stanmore have 3 players named Reingold I found out two are brothers and their father. The mother is the Club Secretary. First potential headline First of the Summer Reingold. Cricket in my world is back.
Having had more conversations with Ravi's dad both of us drinking red wine and Mr Pettit's mum I found myself becoming a Harrow fan. Stanmore were scoring quickly and looked like coasting it. Ravi as we remember put a break on the run rate and took some quick wickets. At 94-6 were now Harrow favourites with no D and L on scoreboard as an indicator.
Another turning point Mr Pettit from the boundary edge spectacularly stopped a four than threw a direct hit at the stumps massive appeal given not out to great despair of the fielders nearby. If given out match surely Harrow's
Rogers and Out left to watch on TV some tin pot football cup final. We heard Chelsea fan Gubbo got a ton at Oval and was in no hurry to leave there. It meant little not being allowed at the Oval, don't get me started!
A cultured 6th wicket stand followed that was broken too late. Stanmore won by 3 wickets with 5 overs to spare. This was closer than any Teletext watchers could imagine.
The important matter was a day of cricket and a match report to follow. It was good to meet up with Rogers and Out and Chesham Steve who thought Mick's surname was Rogers.
More of the same Harrow St Mary's V Brentham next Saturday. Anyone care to join us most welcome.
Take care everybody. From Kev (Harrow Till I Die)
View a Printer Friendly version of this Story.
Pettit Margins are decisive
Discussion started by Middlesex till we die , 02/08/2020 20:06
Middlesex till we die
02/08/2020 20:06
What do you think? You can have your say by posting below.
If you do not already have an account
Click here to Register
.
Edited 1 time(s). Last edit at 2020:08:04:20:14:02 by BarmierKev.
adelaide
03/08/2020 10:47
Tom Pettit wrongly given out? Must have been a Heartbreaker.


Adelaide
Sorry, only registered users may post in this forum.