An Erratic performance at a scene of a crime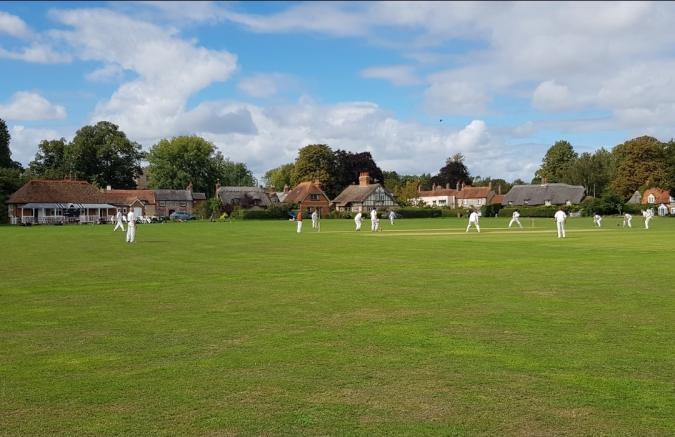 Lovely ground
By Beefy Roberts
September 10 2020
Beeefy reports on a lovely day of village cricket where the way of life is somwhat different to what most of us are used to.
The previous day I witnessed Shepherd's Bush thrash Teddington despite the best efforts of Uncle Scott Newman holding the batting together and Gurjit Sandhu trying to prove himself. Then I had the displeasure of witnessing our 20/20 defeat against Sky Commentary Team. Do not mention Gareth Batty to me!
Sunday 6th September it's Erratics vs Warborough at Shillingford a most pleasant village ground. This is a timed game, with first declaration offered at 1540, second and final one at 1555.
Game was late starting as a fielder found squirrel droppings on the wicket that had to be removed. SS Stopped Play.
Few locals come and go. I am staying and enjoying the Erratics batting at this great location. At the moment they are 125-6 off 37 overs.
Innings closed 135-6. Tea being taken, there is a wonderful thatched roof pub very near, but, with car chose not to see the inside
Erratics rotating the bowlers, but can't shift the openers and they are 45-0 off 15.
The joy of Village Cricket chat. The lady saying she needs to go to her allotment over the way, to tend to her veg and check the 3 pigs are ok. She then whispered, don't tell them, but they are close to being turned into bacon!
It's 45-1Umpire took age to lift the finger for lbw. Batsman saying very loudly it was going down leg
Then next Batsman given out lbw, but Erratics captain recalled him, as he took a nick. What great sportsmanship..
No light meter here, but getting duskish as the home side need 36 runs off 60 balls.
The game finally finished an honourable draw and everyone is happy.
An enjoyable day with great company and location to suit.
The next day I found out the village and area was used for the filming of Midsummer Murders. Also Erratics has father and son playing in their team.
That's my season over. Winter well and stay safe.
View a Printer Friendly version of this Story.
An Erratic performance at a scene of a crime
Discussion started by Middlesex till we die , 10/09/2020 18:42
Middlesex till we die
10/09/2020 18:42
What do you think? You can have your say by posting below.
If you do not already have an account
Click here to Register
.
Edited 1 time(s). Last edit at 2020:09:18:09:45:20 by BarmierKev.
BeefyRoberts
10/09/2020 20:19
Fozzie, Annie was certainly in attendance.
Along with Martin as well, was a good day and village location very picturesque
Sorry, only registered users may post in this forum.