Hippity's Tale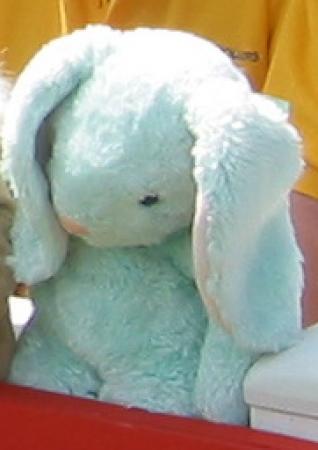 Hello! Hello!! Hello!!!
By Hippity the Green Bunny
November 25 2005
They seek him here, they seek him there, they seek that bunny everywhere. Love him, hate him, but you cannot ignore him (mainly because he never shuts up). Hippity the Green Bunny explains how he follows cricket (mostly Middlesex, but also Ireland and England). With grateful thanks to MTWD site admin, who have heavily edited the piece to ensure that each phrase is not repeated three times.
My name is Hippity the Green Bunny and I am just over six years old.

Now I am six I am clever as clever.

I think I'll stay six now for ever and ever.

I am adopted and live with a strange cricket-loving family.

You'll see pictures of most of them later in my article.

Mummy and Daddy have put an X in the box for no publicity, so I cannot talk much about them.
Here's a picture of me sitting on the bed with my lucky Middlesex ball.

Daddy's team batted with this one, so you can see it is in pretty good condition at the end of the innings.

Daddy sometimes uses the lucky ball for catching practice, not that it seems to do him any good.
This position on the bed suits me very well.

I can see the TV from here.

I watch a lot of the Middlesex matches on the Ceefax from here.

Daddy probably doesn't realise it, but I've worked out how to use the TV controller and can get pretty much what I want up on the Ceefax.
Picture two is my evidence for that!
It's quite hard to keep control of the lucky ball and switch pages on the Ceefax when you're pint-sized like me, but it can be done, believe me.

And I've seen some brilliant endings to Middlesex games watching this way.

For one day cricket,

the Worcs game, both of the
Essex
games and a couple of Northants games this year were very exciting.

But the most exciting of all were the four dayers against Hants at home and
Sussex
away.

Daddy and mummy saw some of the games live, but they won't let me go to see Middlesex play live.
Sometimes I am allowed to go to test matches.

Here's a picture of me at the very first cricket match I ever went to.
England
against
West Indies
in 2000.

I'm with my friend Henry the Duck who's been going to cricket longer than me and is very knowledgeable.

He's MCC (rather than MCCC, like me) so he doesn't support a county – he's too high-falutin' for that.

Daddy has been airbrushed out of this picture.
These days my brother, Monkey-Face, also joins us at the test matches.

Monkey-Face supports
Yorkshire
, just because he comes from there originally.

But that's no use to man or beast when you want your best friend and brother to support Middlesex with you.

He sort of supports Middlesex as his second team, probably more to shut me up than from the heart.
At
England
games, Monkey-Face and I can be a bit disruptive when we've had a bit too much carrot juice and banana milk shake,

One year we got into trouble with security and were lucky not to get thrown out – that was
England
v
South Africa
in 2003.

What a scary man he was.

He could hardly keep a straight face I reckon.

The next picture captures the moment.

It was a bit of a low ebb for
England
too, although we went on to

win

the series of course.
The three of us (me, Monkey-Face and Henry the Duck) together are very lucky for
England
and have not witnessed a losing series together since the Ashes 2001.

Unfortunately there's some Aussie somewhere who has mascots who were more powerful and are still almost as powerful as us.

So the Ashes 2006/7 should be quite a contest.

Our mascotty power doesn't seem to work too well for Andy Strauss, who has yet to make a big score in front of us and who often just avoids playing his innings while we are there.

But we have seen lots of his big scores on TV and very fine they were too.

Straussy is my hero!
Our finest hour was being at the Gasworks 12 September to see
England
win the Ashes.

Of course Straussy got out late the day before but it didn't matter because
England
won.

No-one bothered to take my picture that day which was pretty rotten of them, but here's one a friend of mine took while I was sitting on his shoulder.

Scared the birds, that confetti, but not the bunnies.
Actually I'm an Irish bunny, which will make life very difficult when Middlesex play
Ireland
and if
England
play
Ireland
.

I'm lucky, though, because Daddy and Mummy are Middlesex through and through and so are half the Irish players.

Joycey is my hero!

Eoin Morgan will be my hero very soon, I'm sure.
Please don't get irritated with me when I post a lot on the board.

I am hyperactive and the doctor says that the MTWD board is doing me a lot of good, although Daddy doesn't believe him and keeps changing the passwords.

But you can't keep a good six-year-old off a web site with mere passwords, can you now, Daddy?
Thank you, everybody for reading this.

And thank you even if you didn't read it.
©

Hippity

the Green Bunny 2005.

Reproduced on this web site with the kind and express permission of the author, despite his colour and species.