FAKE 2020 Kent the Return CC1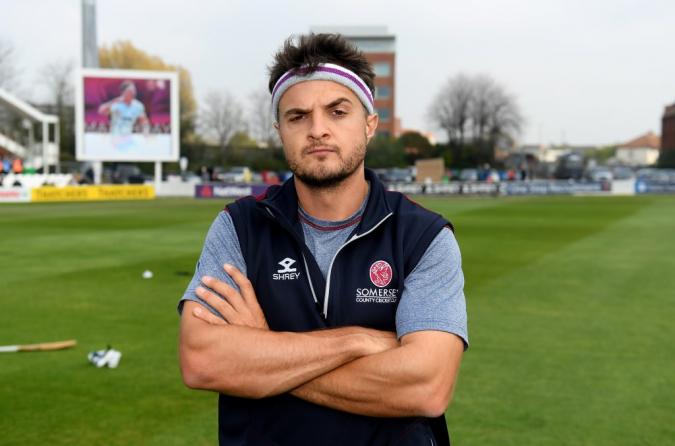 By Grockle et al
May 13 2020
Jack Brooks is back as is Azhar Ali after his injury. Mike Carberry is still out but Alexei Kervezee keeps his place and we go to Canterbury with 2 spinners. Thie parallel universe stuff is interesting
v KENT @Canterbury Wednesday 13 May 2020
Somerset face Kent in the return fixture of this 'fake' season away from Taunton. The excellent battiing performance against Surrey suggests that we may have found form but we do feel that Azhar Ali should return so Eddie Byrom takes some time on the bench. Tom Banton still has to wait though.
The side is;
Abell, Ali, Bartlett, Hildreth, Kervezee, Davies, Gregory, Bess, Overton C, Brooks, Leach
Tom Abell opts to take the coin toss. We win and he chooses to bat first so Stevens and Haggett face off against Abell and Ali. It is a tight beginning with nothing being given by the bowlers and the batsmen taking things very cautiously indeed. After the first hour the score has only moved to 26 as Podmore and Riley replace the Kent opening attack - Abell played and misses at one in the 6th over and that is the sum totalof chances.
Abell is still at the crease when the oppportunity to hit a boundary to bring up the 50 arrives but it isn't long after that Azhar offers no shot to one that comes in from Podmore and Somerset are 1 down at 66 for 1 with the Pakistani opener returning with 35 to his name. A feature of the Somerset season is losing wickets close to an interval. Haggett plays on that and removes Tom caught by Billings for 31 at 72 for 2. Lunch arrives at 82 with George Bartlett on 10 and Hildreth having little time to do anything but just get off the mark.
Stevens and Podmore start the second session and Hildreth brings up the 100 confidently in the 41st He then takes Haggett for 2 boundaries and Kent introduce Riley to hold things in check. It isn't until Haggett returns that Hildreth fall to an excellent slip catch from Dickson at 145. Kervezee gets off the mark with a straight driven four from a man in form. That also brings up the Somerset 150.
George is comprehensive with the 2 boundaries he produces to bring up his own 50 (94 balls with 7 fours) at 173 but Stevens carries on the interval wicket trend when he gets Kervezee playing and missing across a straight one clean bowled for 9 at 176. Tea arrives at 190 with Bartlett moving to 59 and Steve Davies with 8 to his name
Stevens stays consistent and has chances put down in the early part of the third session but it's Haggett who removes Davies for 10 LBW just after the 200 clicks up. Gregory is off the mark to a welcome full toss four after which Riley puts a flight on one and Lewis says 'Thank you' and 'pick that one out of the crowd'.
Kent take the new ball in the 82nd over and Stevens and Podmore return but there is little to celebrate as the 250 arrives just before Bartlett's 100 from 183 balls with 13 fours 282 for 5 looks strong as the day nears its close. It looks even better as Gregory brings up his own 50 but is then immediately LBW to Stevens (67 balls wiith 7 fours) 292 for 6 sees Bess straight drive Ppodmore to bring up the 300 but Crawley clean bowls him with only 3 overs to go for 11 at 306 for 7. Craig Overton faces Podmore's last over and drives the last 3 balls for consecutive fours before the end of the first day. 319 for 7 with a Bartlett century (106) and Cove on 12. Haggett was the pick of the bowlers with 3 for 79 and Stevens weighs in with 2 for 66. The partnerships of Bartlett and Hildreth for 73 and the larger one of 91 between Bartlett and Gregory have given the day to the visitors but there are three more days to come.
DAY 2
Darren Stevens is on the money immediately and has George Bartlett playing and missing from ball 1. He also beats Overton 2 overs later. His opening partner Haggett is also tight but the centurion Bartlett has his timing and placement on point and he works to bring up the 350 as he moves his own score to 112.
Podmore is introduced and he makes the breakthrough clean bowling Overton for a valuable 31 at 357 for 8. It is now part of an innings where the man in form has to hit out and hope that the other members of the 'tail' can stay around and help him accumulate.
Riley brings a slow variation as George moves to 125. He is nearly LBW to the new man so it isn't particularly comfortable but two besutiful straight drives from his new partner Brooks keeps the score moving in the 120th over. The fight between the batsmen and Riley finally ends when he has the bowler caught by Renshaw at 20 with 388 on the board - 400 is on the cards if the other Jack can stick around
Stevens is re-introduced to remove the problem and Bartlett hits him for the first six of the game to tell him that there is a fight to be had and he is up for it and that 400 is the target. He hits him for another four to bring up his own 150 from 292 balls with 20 boundaries and move to 409 for 9.
Eventually Leach misses a straight one from Haggett and the innings finally ends at 412 just 15 minutes before the lunch break.... an uncomfortable period for the Kent openers. Haggett ends with a creditable 4 for 104 with Stevens adding 2 for 92 but the partnerships between Bartlett and Overton(51), Brooks (31) and Leach (24) moved Somerset from just over 300 to over 400 and did nothing to improve Kent's comfort level.
Lewis Gregory has an LBW shout first ball against Matt Renshaw but he gets into his stride immediately. Dickson is not as quick and Overton has him for 1 before the break in the second over. 12 balls and kent go in 12 for 1 with Renshaw on 11 400 runs behind after 4 sessions.
The afternoon sees Renshaw keen to get on with it but his partners seems a little slower out of the gate and Overton C&Bs Denley very early for a mere 2 at 20. 3.5 overs into the session and the great kent hope Renshaw is caught behind for 19 and it is 28 for 3 with LKuhn playing and missing to Gregory almost immediately. The Somerset bowlers have the Kent batsmen in their sights very firmly.
Brooks is keen to get into it with the 11th over and the other Jack joins him for the 13th. Kuhn takes his side over 50 but Brooks is not to be denied and Kuhn is caught behind by Bartlett for 17 at 58 for 4.
Bell Drummond and Crawley however do start to get their county stabilised in mid afternoon. Leach is not effective so Abell puts himself on to get the spinner to change ends, he just misses Bell Drummonds leg stump with his 3rd ball.
The 100 arrives just before Bell Drummond leaves as he pops one up to Hildreth for a fighting 41 at 101. Billings is caught behind before he gets started at 104. Leach is in a real duel with Zak Crawley as we reach Tea with Kent on 140 for 6 with Crawley on 44 and Stevens on 11. 272 runs behind. Overton on fire with 3 for 23
That becomes 4 for 23 with only the third ball after the interval as Overton sends Stevens back to the pavilion. Crawley keeps his eye on the job and brings up the 150 and his own half century (73 balls with 9 fours) to continue the fight. This doesn't stop COVE though as he removes Haggett for his 5 fer at 152 while Crawley finally succumbs with a bottom edge to Bartlett for 58 at 160. Another boundary takes the runs on but Riley doesn't stay around as Brooks cleans him up and Kent are all out for 164.
Overton finishes with 11/0/37/5 and Brooks adds 7.1/0/22/3. Crawley's 58 was the only real fight wiith only 4 others reached double figures. There's 1 hour and 4 minutes left. The Somerset captain decides not to enforce the follow on, 248 ahead with more than 2 days left, he decides to put a score together that takes this game away froom the home side.
Out walk Abell and Ali and the lead moves past 250 with only 5 balls bowled. Ali is close to losing his stumps and then edges for four from Stevens while his skipper sixes the Kent vetran in the 14th over which prompts Kent to try a bit of spin before the end of the day.
Riley confounds Abell with one and produces the second C&B of the day with his first ball. 45 for 1 in the 18th 293 ahead. Ali brings up the 50 and the 300 before the end as Somerset finish 314 ahead at 66 for 1
Azhar Ali has 22 and the hero of the day George Bartlett has added 14 to his not out total in this game. Somerset must be looking forward to Day 3!!
DAY 3
As usual Stevens and Haggett take the ball for the start of the day but they find it hard against Bartlett who is straight and true driving the ball as if there has been no break in play. In the 31st over he hits Callum Haggett for 3 consecutive fours from the first three balls of the over and Kent are not helping with poor fielding as Somerset pass 100 in their second innings and their lead passes 350 runs. Bartlett also passes 50 from 71 balls with 8 fours.
He probably would have goone further but he loses concentration and misses and easy ball to be caught plumb in front and LBW at 114 for 2. He's done his job and James Hildreth has already got into his full and flowing best so Somerset continue.
At Lunch with the score at 155 they are over 400 ahead with a considerable number of wickets in hand and there seems to be little that the Kent attack can do about it.
Azhar goes to his own 50 after the break off Stevens (75 balls 8 fours) the score moves to 161. But, as seems to be the case in this innings, he then stretches for a wide one and undercuts it into Billings' hands for 64 and 190 for 3. James moves on and goes to his 50 and brings up the 200 before Kervezee is caught behind for 10 as the score gets into declaration territory at 453 ahead. The question is simply; When?
Tom Abell seems to be waiting to have 2 goes at the Kent openers with the new ball and calls them in with 40 minutes to go before Tea at 218 for 4 some 466 runs ahead setting Kent 467 to win in just over 4 sessions.
Gregory and Overton probe Renshaw and Dickson before the Tea interval to see if they can breakthrough. Dickson is the target after his failure in the first but it is Renshaw who makes the error and is caught behind for 17 giving Somerset probably more than they hoped for. Kent go in to Tea at 33 for 1 with Denly on 3 and Dickson on 17.
Overtonand Brooks go after the Kentishmen but the defence is much more solif and Somerset revert to Bess for the first time in the game with the 20th over. Abell doubles the spin options with Leach taking over at the other end with over number 22. Denly is looking to get away and seems to be settling into the swing but he tries to drive one too many and Ali nabs the edge in the slips with the score on 95. He departs for 36. Leach opens the wound even more when he has Dickson caught behind on the same score with an individual contribution of 38. New batsmen at bothe ends and less than 100 on the board.
Kuhn takes the score into 3 figures but doesn't stay long as he is C&B to Bess for 9 at 110 and with a little more from Craig Overton just before the end, Kent go into Day 4 without any more batsmen losing their wicket and 125 for 4 as the figure to build on.
Dom Bess ends with figures of 10/2/24/2 Jack Leach has 1 for 26 while Overton has 1 for 40. The other two have been pretty tight as well, Brooks 13 runs from his 5 while Gregory went for 18 off his 6. Somerset must be eyeing more points for a victory from this one while the 6 Kent batsmen to come have a massive job to try and hoild this one together with Zak Crawley on 4 and Bell drummond on 14 as the effective last line before the part time batsmen walk out to the middle.
In a parallel universe however there really are suprises!! Rather than running Day 4 to see if Kent can control and save this game the Awesome Computer decided to forget Day 3 and have me run it again!! It went mostly the same up to Somerset declaring about an hour before Tea at about 466 (467 second time around). BUT Kent got nowhere near, lost 5 wickets before Tea as Dom Bess took 3 for 15 and then collapsed aftert the break to be dismissed by 103. A 364 run loss and 22 points for Somerset at the top of the table. Sort of the same end but a little more victory and a little more collapse!!