FAKE 2020 CC1 On to the Oval Surrey (A)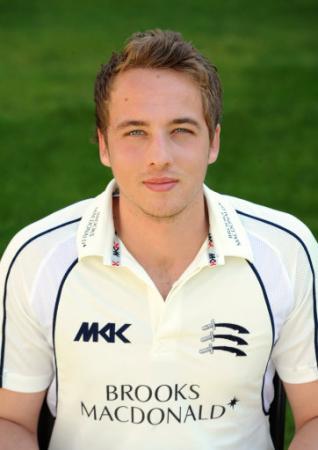 By Grockle et al
May 4 2020
The return fixture to the home of the Brownhats in this fantasy parallel universe we find ourselves in to replace the actual 2020 season in our sad little cricket deprived lives!! Josh Davey makes his first appearance in a 4 day game for the season as we move back to a twin spin (Dom Bess is also back) and less speedy attack to compete with the Oval flatness. Will it work? Good question. Let's find out shall we?
v SURREY CC1 @ The Oval Monday 4 May 2020 'May the 4th be with you'
After the near victory at Taunton where time saved Surrey, Somerset go into this one with the measure of the opponents but with concerns about the pitch. Abell and the selectors decide to leave the quickness of Brooks and Jamie Overton on the bench and go instead for the twin spin option of Dom Bess and Jack Leach while also favouring the skills of Josh Davey who has yet to bowl a CC1 ball in anger. The expected placid nature of the Oval pitch may be more conducive to this attack and they will soon find out because Somerset chose to take a coin toss, lost it and will bowl anyway.
The sides are as shown below;
Scott Borthwick and Sam Curran are in for Surrey as changes to the side that played Somerset at Taunton I believe. The conditions are as below and the game started on time annd in decent weather after a pretty miserable weekend.
DAY 1
Choosing to bat, Surrey's openers Burns and Elgar walk out to get proceedings going against Lewis Gregory and Craig Overton. The action starts almost immediately as Overton tempts Burns into a slack shot and Hildreth takes a good catch at second slip. 5 for 1 in the early overs.
It gets worse as Gregory finds himself on the money froom the start and he bowls Borthwick for 1 and it's 6 for 2. Foakes walks out to join Elgar - two batsmen who have already caused us trouble this season.
Josh Davey gets his oppportunity with the 12th over while Tom Abell replaces Overton who has been causiing everyone problems. Davey gets Foakes earlyy however when he fsmacksa ball straight to Overton at midwicket for 17 at 32 for 3. Somerset feel up for it but Dean Elgar brings them back to reality with 3 boundaries in one over to bring up the 50 for the home side.
Variations come in the 23rd with Jack Leach and the 24th with Lewis Gregory and then again in the 30th when Overton returns. It's Leach who prompts a 'horrible' shot from Stoneman who goes for 16 three balls before lunch sending Surrey iin at 76 for 4 with Elgar on 38 and looking totally comfortable and Harinath who will have to start again after Lunch.
Harinath doesn't get the chance after the break because of an excellent catch from Davies which sends him on his way for 5 at 90 for 5. Elgar hits his 50 at 98 from 120 balls with 4 fours and over half his side's runs. He then cuts for 4 to bring up the 100.
Jack is back on for the 44th and he gets Clark LBW for 11 at 112. It is all going 'swimmingly' for Somerset as Sam Curran joins his team mate Elgar. He plays and misses his first ball. From then on the whole momentum of the game changes. The slow option from both ends does not work and the Surrey men get on with their job of retrieving this innings. Elgar goes to a well crafted 100 at 195 taking 170 balls with 11 fours. Curran brings up the 200 with an arrogant six off a full length ball.
Overton returns for the 62nd and Davey is on for the 63rd. Henearly gets Curran on 47 but he doesn't and the young man passes 50 at 218 from 68 balls with 8 fours and 1 six. He then immediately edges through a vacant third slip position the next ball. This is the culmination of a 115 run partnership between the two and Sam continues with another six to bring up the 250. it all seems so much easier than earlier in the day!
Davey goes around the wicket to Elgar and finally Somerset break the partnership as Elgar falls LBW for 118 at 263 for 7. Jack returns for the 78th and with Bess on at the other end, Abell refuses the new ball hoping the slow men will do something with the old one.
They do. Dom has Curran caught at slip by Bartlett for 97 at 294 for 8. In the same over he then gets Clarke for 15 caught close in by Overton 295 for 9. Then Leach has Morkel for 1 caught again by Overton and Surrey are all out for 296. From 76 for 6 to 263 for 7 and all out before 300. Success? Well maybe not as much as Somerset hoped but better than it was at 250 one would suggest.
48 minutes left in the day and Somerset openers walk to the middle. Tom Abell gets off the mark with an edge from Morkle. Eddie Byrom is not so lucky and he is caught with absolutely no idea what line Morkel is bowling. He effectively plays no shot andis LBW for 0 at 3 for 1.
Bartlett comes in and is off the mark immediately. Unfortunately he is caught behind for 5 off Curran at a score of 10. Tom Abell goes exactly the same way in the next over from Morkel and it is 10 for 3. Alexei Kervezee comes out and sends the first ball to the boundary in the 12th over. Her then does it again with a second and then a third in the last over. That ends Day 1. 36 for 3 with Kervezee on 20 and Hildreth on 3. Mornie Morkel has 6/1/12/2 with Sam Curran taking the other wicket for 2.
It's an interesting day at the Oval with 3 more to come in the parallel universe of FAKE 2020.
DAY 2
Kervezee and Hildreth stride out with a long day ahead of them hopefully. There is a long way to the Surrey total and they cannot afford losses. Morkel and Curran also come out with purpose and Alexei is nearly out to the last ball of Mornie's first over. Hildreth is committed and shows this by depositing Curran over the rope without a bounce from his first ball. A real statement of intent.
The 50 comes up with another Hildreth boundary in the 17th but the comfort of the Somerset pair means Virdi is introduced just 30 minutes into the day. Now Kervezee states his intent by takiing 9 off the slow man's first over. The 100 arrives in the 30th and Rikki Clarke and Scott Borthwick take over to look to break the partnership. Kervezee goes to 50 (86 balls 9 fours) off Borthwick and Morkel is back on with the spinner in the 37th. AK shows again that he is comfortable with the slower mand by taking him for 15 including a collossal six in the 39th.
James goes to 50 at 153 (101 balls with 4 fours and 1 six) and lunch arrives to Surrey's relief with Somerset at 162 for 3. 133 runs behind and pretty much in control.
After the break Mornie Morkel (2 for 31) and Sam Curran (1 for 28) are desperate to break up this partnership but little happens and Virdi is back on for the 49th - there is little happening for him though and Kervezee completes an emphatic century as his new county bring up 201 (163 balls 15 fours and 1 six).
Virdi has tried all kinds of things but the Somerset man has fought back at every turn. Hoever, it is sort of inevitable that he finally takes the wicket of the batsman which happpens when he is caught behind at 205 for a storming 105. He then has the new man Steve Davies fishing outside off with the secoond ball he faces.
Borthwick is back on and then the Sam Curran/Rikki Clarke show returns. Through all of this James Hildreth just gets on with his job and seems singularly unimpressed. He follows Kervezee to 100 as the score goes past 250 from 194 balls with 10 fours and 1 six and with a 58 run partnership with the Somerset keeper he sees his county to Tea on 267 for 4 having 114 to his name and leading Davies in on 19. A 199 partnership has made the day so far taking Somerset from 10 to 3 to 209 for 4. Is there more to come with Surrey's lead a mere 28.
Surrey take the new ball at 82 overs in the hope they are going to get something from it. It nearly gets Davies as he miscues one which falls short of the slip fielder and there's little else happens before Somerset take the lead in the 90th over with no more mishaps.
Eventuallu Morkel bowls James Hildreth but not until he has moved on to an excellent 126 and allowed Davies to settle (238 balls 13 fours and 1 six) 297 for 5 is a decent position as the middle order continues with Lewis putting the score past 300 and then taking Rikki Clarke for 8 in the 94th.
Virdi is back on and he allows the single that takes Davies to 50 from 98 balls with 4 fours at 333 for 5. He then edges at 335 but into space. Clarke gets Gregory instead for a quick 25 courtesy of a good quality sharp catch from Foakes. Bess nearly goes next ball at 335 before Davies 'sixes' Borthwick to take the Somerset past 50 but Virdi gets Dom caught behind coming half forward for 0 at 348 for 7.
The 350 arrives as Craig Overton takes on the bowling with his partner and when Davies smacks Morkel to the boundary for the last four of the day his county ar 388 for 7, 93 runs ahead with the keeper on 80 and his bowler on 21. Morkel was the choice of Surrey bowlers with 3 for 67. Virdi got 2 of the other wickets but for 106 as a couple of batsmen took quite a shine to him.
Day 3 will be interesting if Somerset get away in the first hour or so.
DAY 3
Curran starts well against Steve Davies who is swishing on both sides of the wicket early in the morning and it is with a 'Chinese cut' that the batsman brings up Somerset's 400. Meanwhile, at the other end Morkel breaks the partnership by trapping Craig Overton LBW for 25 at 402 for 8. Josh Davey takes point, swishes himself, fools Faukes and gets 4 byes.
Clarke comes on and it is during his over that Davies reaches the third century of this innings from 186 balls with 9 fours and 1 six. The momentum continues and Virdi is introduced in the 127th to try and put a halt to the run rate but Davey faces him and sends the ball to the boundary to reach 450 before the spinner gets one to move to Steveand has himm caught behind for 120 at 466 for 9 171 ahead.
Now both members of the 'tail' look to hit out and both hit boundaries with Surrey misfielding not helping with Curran going for 14 off the 142nd over with Virdi getting nothing at the other end.
Finally Morkel bowls Davey for an excellent 35 and Somerset finish 488 all out 193 ahead with 1 over before lunch where Burns and Elgar move to 1 for 0
After the break, Gregory and Overton move to take early wickets while Elgar gets back into the swing of opening very quickly. Burns is playing a less aggressive role which seems more sensible when elgar tries to hook and top edges to Hildreth for 14 at 26 for 1 but almost immediately after that breakthrough a Davies error gives the home side an easy 4.
Davey is on to take the 13th and Abell introduces himself for the 14th but they make little headway as Borthwick moves forward and the 50 arrives with a boundary. Unfoortunately though, Burns' early sensible approach is then thrown away as he takes a dodgy single and is competently run out by the Somerset captain trying for an unnecessary single Surrey did not need. 54 for 2.
Foakes is in and has been a problem for Someret with the bat. It is thererfore satisfying when Dom Bess is introduced and has the Surrey keeper plumb in front LBW at 56. This prompts the introduction of Leach at the other end who nearly has Stoneman three times in 2 overs. Nevertheless Surrey 'stagger' to 90 for 3 at Tea 103 behind with Stoneman on 21 and Borthwick on 26.
Gregory is back on for the last session and Boorthwick gets the first boundary off a thick edge so the ball is still moving about. The 100 comes from Bess at the other end but Lewis gets Borthwick for 32 at 103 for 4.
Bess has a spell where he has Surrey all over the place and he eventually has Harinath caught and bowled before he settles at 109. Meanwhile Clark is taking on Josh Davey at the other end refusing to be held in check. It is the way he plays and there is some sense in not changing the way you do your job when it has worked before. Stoneman meanwhile quietly goes to 50 from 95 balls with 8 fours.
Leach takes over to allow Davey to change ends and try something different. Jack has Stoneman missing and taking risks.Meanwhile Josh gets a bit of revenge when he takes a very good caught and bowled to the send the batsman back to the pavillion at 146 for 6. The problems get worse when Leach has Clark LBW for 22 at 164.
7 wckets down and still behind the '8 ball', Rikki Clarke takes Bess for six at the end of the 63nd over just before the end of the day. Dom comes back and has him edging close to fielders even nearer the close. Day 3 ends at 182 for 7 still 11 behind with only 3 wickets left for the last day. Curran and Clarke both end on 15 and the bowlers celebrate gaining wickets across the board with Bess taking 2 for 64. This is going to be a very difficult one for Surrey to pull themselves out of.
DAY 4
It would be a story to say that Surrey held off the challenge but that wouldn't be crediting the skills that have made Jack Leach a cricketing force to be reckoned with. He and Dom Bess are favoured to start the day and within 2 overs he has Rikki Clarke LBW for 22 at 192. 2 balls later he clean bowls Mornie Morkel without scoring and after one more over from his partner where Surrey take the lead, the Somerset spinner finally clean bowls Virdi with flight and spin to finish the innings at 194 all out. Just 1 run ahead is not going to be a problem even though Mokel nearly has Abell first ball. Nevertheless Somerset end the game in 4 balls and win by 10 wickets taking 23 points to Surrey's 4 and going to the top of the CC1 table with 100 to their name in 5 games.
Jack Leachtakes the Man of the Match honours with his 7 wickets in the two innings and especially his 3 on the last day to make it a cakewalk.